Scalable Vector Graphics in short, SVG is an XML-based markup language for describing two-dimensional based vector graphics. It is used to define vector-based graphics for the web.
Due to it's small size, flexibility and scalability, it is now widely used, but before 2017 it was not that popular. As it is a Vector image, the quality doesn't compromise a bit when you downscale it.
Maybe that's why many people use their signature or logos in their email in this SVG format. Like others, do you want to use SVG signature in Outlook emails but don't know how?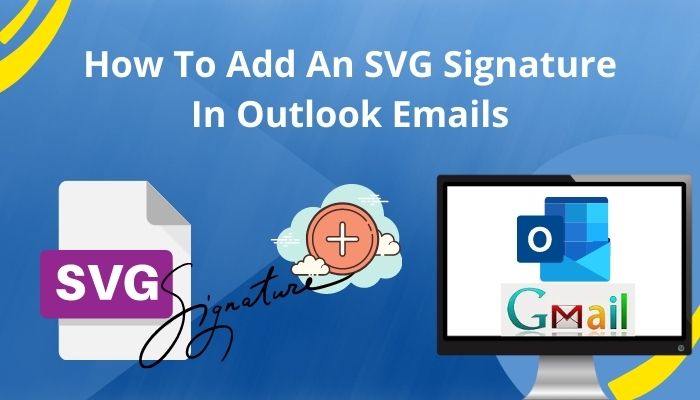 I came up with this article to give you a proper guide on inserting SVG in the Outlook email signature. Read till the end to find out the quickest way to do that.
So, without further ado, let's get started!
Related guide: how to Print Emails from Outlook
Why Insert SVG in Email Signature?
For scalability, flexibility and small size, people use an SVG formatted email signature in Outlook. Those who use SVG instead of PNG can use the extra advantage of flexibility, and SVG images offer lossless compression. No matter how small you make it, the quality and details remain the same.
Not only that, the SVG file format supports animation, gradients, transparency and scalable without losing any single details.
Speaking technically, PNG file sizes are larger than SVG files, yet both offer almost the same scalability. Still, SVG is far better. Suppose you have to use your company logo as a signature, with many details in the logo.
It will lose lots of details when you want to make it smaller, like a signature size. For this type of conversion, you can convert that logo into an SVG file, and then you can resize it as per your requirements.
Here's a complete guide on how to Create an Outlook Rule to Manage Email
How to Add an SVG Signature in Outlook Emails
You will find lots of articles that say You can add an SVG signature in Outlook desktop and mobile app but trust me; you can't add an SVG signature from Outlook's desktop or mobile version. I hope in future updates, the Outlooks desktop app will support the SVG file formatted image.
To say frankly, you can only add an SVG signature in the web version or the Office 365 version of Outlook. In the previous version of Outlook web, you had to add an SVG image using the browser's inspect elements.
Not only that, the SVG signature file must be on an online image hosting site. Then you have to copy that file's link and embed that link in the Outlook web's HTML code with an image source tag.
For a normal person, this procedure seems to be so much tricky and tough too. Well, as you are in my article, you don't have to do all this tricky part to add just an SVG signature. I will show you the quickest and simplest way.
Check out the easiest way to why Outlook not Marking Emails as Replied, Read more on how to Fix Outlook Crashes at Startup
Here are the steps to add an SVG signature in Outlook emails:
Make a good signature first and save that file on the PC as a .svg format. (You can convert any image file format to .svg using the online image file conversion website).
Open Outlook web in your default browser.
Click on Settings (Gear icon) from the right side of the Ribbon.
Select View all Outlook settings from the bottom.
Go to Mail > Compose and reply. You will find the Email signature section.
Click on the + New signature button.
Type your signature name in the Edit signature name box.
Click on the insert pictures inline icon.
Browse and select the .svg file formatted signature. The signature will appear in the preview box.
Click and drag the resize points to resize it as you like.
Select that signature For New Messages and For Replies/Forward, which is under the Select default signatures section.
After applying all the steps perfectly, click on New Messages and check whether your newly added SVG email signature is automatically showing or not.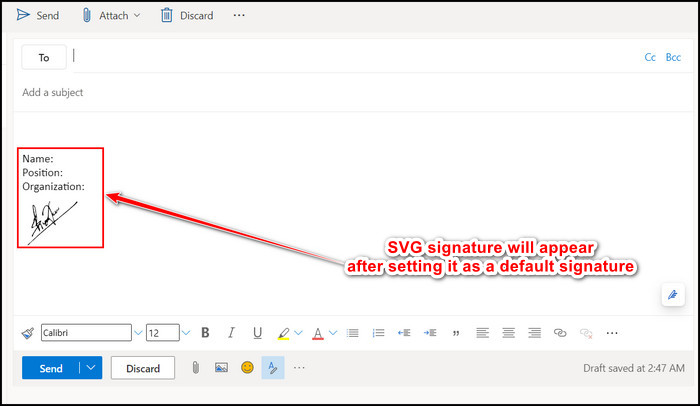 I hope you are seeing it now. You can add your name, position and organization name before the signature if you like.
Here's a complete guide on how to Automatically Forward Emails in Outlook, Also related to this guide how to Enable or Disable Autosave Emails in Outlook, Check out our separate post on Delete Emails in Microsoft Outlook
FAQS
Can I put SVG signatures in the Outlook desktop app?
The outlook desktop app doesn't support SVG file formatted signatures still now. But you can use PNG or other formats images as your email signature.
Does Outlook Support SVG images?
Outlook's desktop versions (Windows & macOS) and mobile versions (Android & iOS) don't support .svg file type image. But Outlook's Web version supports this, and you can add SVG signatures to it.
What is the best size for an email signature?
There is not any fixed size for an email signature. But you can keep the signature size between 300-600 px wide and 150-200 px high.
Bottom Line
gnature in Outlook's email for new messages and replies/forward is a must for those who need to email a lot for official purposes. The signature proves the authenticity of that particular person.
That's where the SVG file formatted signature comes into play due to its smaller file size for a non-pixelated vector image. No matter how small you make it, you won't face any compromises in the quality.
I hope you read this article till the end line and effectively add your desired SVG signature in Outlook emails.
Face any difficulties while adding it? Let me know in the comment box.