OneDrive is a prevalent software in the Microsoft 365 program that keeps your work safely synced with Microsoft 365 and backed up in the drive.
One of the best features of OneDrive is its multiple users' accessibility. This feature comes in handy when several people work on the same project.
However, things get messy when all members' contributions don't merge as they should. It is often seen in office files and is a widespread scenario. The error comes with a text that says, We couldn't merge the changes in an Office file.
I also faced this issue a couple of months back. So I did in-depth research and found the best fixes that worked for me.
In this article, I'll guide you through fixing this error with a 100% guarantee. So why don't we start the journey?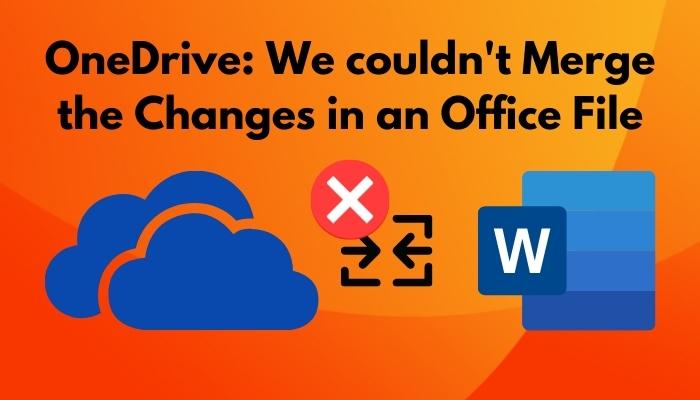 All You Need to Know about OneDrive's Merging Issue
In OneDrive, you can share your documents and files that others can modify. It is an excellent feature if you are working on a big project that requires multiple people to complete.
Suppose you need to work on a big data sheet or article, multiple people writing their own portion. These different portions merge so nicely in the OneDrive that it doesn't require your involvement.
However, sometimes this merging process gets corrupted, which is quite a common error among OneDrive users.
Here is all you need to know about this merging issue of OneDrive:
Why does the OneDrive Merging Issue Occur?
OneDrive is mainly responsible for its merging issues with word files. This error appears when OneDrive fails to process the changes you and your colleagues made. Often the syncing process stops working properly; hence the problem arises.
What Causes OneDrive Syncing Conflicts?
When other applications or people use your file, OneDrive often faces an issue while syncing. If your files or folders are shared with different accounts, you may face this issue more often. On the other hand, when your OneDrive storage runs out, it automatically stops syncing and uploading files.
Follow our guide on how to Fix OneDrive Error Code 0x8004da9a.
How to Fix OneDrive couldn't Merge the Changes in Office File
You can fix OneDrive that couldn't merge the changes in the office file by resetting your OneDrive, disabling auto backup, and repairing Office 365. These three methods will quickly solve this issue and uplift your OneDrive experience even more.
Here are the methods to fix OneDrive couldn't merge the office file changes:
1. Reset OneDrive
Resetting is a great method to make a fresh start on OneDrive. It will resume the syncing and merge the changes you and your team have made.
On Windows
Open Windows Run by pressing Windows + R.
Type %localappdata%\Microsoft\OneDrive\onedrive.exe /reset and hit Enter.
If you see a "Windows cannot find…" message, try this command instead
C:\Program Files\Microsoft OneDrive\onedrive.exe /reset
If you still face the "Windows cannot find…" message, try this command alternatively
C:\Program Files (x86)\Microsoft OneDrive\onedrive.exe /reset
Wait a minute or two, and the OneDrive icon will reappear in the taskbar or system tray.
Note: In case the icon doesn't appear, try launching it manually.
On Mac
Select the cloud icon in the top tray, then select Settings and click on Quit OneDrive.
Locate OneDrive in your Applications folder.
Right-click on OneDrive and choose Show Package Contents.
Navigate to Contents and then Resources folder.
Double-click ResetOneDriveApp.command (or ResetOneDriveAppStandalone.command, in case you're using the standalone app).
Open OneDrive and finish the setup process.
Resetting the OneDrive should solve your problem. In case the error still appears, try disabling the autosave feature on Word that I'll discuss in the following method.
Follow our separate guide on how to Fix Microsoft Teams You Can't Send Messages Error.
2. Disable Automatic Save
Often the syncing and autosaving process of OneDrive causes the merge error with Word. Autosave constantly saves a newer version of the existing file whenever you make any changes to it.
This auto-saving process repeatedly confuses OneDrive as it can't determine which one of the latest changes needs to merge. In my research, I have found that many OneDrive users have resolved this error by disabling the autosave feature.
Caution: Don't forget to save your work after disabling the autosave feature manually. Otherwise, your work will be lost.
Here is how you can disable autosave on Words:
Open Microsoft Word.
Go to Files.
Click on Options.
Select Save.
Uncheck the box next to AutoSave OneDrive and SharePoint Online files by default on Word.
Re-open Word; if the problem persists, try the following method. It surely will fix this issue.
3. Repair Office 365
You can easily repair Office 365 to eliminate the errors and issues regarding it. This method is relatively more straightforward than the other two.
Here is the procedure to repair Office 365:
Using Windows Settings
Click on the Windows button and select Settings(the gear icon).
Select Apps.
Scroll down and click on Office 365.
Click on Modify.
Select Quick Repair and follow the rest process.
Restart your computer.
Using Control Panel
Click on the Windows button and type Control Panel.
Select Programs and Features (if you don't find it, change the view by: option to Large icons)
Navigate to Office 365/Microsoft 365 and click on it.
Click on Change.
Select Quick Repair.
Follow the rest process as it instructs.
Restart your computer.
These two methods do exactly the same: repair your Office 365. No matter which way you follow, it will have your job done.
So I have talked a lot about the elephant in the room. How about smartly avoiding this error? Yes, it is very much possible.
To avoid this OneDrive merging error on word files, what you can do is:
Avoid multiple people editing the same document simultaneously if it is possible.
Save the changes to your document manually instead of relying on the autosave feature.
Use some exceptionally great replacements for OneDrive, such as Google Drive and Dropbox if you really need the cloud syncing feature. These two are less prone to errors.
Check out our other post – Fix: Microsoft Word Table Of Contents Not Updating
Frequently Asked Questions
Why can't OneDrive merge the changes?
This issue suggests that there is a conflict somewhere while syncing the documents on OneDrive. When an Office app closes unexpectedly, this conflict usually occurs.
Is OneDrive linked to a Microsoft account?
Yes, OneDrive is linked to a Microsoft account. In fact, it uses the Microsoft account to sign in.
What happens if I unlink my OneDrive?
Your local drives will be disconnected when you unlink the OneDrive. As a result, no data will be synced to the cloud. However, you can re-link your local drives with OneDrive anytime.
The Bottom Line
Okay, to solve this OneDrive merging error with the changes to the word files, reset your OneDrive, disable the autosave feature, and repair your Office 365. I believe you have successfully resolved this issue after applying these methods.
Please share your thoughts and let us know which method works for you in the comment section. You can also share your questions here. Our team will be delighted to help you with that.
Signing out.