Copy and pasting items one at a time can be a hassle, especially when you have to do it frequently.
In those certain situations, Windows Clipboard history can become your sole savior. With its help, the copied text, HTML or image not more than 4 MB will store in your clipboard history. And you can select and paste the desired one from there.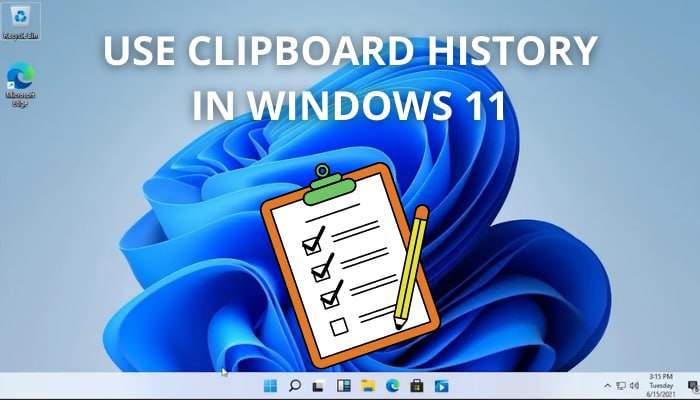 This article will show you some mesmerizing usage of Clipboard history which will increase your productivity.
How to Enable Clipboard History on Windows 11
You can use Windows 11's Clipboard history to boost your effectiveness, but you must enable the feature first. Turning on the Clipboard history toggle from Settings will do the tricks for you. Then you can use the function, saving you a ton of time.
Here's how you can enable Clipboard history on your Windows 11:  
Press the Windows + I button to open Settings.
Move to the System section from the left navigation bar.
Scroll down and select the Clipboard option.
Toggle On the Clipboard history option.
That's it. Now you can access your clipboard whenever you need.
Another workaround to enable the Clipboard history: press the Win+V keys and select Turn on when a window pops up.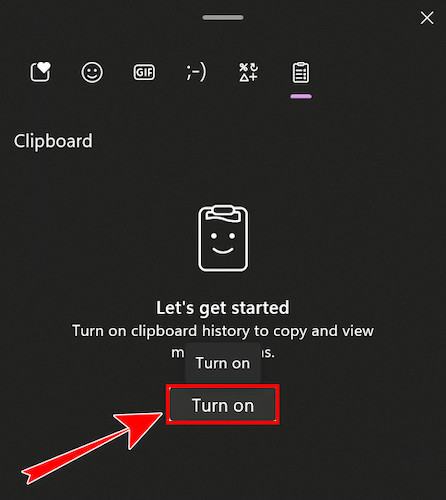 Let's see now how you can properly use this feature.
How to Use Clipboard History on Your Windows 11
To use the Clipboard history on Windows 11, enable the feature from Settings. Move on to the task you are doing, copy multiple contents and when you want to paste, just press the Win+V keys and select your desired copied item, and that is it.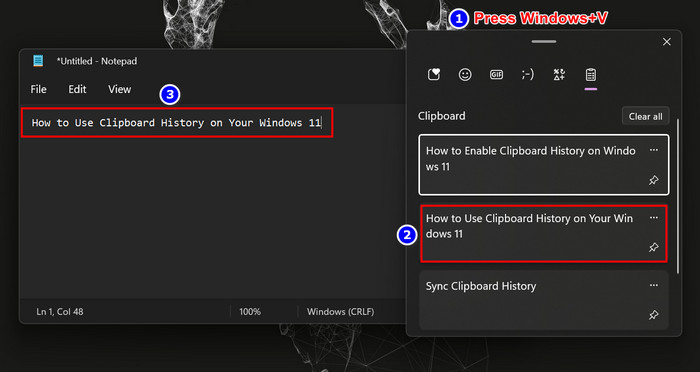 Here are the options available in Clipboard history that you can use:
1. Access Clipboard History
Forget the ancient copy-paste method because you will never go back once you get familiar with the Clipboard history. Copy multiple texts, images or HTML on your Windows system and when you want to paste, press the Windows+V buttons to access Clipboard.
Check out the easiest way to turn on or off Sticky keys in Windows 11.
2. Sync Clipboard History
You can activate the Clipboard Sync option when you have various devices connected to your Microsoft account on Windows 11. After that, you can view all the copied text around those devices in your Clipboard history.
Here is the procedure to Sync Clipboard history:
Open Windows Settings.
Move into System.
Select the Clipboard option.
Toggle On Sync across your devices.
Choose the Automatically sync text that I copy or the Manually sync text that I copy option.
Once your clipboard is synced, you can see the contents you copied on other devices in your Clipboard history.
As the copy and paste function is directly related to Clipboard, several users face difficulties that those features are not functioning properly on their system. In that crucial moment, copy and paste not working on Windows 11 will definitely back you up.
3. Clear Clipboard History
If your clipboard history becomes full, you will face difficulties navigating through them. Then clearing your Clipboard history can give you a clean slate.
Here's the process to clear your Clipboard history:
Click on the Windows icon.
Select Settings.
Choose the Clipboard option from the System tab.
Hit the Clear button next to Clear clipboard data.
Voila! Your clipboard is clean now. Read the next segment, which will come to your aid if you ever fill the need to turn off the Clipboard history.
Furthermore, changing some settings on Windows 11 can make your PC navigation experience more smooth. Also, enabling the two-finger scrolling on your laptop can enhance your comfort while operating the device.
4. Disable Clipboard History
After deciding that you'll no longer need Clipboard history, you can turn off the feature. The process of doing that is stated below.
Here is the procedure to disable Clipboard history:
Launch Settings.
Move to Clipboard.
Toggle Off the Clipboard history option.
That's it. The function is disabled now from your Windows 11 system.
However, Microsoft Word is a well-known app, and by using Clipboard history, you can complete tasks faster than before. But when you can't copy paste in Microsoft Word, fix the problem first, then use the Clipboard and enjoy its full functionality.
FAQs
Does Windows 11 have a clipboard?
Yes, Windows 11 contains a Clipboard, and you can easily enable that by pressing the Win+V buttons and selecting the Turn on option.
Can you go back in clipboard history?
You can't go back in Clipboard history once you clear it. Because when you delete clipboard data, its history gets erased from the device.
Where is clipboard history stored?
Clipboard history is stored in your system's Random Access Memory(RAM).
Ending Remarks
Using the Clipboard history properly on your Windows 11, you can complete your tasks more quickly.
Likewise, this content will provide you with enough information to learn about Clipboard's features and how to utilize them effectively.
Let me know in the comment how the Clipboard function changes your everyday work speed.