Working in Microsoft Office Suite is a general task for people nowadays. These programs and apps have not been built into our works, but also in mind.
But sometimes, you may face issues with Microsoft Word as if you can't copy-paste here. You are trying to copy something to paste somewhere else, but it's not happening.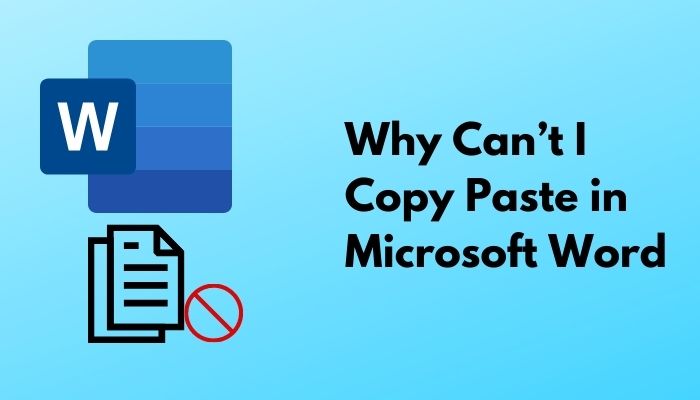 Why Is Copy-Paste Not Working in Word?
Copy Paste commands do not work temporarily caused of some glitches, and it occurs because of some misconfigurations of shortcut keys and functions in Word. Checking is needed the settings in Word and other Office apps to solve it out.
I have also faced a similar issue several times for several different.
Don't miss out on any parts of the article, as I've briefly gone through your pain points.
Check out our separate post on how to make only one page landscape in Word
How to Fix Copy Paste Problems in Microsoft Word
Clipboard is the place where the copied words and characters get temporarily saved. Sometimes this clipboard gets messy because of copying and pasting several things in a row. It is a glitch that can be solved by cleaning the clipboard.
Here are the steps to fix microsoft word copy paste problems:
1. Run Word in Safe Mode
Launching Word in Safe Mode is a great solution to resolve the issues in Word on this. You need to launch Word in Safe Mode to confirm if it's a problem with your Word or the whole package of Office.
Here are the steps to run Word in safe mode:
Go to Start Menu.
Search for Run.
In the Run dialog box, type winword/safe
Hit Enter.
Now try to copy-paste in the opened window. If you can copy and paste without any hassle, then there might be some issues with your add-ons and other stuff. Try disabling the add-ons one by one to find out the culprit.
If the issue remains, try reinstalling or repairing the Office package freshly.
Also, check out the easiest way to enable equation editor in Microsoft Word
2. Repair Office
Your copy of Microsoft Office might get broken because of something affecting Word, making issues with not copying and pasting. Trying to repair the Office package may solve the issue.
Here are the steps to repair the Office package:
Go to Settings > Apps > Apps and Features.
Search for Office.
Double click on Office.
Click on Modify.
Select Repair.
Wait for the time being as the job gets done.
Well, you are done. Check if the issue has been resolved or not. If the issue persists, try the Reset option from the Advanced Settings. But keep in mind that resetting your Office package will clear all the app data and settings from the program.
Check out the Microsoft Refund policy to get absolutely full refunds on your products.
You can also use the Quick Repair feature from the Control Panel. To do so –
Go to Control Panel.
Select Programs > Programs and Features.
Double-click on Office.
Click on the Change button.
Click Quick Repair. See if the option solves your problems or not.
Click Online Repair if the previous one didn't resolve your issue.
Quickly check out our epic guide on how to enable word wrap in notepad
3. Activate Office
You might be having issues with Office regarding copy-paste after the trial days are over. If the previous methods didn't work for you, then you can check for the activation status for your copy of Office.
Here are the steps to activate your copy of Office easily:
Launch Word.
On the boot screen, you will get the dialog box saying Activate Office.
Put the serial key on your Office CD.
Click Activate.
Activation is done! But if you don't have a serial key to activate, take an Office 365 subscription to activate your copy of Office Suite.
Follow our guide to Fix MS Word Problem Sending Command to the Program
4. Disable Add-ins
Add-ins are helpful for the work environment in Word. But sometimes, it breaks the flow while working, creating such irritating problems. Try disabling add-ins and check if the issue resolves or not.
Here are the steps to disable add-ins in Word:
Launch Word.
Go to Options > Add-ins.
Disable all the add-ins available there.
All done. Now try if the copy-paste feature works well or not. If it doesn't work, you may try terminating the background processes and features connected to the Office suite.
Here's a complete guide on Why is my Word Screen Black with White Text
5. Terminate Background Processes
If you suspect that some of your background processes are conflicting with your usage of the Office suite, then you can terminate the related background processes from the task manager.
Here are the steps to terminate background processes:
On the keyboard, press Ctrl + Alt + Del altogether.
From the Windows security options, select Task Manager.
Go to the Processes tab.
Select and kill the processes related to Office.
Launch Office.
Try copy-paste now.
All done! It might get adequately worked. If it doesn't work, then try reinstalling the Office package.
Related content you should read: How to Delete a Page in Microsoft Word
6. Reinstall Office
If you are facing problems even after following the previous methods, you may need to reinstall Office.
Here are the steps to reinstall Office:
Go to Start Menu.
Go to Control Panel > Uninstall a Program.
Select Office.
Click Uninstall.
After the uninstallation process is done, you must download the Office Suite program from the official site. Download it and install it. If you have a CD carrying Office Suite, you can use that to your preferences.
7. Disable Remote Desktop Connection app
Usually, what happens that the app you're using for your remote access desktop needs can be the culprit behind the scene. You can simply disable the app and enjoy a seamless user experience in Word.
8. Check for Updates
Well, Microsoft keeps pushing updates for its Office Suite. Some updates change the configuration in Office Suite. The changes can be conflicting for the features inside Word.
So you should get an update for the Office programs to resolve the issues as soon as possible.
Also read, 2 Steps to Enable Dark Mode in Word Online
Here are the steps you can follow to check updates in Office Suite:
Launch Office.
Go to Files > Account.
Click on Updates.
See if any updates are available or not. If yes, click on Update.
After the update and installation get done, your Word app should be working fine.
9. Try Another Keyboard
You undoubtedly did not think until this point that your keyboard could be damaged in some way. The issue could be only with the Ctrl, X, C, V. Now, in that case, you can try with any other keyboard available.
Hopefully, it solves your issues. Rather than changing, you can clean your keyboard occasionally.
Follow our guide on how to Find and Replace Text in Microsoft Word
FAQ
How do I enable copy and paste in Word?
Go to File > Options > Advanced. Select the Show Paste Options button when content is pasted in the Cut, copy, and paste section. This will enable copy and paste features in Word.
Why does my copy and paste not work?
Copy and paste features might not work correctly because of any temporary glitch, software interference, device drivers, or a corrupted system file. Check the settings and clean your keyboard also.
Why is Ctrl V not working in Word?
This might happen as you may have set the shortcut for any other purposes. Check the keyboard shortcut settings in Microsoft word and make it default to paste whenever you press Ctrl + V.
How do I copy text from a book to Word?
To copy text from a book to Word, you can use Google Lens to extract the words and characters from the book. Google Lens also can translate the text if you needed somewhere around.
How can I convert a hard copy to a Word document?
If you have a hard copy of anything written which you need to get into Word as a soft copy, try scanning with Microsoft OneNote. This app helps you to scan and extract the words and characters from the document. Using OneNote, you can easily convert a hard copy to a Word document.
Conclusion
Microsoft Word is an essential piece of software that is very useful for work and everything related to Office stuff. Copy and paste are our most used tools in Word. If they stop working, we get into very much trouble.
I hope this article solved your problem quickly. Leave a comment on what do you think.