Do you feel aggravated running into the attention-seeking tweets of your pesky friend? Well, PS5 automatically turning on and off with your tv may replicate that sensation.
However, it's an incredibly smart feature not to turn the console on or off separately from your tv.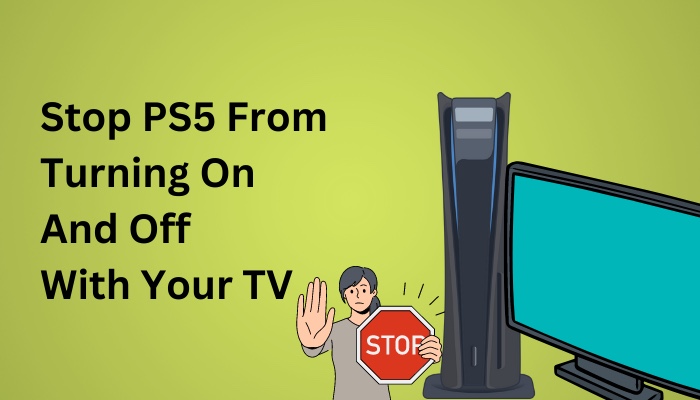 Are you rooting for a way to stop it? This write-up will help you to disable this feature when required.
Let's dive right in.
How Do You Stop a PS5 from Turning On and Off With the TV?
You know, PlayStation 5 HDMI device link feature allows the console to correspond with the connected device for better accessibility. Hence you experience automatic logging on and off of the console when turning on your TV. It is also known as HDMI CEC on PS5.
So, to stop this phenomenon, you must disable HDMI-CEC on your PlayStation 5.
Here are the steps to disable HDMI-CEC on PS5:
Power up the PS5 and navigate to Settings.
Choose Systems.
Click on HDMI.
Toggle the slider to unlink your PS5 and TV from Enable HDMI Link option.
Once you disable the feature, turn off your console. Try switching on the TV; PS5 will not automatically power on this time. Moreover, if you own the last generation PlayStation 4, this method will work exactly the same.
Needless to say, this feature works with any tv brand, such as LG, Sony, Samsung, TCL etc. Just disable the HDMI link on the PS5; that will do the trick.
Now, if you're wondering why this feature automatically takes you to the PS5 home screen every time you turn on your tv,  you'll find the answer in the later section.
Here's a complete guide on how to fix PS5 not downloading games.
How Does HDMI-CEC Work?
HDMI Consumer Electronics Control which is known as HDMI-CEC. The abbreviate form may sound cryptic, but the full form is self-explanatory.
Still, wondering what does that imply? Let me unravel it a bit more for you.
See, this feature is implemented on modern electronic devices to bestow users with supreme convenience and user experience. HDMI-CEC offers some brilliant advantages.
Let's take a look at them from PS5's perspective.
When you turn on your tv for a gaming session, your PS5 will automatically log on. This improves accessibility by a huge margin.
Besides, if your PS5 is in Rest Mode, switching to the console's input on TV will wake it up right away. You don't have to take any additional measures.
Furthermore, tired and need to take a break? Simply shut down your TV, and the PS5 will automatically go to Rest Mode.
Quickly check our epic post on PS5 1080p 120hz not working.
Ending Remarks
Personally, I shuffle the HDMI link feature. It's handy yet annoying if you turn on your TV to enjoy a show or a movie.
After reading this guide, you now have the ability to make the right use of this feature or stop it when needed.
Having more thoughts? Comment down below and let me know. Ciao!