Privacy is the most important topic on any platform and the ultimate item you need for your business, organization, and institutes.
But unfortunately, the privacy of data and files is being compromised daily. One of the problems Microsoft Teams users face is the privacy of their files.
Every Microsoft Teams member in a team can read or write a file and can easily make changes to the data of a file. It creates a massive problem regarding the privacy of organizations and educational institutions.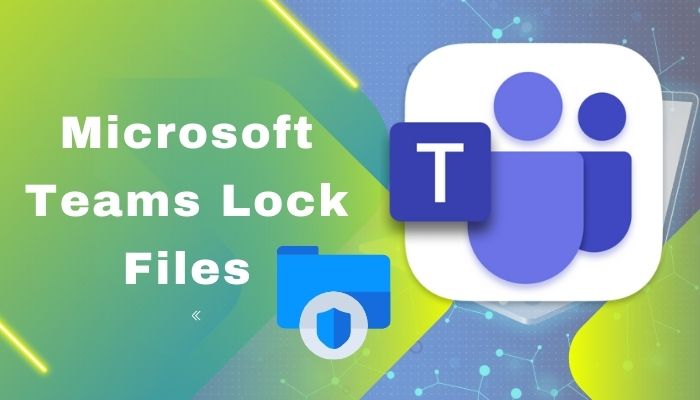 However, you can easily manage your file and maintain your privacy by locking them.
Read the full article to know the steps to secure your files.
Follow our guide on Fix Microsoft Teams Can't See Shared Screen on PC.
Why Lock Files in Microsoft Teams?
Any team user can view and edit a file in Microsoft Teams. It causes issues when you don't want others to view or edit your documents in business or education institutes. Microsoft comes with the option to lock your files to restrict others from accessing them.
You can completely private a file so others won't be able to see it. There's also an option to make the files only readable. You can give certain people the access to write a file or make the folder private to the selected team members.
Microsoft Teams is giving you to protect your files from editing and keep them safe. But, do you know how to lock files or folders in Microsoft Teams? To know them, keep reading the article.
Check out our latest fix for Microsoft Teams Error 80090030.
How to Lock Files in Microsoft Teams?
Microsoft Teams allows editing a file for everyone in the team. But it can create trouble sometimes. To resolve the issue, you can lock your files by checking out or using SharePoint to prevent those problems. Besides, you can give read and write access or restrict some people or everyone.
You can easily change the privacy of your files and folders if you have enough permission in Teams.
Here are the ways to lock Microsoft Teams files:
1. Check out files
Checking out a file will only give you the access to edit it. Other people in your team won't be able to edit the checked-out file.
Here is the process of checking out a file:
Go to your Teams channel.
Press on the Files from the top.
Go over the files you want to check out.
Press on the three dots (…) beside the file's name.
Press on More.
Tap on Check Out.
Also, check out our separate post on how to fix Microsoft Teams you can't send messages error.
Anyone in the team can normally edit a file. Locking files with SharePoint is useful when there are many people in your team.
You can restrict access to files in Microsoft Teams and modify the access level using the SharePoint folder.
Here are the steps to open SharePoint:
Open the channel from Microsoft Teams.
Go to Files.
Hover the pointer on a file.
Tap on the three dots (…) beside the file name.
Press on Open in SharePoint.
It will redirect you to the SharePoint website, where you can easily modify your files and folder privacy.
Here is the procedure to lock a file:
Go to the files or folder you want to restrict.
Press on the three dots (…) from the right of the file or folder name.
Tap on Manage Access.
Change the direct access to Can edit, Can view, or Stop sharing from the right side.
Quickly check out our epic guide on Microsoft Teams set out of office alerts.
Why Can't I Create A Team On Microsoft Teams?
If you don't see Create a new team option in your Microsoft Teams account, you may not have the necessary permissions to create one. As per Microsoft's policy, guests and external users have no permission to create a team in Microsoft Teams on their own.
Any Microsoft Teams admin can open or create a new team. They can also permit other users to create a team or block a user from creating one through the Microsoft 365 admin center.
If your account has enough permission to create a new team, you can select staff, privacy, and other settings for your team. But, if you don't have one, ask a Team admin to create a team for you or enable that permission for you by the Microsoft 365 admin center.
You can get the necessary permission if you are a Microsoft 365 admin or have bought a Microsoft license or subscription.
Follow our guide to fix Teams not working on WiFi.
FAQs
Why is a file locked in Teams?
A file is locked in Microsoft Teams because the owner has locked the file to prevent editing.
Can you lock a file on Microsoft Teams?
Yes, you can lock a file or folder to prevent others from editing your file.
Can you restrict folder access in Teams?
It's possible to make folders private for some people. Go to SharePoint and select the persons you want to give access to.
But before that, do check our latest post on the change your background on Microsoft Teams.
Final Thought
Data is valuable in today's world. File privacy of your organization, business, and institutes is essential. Losing or changing your data can make a massive loss to your business.
But the data of your file can go to other people's hands if you don't become careful with your privacy.
I've given the quickest and effortless solutions to your Microsoft Teams privacy issue. I hope it will help you keep your files secure in the present and future days.
Peace!