Is your computer struggling to run a high-end graphics program because of your low VRAM?
Don't worry? If you face this issue on your computer, then increase your VRAM.
In this post, I will show you how to increase your VRAM. Just follow some simple methods, and your VRAM will improve ideally.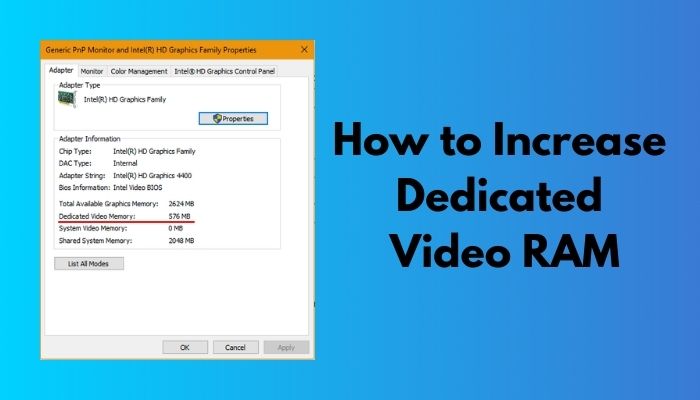 Before we jump into the solution, you have to know about VRAM and how it works.
I will also describe VRAM, and it's work process.
So, Let's start.
What is Dedicated  VRAM?
VRAM is a frame buffer between processor and display. It is a kind of Random access memory. (RAM) that used for storing image data for the computer. It is used by the application that displays 3D structures and complex images.
Generally, VRAM is used to watch high-definition videos and play high-end Video games.
VRAM is a Dynamic RAM that sends data as a digital signal via a digital video interface such as an HDMI port, LED display, etc.
In a VRAM, the video signals are first converted into analog signals by RAM, and then the signals are sent to the display by the video-related device.
VRAM is differing your RAM from it's typical to work process. It is connected with your computer's graphics part to deliver a high-end graphics display.
If you want to increase your performance, you must increase your VRAM. Later in this post, I will show you the methods of increasing dedicated VRAM.
First, let's know how to check your VRAM on your PC.
How to Check your VRAM?
If you don't know the current state of your PC's VRAM, then it is impossible for you to change or Increase the memory of VRAM.
You can check Your VRAM on your PC by following some easy steps.
Here are the steps of checking VRAM on your PC:
Start your PC and go to the WINDOWS menu.
Now search for the settings menu; you can also use the shortcut WIN+I
Find the SYSTEM ENTRY menu.
Now select the Display option located at the left side of the tab.
Search for the Advanced Display Settings option at the bottom and select it.
Then select the Display Adapter Properties.
Now, find the current VRAM list in the dedicated memory.
You will find the current state of your VRAM and see your GPU's name.
This is the method of VRAM checking on your PC. If you notice that your VRAM is not enough for your PC, you should increase it.
In the following passage,  I will describe the methods of increasing the Dedicated Video RAM of your PC.
How do you Increase your Dedicated Video RAM?
You can Increase your VRAM by adding a better graphics card to your PC. If you don't have a compatible GPU on your PC, your VRAM will not perform perfectly. So, you have to upgrade your GPU with the latest and more powerful version, and that GPU will boost your PC performance. You are also able to increase the Dedicated video RAM of your Pc.
But it's a bit expensive method for you.
Don't worry. There are some other ways to increase your VRAM.
Here  are the  methods to increase your VRAM:
1. Increase your Dedicated VRAM in System BIOS
This is the most common method to increase your VRAM. You can adjust your VRAM allocation in your system BIOS.
Most of the motherboard manufacturers are include this method in VRAM allocation.
Here are the steps of VRAM allocation in System BIOS:
First, you have to restart your PC.
Now press the specific for entering your system BIOS.(F2, F5, F4, DEL key are commonly used for entering BIOS)
After entering the BIOS, go to the Advanced menu.
You will find Graphics settings, Video settings, and VGA share memory size in the Advanced menu.
This menu contains an option to adjust memory allocation to the GPU. The default is 128 MB. Now you can set this to 256MB to 512MB
Now save the changes and restart your PC.
After the PC starts again, Check the VRAM amount.
This is the process of how you increase your VRAM in your system BIOS.
If this method is not working, then jump into the following process.
2. You can fake a VRAM increase by using Registry keys
You should remember that VRAM is connected with the Integrated GPU of your PC, not with Windows or other OS. The performance is always adjusted automatically with the basis of Demand.
But you can modify your VRAM by using a Registry key. It can change the values of VRAM in your PC.
Some games need a minimum value of VRAM to play, and you can try this method and create a fake VRM value to play those games.
Here are the methods of fake increase of your VRAM by using registry keys:
Start your PC and search for the Run menu. You can quickly go to the Run by pressing WIN+R.
Now write 'regedit' in the box and press OK.
The registry editor will open.
In the registry editor, go to this location. "HKEY_LOCAL_MACHINE\Software\Intel"
Now right-click in the intel key.
Create a new key. Named it "GMM."
Select the menu from the left side.
Now right-click on the right panel and "New -> DWORD (32-bit) "
Name it "DedicatedSegmentSize."
Now give it a maximum decimal value of
Click OK and then restart your PC.
Hope you can play the game without any disturbance.
This method will not wholly boost your performance, but it can give your graphics an extra edge.
Types of VRAM
There are different types of VRAM. Here are some of them:
RAMBUS DRAM
It is a  kind of VRAM that includes a specific BUS that helps to increase the data flow speed between the frame buffer and VRAM. 
Window VRAM
It is a high-performance VRAM with a 20% higher bandwidth speed that helps it read and write data quickly. So this VRAM Is typically used for very high-end programs.
MDRAM
MDRAM stands for Multibank DRAM, is a very high-end RAM. It increases the overall performance by dividing memory into multiple 32kilobytes banks.
SGRAM
Synchronous Graphics RAM is a kind of VRAM that is clock-Synchronized. It's a single port memory but works like dual-port memory.
Usage of VRAM
VRAM  is used for Graphics related programs. Especially Video editing, watching HD videos, playing Video games, and many other graphics-related programs.
It is connected with a graphics CARD.
More VRAM is better for developing graphics on your computer. If a graphics card can be compatible with your VRAM, it can increase your graphics programs by it's multiple data read and write ability.
You can watch 4k videos and edit HD videos on your computer. If you have a 3090 RTX graphics card and a GDDR6 VRAM, it will give you a perfect graphics service at any resolution.
For video editing, you need
8GB VRAM for 1080 videos.
16 GB for 4K videos.
64GB for all kinds of professional videos and 8k videos.
VRAM also plays a vital role in gaming. For example, it can increase the game's graphics quality because VRAM renders the Image frames perfectly.
If you want to play an HD or 4k game perfectly, you should use a perfect amount of VRAM.
Because it needs to flood a high amount of data to RAM for the HD display, the render process will be slow if You don't have a certain amount of VRAM. Otherwise, Your gaming performance will reduce.
For gaming, you need:
2GB VRAM for 720P
4 GB VRAM for 1080P
6GB VRAM for 1440P
8GB for 2160P
12GB for 4K
Conclusion
VRAM is a crucial part of your computer for the graphics-related program. You can't play a high-end video game or watch an HD video. So you should increase your Video RAM that can be compatible with your GPU.
In this post, I tried to describe VRAM and wrote on the methods of Increasing VRAM.
Hope this post will help you understand VRAM and guide you to increase your VRAM with easy methods.