When you are purchasing a used GPU, you need to know that it performs to its strengths. While a seller's word of mouth can be assuring, there can be nothing better than testing the GPU yourself.
That is where a benchmarking app comes to your rescue. While there is no shortage of them, I have listed some popular ones that gamers have been using for years.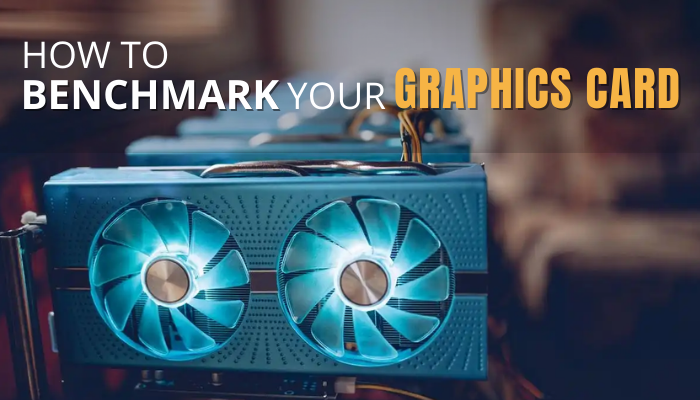 Let's take a look at these.
Why you would Benchmark your Graphics Card?
Benchmarking software is designed to stress-test your GPU. They will run a simulation that is taxing to your graphics card. When it is done, it will assign a score or FPS based on your GPUs performance. Then you can compare this score with others who have the same GPU.
This helps you achieve a baseline score. If you are getting a lower score than normal, some issues exist with the GPU. This is extremely helpful when buying a used GPU.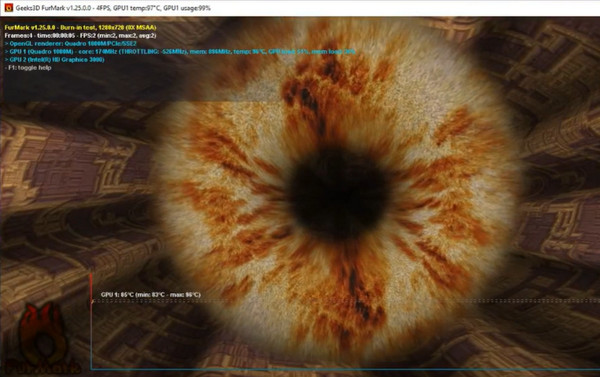 One other benefit of using such software is stress testing. A faulty GPU will exhibit some properties that are only reflected after you put 100% load onto it. You will see artifacts, high temperatures, and outright shutdown with a faulty GPU. Once you get any such issues, you can steer clear of buying those units.
Finally benchmarking can be relaxing too. The fact you see your GPU performing consistently gives you peace of mind. I don't know about you but this is how I feel about benchmarks. And yeah, don't forget the bragging rights in front of your friends too.
Read more on 7 signs your Graphics Card Dying.
Best GPU Benchmarking Software
The best GPU software that I have used is 3D Mark. It comes with different modes such as Time Spy, Night Raid, Wild Life, Night Raid, etc. When NVidia launched RTX GPUs, Port Royal was the first ray-tracing benchmark available for users.
Unigine has some great benchmarks too. You may already know the Heaven and Valley benchmarks. It is quite popular among gamers. Instead of giving you a numerical score, it gives the FPS count when the benchmark completes.
For stress testing the graphics cards, you can use Furmark. It is also used for processors. FurMark maxes out your GPUs temperature. This will give you a good idea of how the GPU cooler and its thermal compound are holding up. It is a great way to test a GPUs stability when purchasing used cards.
Finally, games themselves have their own benchmarks built in. Shadow of the Tomb Raider, GTA 5, Cyberpunk 2077, Horizon Zero Dawn, Assassin's creed Valhalla, etc. are some games I can name.
Once you select the Resolution and the Quality preset, the game will run its pre-set simulated environment that makes the most use of the taxing locations. You will be presented with average, maximum, and 1% low frame rates after completion.
How to Benchmark your Graphics Card
To benchmark your GPU first, update its drivers to the latest version. Next download the benchmark or game of your choice. Run the same benchmark 2 or 3 times. Compare the scores with other users who have the same GPU as you.
Let's delve deeper into these steps now.
Follow these steps to benchmark your graphics card:
First Step: Get your PC Ready
Running the latest graphics driver is a must before benchmarking. Manufacturers push out these updates to fix low FPS in games or bugs. A great example could be when AMD improved its OpenGL performance in Minecraft with the 22.7.1 update. Some users got frame rate increases that were 2-3 times as before.
You can download the latest drivers for NVidia and AMD GPUs using the link below. Select your GPU model and the page will show you the latest drivers.
Also, keep your Windows updated. Check the latest version of Windows and download it before proceeding to the next step.
Second Step: Download and Run the Benchmark App
I have already covered the list of benchmarks that you can use. Unigine is free to download. 3D Mark is free but only contains three tests. If you are looking to run every benchmark that comes with it, you need to buy it.
I have included the links to the free versions of both benchmarks below.
⬇️ Download Unigine
⬇️ Download 3D Mark
Now let's look at how you can run Time Spy to test your GPU. You have the option of running any of three benchmarks that are bundled with 3D Mark.
Note: You should monitor the GPU temperature during each run of the benchmark. Use either  CPU-Z or HWinfo to check this.
Follow the steps to run Time Spy on your GPU:
Open 3D Mark. You can Time Spy is selected as default on the main screen.
Click on Run.
The benchmark will start running after the app collects your system information. When the benchmark finishes, you will see your GPU's score.
For your reference, this is my Time Spy score with an RTX 3070.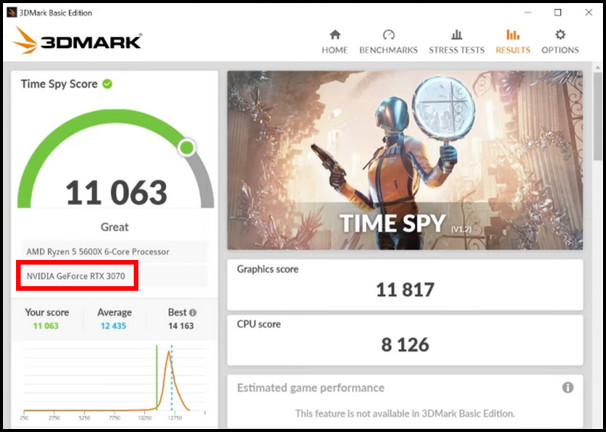 You can also run the Unigine Heaven similarly.
Once installed, the interface of Unigine looks something similar to this.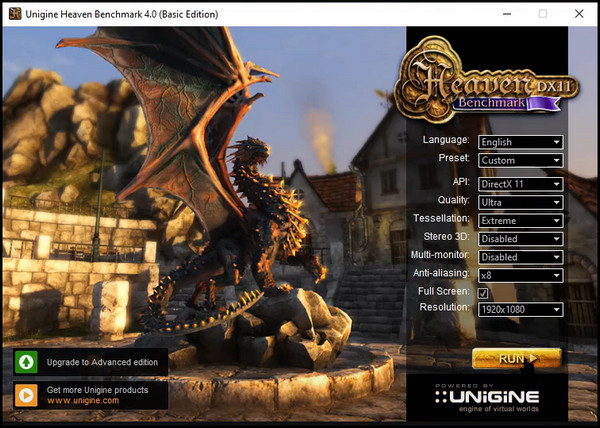 Inside the app, you can see a list of options that give you the flexibility to change the settings based on how you want to run it. You can change the resolution, texture details, anti-aliasing, and more.
To properly test the GPU, go with the stock settings. This will ensure that the GPU is 100% utilized.
Press Run when everything is configured. Wait for some time as the benchmark finishes. The final screen will show you the results.
An RTX 3070 produces this with Unigine Heaven.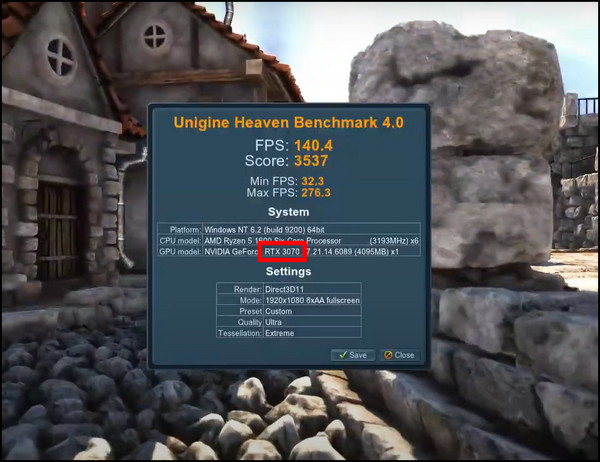 You should re-run these benchmarks multiple times. Note the scores that you get each time. They will come in handy at the last step.
Third Step: Run some Games
Choosing a GPU-heavy game will show you how the GPU performs with recent games. Take Cyberpunk 2077 for example. When you run this game at 1080p with high details, the frame rates will show you exactly how other games will perform. Use the in-game benchmark to see the frame rates in detail.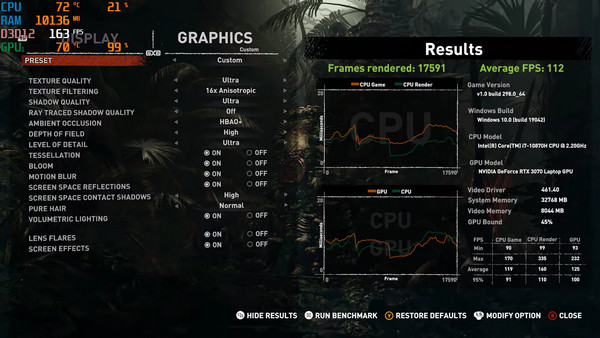 Using common graphical settings and resolution will ensure that you can compare these scores with others who have the same GPU. Then you can be sure if your GPU is performing optimally. As with the synthetic benchmarks, monitor the GPU temperatures too.
Fourth Step: Analyze your Findings
Note the results of the benchmark after each run. The same goes for games. Use a spreadsheet to keep all the data in a single place.
If the benchmark scores remain consistent, the GPU is good to go. But if you see a drastic change in successive results, thermal throttling is present. The GPUs temperature during that run will indicate this. You can compare your results with others at the Unigine Leaderboard or 3D Mark's Hall of Fame.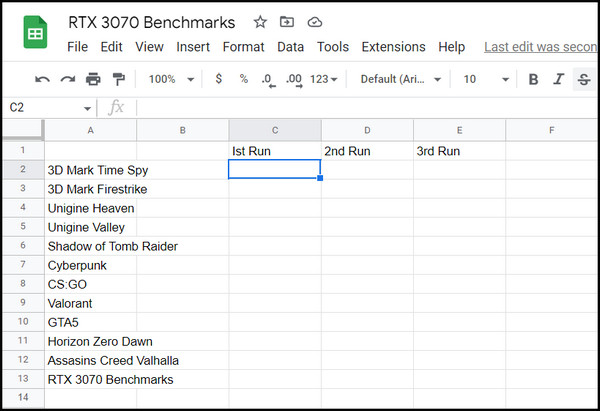 With games, if you do not get the expected FPS, look if you updated the game files to the latest version. With old cards, you will get lower frame rates at high settings. That does not indicate that the GPU is faulty. It's just you have to settle with a low or medium setting for that particular game.
Also, keep an eye out for 1% lows and frame times. They will indicate if the game will suffer from frame spikes. The difference between your average FPS and 1% lows should be the minimum. If you see a difference of 20 or more, you will experience some bad stuttering.
You can check your results with others by searching how the same game performed on the exact GPU on Youtube. Before comparing the results, ensure the system configuration for both systems is close. Otherwise, an apples-to-apples comparison will not be relevant.
Read our new article on how to fix Nvidia Graphics Card not detected in Windows 10.
Frequently Asked Questions
How do I know if my GPU is underpowered?
If you are not getting good frame rates with recent games, chances are the GPU is underpowered. Comparing your results with others in the same game will confirm this.
How can I benchmark my GPU?
You can benchmark your GPU by running 3D Mark or Unigine. You can run Time Spy, Fire Strike, Heaven, and Valley benchmarks. This should give you a score that highlights the GPU's position in terms of computational power.
Final Words
Benchmark is a way of ranking the GPU in order of how powerful they are. It's just not for rankings though, as you can use them to determine whether a GPU is working properly. Which is great to know when purchasing a used card.
So, how did your GPU score in the benchmarks? Let us know in the comments.
And with that said, it's time to wrap up.