Microsoft OneNote is your personal diary to organize your thoughts, discoveries, and ideas. You can plan your important moments with a simple touch on the notepad.
But many times, people face issues while opening a file location. It feels like seizing your ideas and crucial events from you.
There are several reasons behind the issue occurring with you. Insufficient file permission, issues with your account data, cache, and additional cause can be the factor behind it.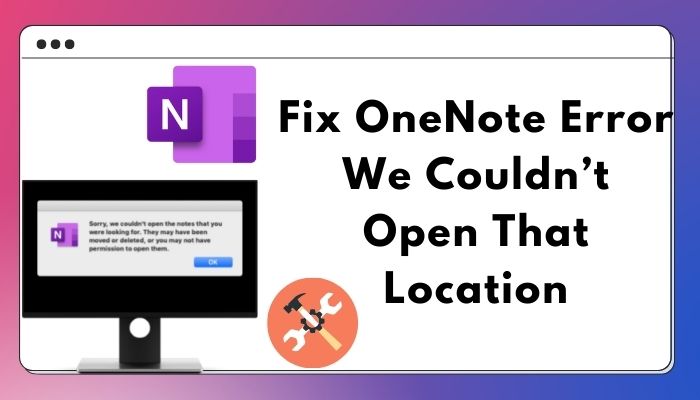 In this article, I will discuss the ways to solve your issues and free up your thoughts.
Read till the end to fix your problem without any difficulties.
Why We Couldn't Open That Location Error Showing in OneNote?
Because of not having enough file permission, issues with your Windows credentials manager, temporary files, and cache problems can prevent your OneNote from opening the file location. Additionally, bugs and update issues in Microsoft Office can affect opening a file location.
To know the reason behind the matter, keep reading the article.
Here are the reasons behind OneNote couldn't open the location error:
Not Enough File Permission
To access a OneNote file, you need proper permission to open it. The file owner may have restricted or didn't give you enough permission to open it.
Issues in Credentials Manager
Username, passwords, and login information of your OneNote get stored in the Windows credentials manager. Any corruption in the file can create malfunctions in OneNote.
OneNet Cache Problem
OneNote temporary files are stored in the cache. Problematic files in the cache can restrict you from accessing the OneNote file location.
Microsoft Office Issue
Microsoft OneNote is a part of Office 2019 and Microsoft Office 365 suite. Any error occurring in these office programs also affects the OneNote application.
Update issues or bugs in Office 365 suite also cause a malfunction in OneNote.
How to Fix OneNote Error We Couldn't Open That Location
Restarting your application, using the web version, granting file access, and clearing the credentials and cache can fix your OneNote location opening error. Also, updating, repairing the Office application, and tweaking the registry editor can solve your issue.
The fix may seem complicated, but the solution is very straightforward. Tag along and keep reading the article to solve your issue comfortably.
Here are the ways to fix OneNote couldn't open that location error:
1. Log Out & Restart OneNote
Restarting the application fixes most of the problems with OneNote. Any malfunction with the temporary files or caches is solved after logging out and doing a quick restart.
Here are the steps to log out and restart OneNote:
Press on File from the top left corner in OneNote.
Tap on Accounts.
Click on Sign out.
Tap on Yes to confirm.
Close your OneNote application.
Restart your PC.
Open the OneNote application again to see if it's fixed.
For most users, this step works as a quick and straightforward fix. If your problem remains, keep following the procedure below.
2. Check Web Version
There can be a problem with your OneNote desktop application. Login to your account to the web client to see if the issue still appears.
Here is the process to check on the web:
Visit the Microsoft OneNote website.
Login with your account.
Check if the issue persists.
The web version should work if you have an issue with the desktop application.
3. Ask for File Permission
If you don't have enough permission to open the file, you won't be able to access it. Ask the file owner to grant you proper permission.
With the granted permission, you should be able to open the file location.
4. Clear OneNote Credentials
Windows Credentials Manager stores all your username, passwords, and login information. Corrupted login information can prevent you from opening a file location. Clearing the OneNote credentials may solve the problem.
Here are the procedures to clear OneNote credentials:
Search and open Credential Manager from the Windows search box.
Press on Windows Credentials.
Locate your OneNote credentials.
Tap on the credentials.
Select the Remove button.
It will remove your account information from the windows credentials.
5. Delete OneNote Cache
Temporary files stored in the OneNote cache can be defective. Delete them from the cache to fix your problem.
Here are the steps to delete the OneNote cache:
Navigate to the location C:\Users\%username%\AppData\Local\Microsoft\OneNote\15.0
Locate the file named OneNoteOfflineCache.onecache.
Rename it to OneNoteOfflineCache.onecache.old.
Restart your OneNote application.
Check if your issue with the problematic location is fixed. If you are still facing a problem, continue reading to solve the case.
6. Repair Office
OneNote application is a part of Office 2019 or Microsoft Office Suite. Bugs in Office Suite can affect the performance of your OneNote. Repair your Office application to fix any bugs or malfunctions.
Here is the process of repairing Office:
Open Control Panel.
Tap on Programs and Features.
Locate Office and right-click on it.
Select the Change option.
Choose Quick Repair or Online Repair.
Confirm by selecting Repair.
The update should fix any bugs or problems with your Office. After repairing your Office Suite, see if the problem with your OneNote is fixed.
7. Update Office
Your current version of Office can be old or has bugs in it. Update your Office application if you have a pending update.
Here is the process of updating Office:
Open OneNote.
Press on File.
Tap on Account.
Choose Update Now from the Update Options.
Your Office and OneNote will be updated to the latest version.
8. Check Opening the .ONETOC2 File
There is a .onetoc2 version of the OneNote file in the appdata. Many users have confirmed that opening the .onetoc2 version of the file fixes their issue. Locate and open the .onetoc2 version of your problematic file.
Here are the steps to open the .onetoc2 file:
Go to the location C:\Users\UserName\AppData\Roaming\Microsoft\OneNote
Open the .onetoc2 version of the file.
Check if the problem is fixed.
9. Tweak Registry Editor
Tweaking the registry editor solved the issue for a lot of users. Creating a new key should solve your problem.
Here is the process of tweaking the registry editor:
Search Registry Editor from the Windows search box.
Locate to HKEY_CURRENT_USER\Software\Microsoft\Office\16.0\Common\Identity
Right-click on the right side pane.
Create a new DisableADALatopWAMOverride DWORD.
Double-click and change the value to 1 (DWORD:00000001).
10. Contact Support
I believe the above solution has fixed your problem. Contact support if you are still facing issues with OneNote. The Microsoft support team will provide further solutions to your problem.
Frequently Asked Questions
How do I change my location in OneNote?
Open OneNote, Go to File > New > Create in a different folder in OneDrive or SharePoint.
Why can't I open my notebook in OneNote?
You are possibly using an old or outdated build. Update your application to open a notebook.
What happens if I delete OneNote cache?
Clearing the OneNote cache will result in deleting your unsaved notebook. Save your important notes before deleting the cache folder.
Final Thoughts
OneNote is very handy when keeping your important notes and sudden ideas. You can freely paint and animate your concepts with it.
It can be troublesome when OneNote fails to open the file location. Especially during a business meeting or keeping content ideas.
I've provided all the solutions to your issue, and I hope you have managed to solve it effortlessly.
Good Luck.