Voicemail is a service where users can share their digital records when the receiver is unavailable. These records are stored in a digital mailbox to be retrieved by the mailbox owner.
Sometimes this finest feature collapses and becomes a nightmare. I recently sent a voicemail to my colleague, who never received that voicemail in Teams. So I researched to know more about this problem and found some practical solutions.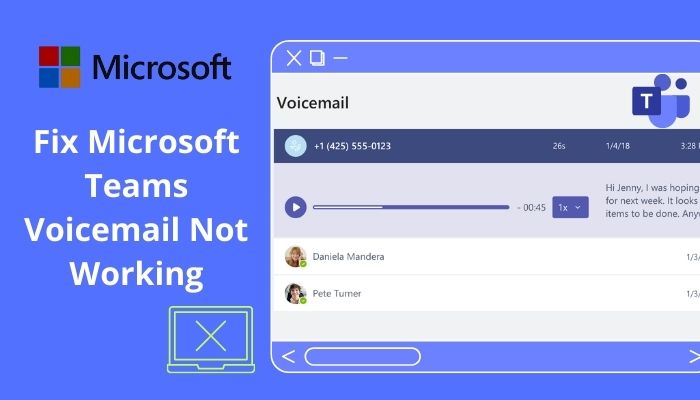 Are you also in the same boat? You can let your hair down a bit. Keep reading till the end to know why MS Teams Voicemail is not working and how to troubleshoot them.
Read more on how to Microsoft Teams: Disable Microphone Auto Adjustment
How to Fix Microsoft Teams Voicemail Not Working?
Depending on the Voicemail Settings, Teams sometimes can not show the voicemail in your Teams application. While using the Exchange Mode, the mailbox location plays an essential role in how the voicemail is delivered.
If your Mail flow rules changed for any reason, Teams voicemail could stop working. You can quickly fix this frustrating issue by following the steps below.
Here are the steps to fix Microsoft Teams voicemail not working:
1. Interchange Voicemail Settings
You should start by checking your Team's voicemail settings. Any changes or interchanges in the voicemail settings can lead to voicemail not working. Make sure your voicemail settings are correct compared to the settings below.
Here are the steps to interchange voicemail settings:
Click on the Profile Picture > Settings > Calls.
Ensure the Voicemail is on under the Call answering rules. When this feature is turned off, you will not receive any voicemail.
Check Voicemail settings by clicking on the Configure voicemail (Select your preferred greeting messages and greeting language here).
Change the rules under Call answer rules.
You can try tweaking the Call answer rules depending on your needs. Remember, when transferring a call to someone else, the person's name and number should be correct.
Also read how to Fix Microsoft Teams Full Screen Not Working
2. Tweak the Exchange Mailbox Settings
If your voicemails appear in only the inbox, not within the Teams application, you should try this solution. In case you don't have access to the Exchange Admin Center, the only option is to contact the IT admin.
Teams users that use on-premises Exchange mailboxes have access to use the voicemail features in Teams and receive voicemails only in Outlook.
Let's go through the below Mailbox settings to ensure your settings are not restricting you from getting voicemails.
Here are the methods to tweak the Exchange Mailbox Settings:
Ensure the voicemail account is Hosted Voicemails Run Set-CsUser -HostedVoicemail $True command by connecting the Powershell to Teams.
Navigate to Exchange Online connector rules. Check spam rules for signature products and the current settings.
Stop redirecting your voicemail emails via signature products. They can modify emails; therefore, voicemails won't be able to appear in Teams.
By following the above methods, you can eliminate voicemail not working in the Online Exchange Mode.
Related contents you should read how to Convert Outlook Meetings to Teams Meetings
3. Exchange Mail Flow Rules
Your voicemail flow rules can be another culprit for voicemail not working. Suppose you or your IT admin set any rules for emails with audio attachments to be automatically redirected to the junk or spam folder. In that case, you will never receive any voicemail in your inbox.
Ensure no such rules can lead your voicemails to the junk folder. If you find any rules related, delete the rules and check if this fixes your voicemail not working problem. You can also check the MS support page to know why voicemails are not landing in your inbox.
Check our new post, how to Fix Microsoft Teams Keeps Freezing My Computer
Frequently Asked Questions
How do I turn on voicemail on Team Admin Center?
Navigate to Voice > Voicemail policies from the Microsoft Teams admin center. Click on Add, turn on or off the features according to your needs, and save the changes.
Where are Microsoft Teams voicemails stored?
Microsoft Teams voicemails are stored in the receiver's Exchange mailbox. You can save the voicemails in the local machine for offline accessibility when using the Online Exchange Mode.
Why can't I hear voicemail on Teams?
You can't hear voicemail on teams because your voicemail setting is disabled. Click on your Profile Picture > Settings > Calls to enable the setting. Turn on the voicemail feature from the Call answering rules.
Check out our separate post on how to Add Teams Meeting in Outlook
Bottom Line
Voicemail service in the Teams application is a handy feature to leave a voice message for your coworker or colleagues when they are not available for direct calling. Teams use mailbox services for voicemail.
Several reasons can lead the user to Teams voicemail not working problem. If your voicemail setting is turned off, you won't be able to use this feature. You may need to contact your IT admin to resolve this issue for the Online Exchange Mode users.
Also, ensure the Exchange Mail Flow Rules are not preventing you from receiving the voicemails in your inbox.
Do you have any additional queries? Write them in the comment below.