It didn't matter whether it was a low-end or high-end computer; I've seen micro stutters in all kinds of devices.
It gets so annoying when you are supposed to be this giga chad fighter trying to save the world from monsters, but your character starts shaking like a 100-year-old grandpa.
It gets super embarrassing when you know you are clearly better than the noob who just t-bagged you in front of your teammates because your character is in the middle of having a seizure.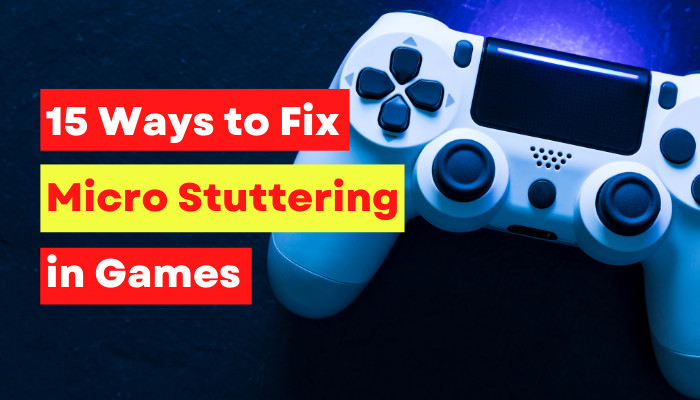 But that's not going to happen anymore. In this article, I've provided all the possible fixes to stop micro stuttering in games and get stable fps.
Here's a complete guide on how to Turn Off Game Mode in Win 11
What Causes Micro Stutter in Games?
Micro stutters occur when the next frame is not ready to be displayed when it is supposed to be displayed. And this can happen due to a lack of processing speed, outdated GPU drivers, lack of storage space, poor system optimization, and not meeting the game requirements.
Here are the factors that cause games to stutter:
Old Graphics Drivers
If the device that's supposed to process graphics is outdated, then, of course, your gaming performance is not going to be top-notch. Old GPUs are one of the main reasons that make games choppy.
Game Requirements Not Met
Check the game's requirements, and in case the conditions don't meet, it might be causing too much stress on the CPU, and you shouldn't play that game without upgrading your PC.
Lack of Storage
If the driver in which the game is installed is almost full, the game will be laggy.
Lack of System Optimization
In case you haven't cleared cache and temporary files in years, it can reduce your systems' gaming performance.
Now that we know what's causing this issue, let's fix them one by one.
Also, check out our separate post on Nintendo DS: Connect to Another DS to Play Multiplayer Games
Fix Micro Stuttering in Games
To fix micro stuttering, you can try disabling the game bar and dynamic tick, update drivers, make sure unnecessary programs are not running, disable the Windows features and uninstall the programs you don't need. Also, try changing some settings like graphics and in-game settings.
Here are the solutions to fix micro stuttering:
1. Disable the Game bar
The Xbox Game Bar feature allows recording game clips but significantly reduces your gaming performance. So it's a good practice to turn it off.
Here are the steps to disable the game bar:
Click the Windows icon and go to Settings.
Select Gaming.
Turn off Xbox Game Bar.
Go to the Captures tab.
Disable the option under Background recording.
The Game bar does more harm than good. There are better lightweight softwares to record gameplay.
Check out my new post on Fix Decreased Game Performance In Windows 11
2. Disable Game DVR
Game DVR records gameplay, and it can stress the CPU if you don't have sufficient resources. So it's better to keep that feature disabled.
Here's the process to disable game DVR:
Right-click on the Windows icon and select Run.
Type regedit and click OK.
Expand HKEY_CURRENT_USER > System > GameConfigStore.
Double click GameDVR Enabled.
Set Value data to 0 and click OK.
Expand HKEY_LOCAL_MACHINE > Software > Microsoft > PolicyManager > default > ApplicationManagement > AllowGameDVR.
Double click value and set Value data to 0, and click OK.
After changing the values, restart your computer to apply the changes.
Also, check out our separate post on fix unable to confirm Payment Method Discord Nitro.
3. Disable Dynamic Tick
The dynamic tick saves power, but it takes away performance. As a result, it causes games to stutter.
Here's the process to disable dynamic tick:
Click the Search icon and type Command Prompt.
Open Command Prompt as administrator.
Write the following command lines and press Enter after each line.

bcdedit /set disabledynamictick yes
bcdedit /set useplatformclock true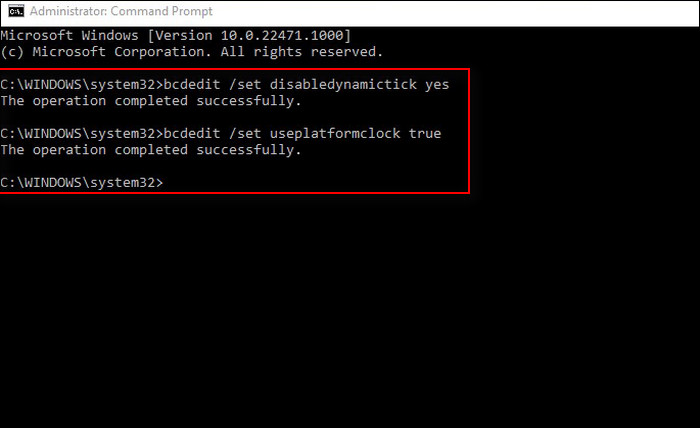 When you get the operation successfully completed, restart your PC to apply the changes.
Here's a complete guide on how to buy Discord Nitro without Credit Card.
4. Update Graphics Driver
An old, outdated graphics driver deteriorates your computer's performance and eventually makes games laggy. Update and keep your graphics driver up to date.
Here are the steps to update the graphics driver:
Right-click on the Windows icon.
Choose Device Manager.
Expand Display adapters.
Right-click on your graphics driver and select Update driver.
Click Search automatically for drivers.
If an update is available, Windows will download and install it. After that, restart your PC.
Also, check our exclusive tutorial on what is the URL of Discord Nitro Gifts.
5. Check Background Programs
Some softwares keep running in the background even after you close them. They keep using resources, and as a result, your game doesn't get enough resources to perform properly and starts stuttering.
Open task manager and disable all the unnecessary programs that are running in the background.
6. Disable Visual Effects
Turn off all the extra animations like minimizing, maximizing animations, and smooth scrolling effects; these will give you a little boost to increase the game performance.
Here are the steps to disable visual effects:
Click the Windows icon and go to Settings.
Go to System > About > Advanced system settings.
Click Settings under Performance in the Advanced tab of System Properties.
Select Custom in the Visual Effects tab.
Uncheck all except Show thumbnails instead of icons and Smooth edges of screen fonts.
Apply those changes.
It will not make your Windows visually appealing but will certainly speed up your PC.
Also, check out our separate post on is Discord Nitro worth it.
7. Disconnect External Device
If you have too many external devices connected to your computer, flash drive, webcam, or controllers, it might impact badly on your games. Disconnect the external devices you are not using.
8. Clean Fans & Vents
If the device gets too hot, it will cause problems, and stuttering in games is one of them. Make sure the vents are not obstructed by anything. Put your computer somewhere with enough space in the back to circulate air.
Keep the fans, vents, and heatsink clean. They are the only ones keeping your device from overheating. You should clean your PC at least once every 5 months. Keep your desk clean as well.
9. Disable Windows Features
Some Windows features we never use, like Internet Explorer or Print Document Services, keep running in the background and eat up resources. It's better to disable them.
Here are the steps to disable Windows features:
Click the Search icon and type Control Panel.
Launch Control Panel and select Programs.
Click Turn Windows features on or off.
Uncheck all the unnecessary features. Make sure you do not uncheck .Net Framework.
Click OK and restart the device.
It will save some resources on your PC, and the more resources you save, the more games are free to use them.
Here's a complete guide on how to buy Discord Nitro with Google Play.
10. Run Troubleshooter for Hardware
Defective hardware can cause games to stutter along with choppy, laggy gameplay. Run the hardware and devices troubleshooter and make sure everything is fine.
Here's the process of launching hardware and devices troubleshooter:
Click the Windows icon and go to Settings.
Select Update & Security > Troubleshoot > Additional troubleshooters.
Run troubleshooters for Playing Audio, Keyboard, Network Adapter.
In case any problem is found, follow instructions and fix it and if everything is fine, move to the next solution.
11. Disable Fullscreen Optimization
When you play a game with fullscreen optimization enabled, the game thinks it's running on fullscreen mode, but it's actually running on borderless windowed mode so you can move one task to another swiftly.
But it puts a lot of stress on the CPU and GPU, and it's better just to keep it disabled.
Here are the steps to disable fullscreen optimization:
Right-click on the game icon and select Properties.
Open the Compatibility tab.
Check Disable fullscreen optimizations and click Apply.
Now check whether the issue is resolved or not.
So, let's get started by getting the latest Roblox download.
12. Increase Virtual Memory
Not having enough RAM can cause your games to stutter. Increasing the virtual memory will allow you to use that resource as RAM when your actual RAM is full.
Here's the process of increasing virtual memory:
Click the Windows icon and go to Settings.
Select System > About > Advanced system settings.
Click Settings under Performance.
Move to the Advanced tab and click Change under Virtual memory.
Put half the RAM size your device currently has in Custom size. If your PC has 8GB RAM, set 4096; if it has 16GB, set 8192.
Virtual memory is a helpful tool when you are running short on resources. But don't set a lot of resources as virtual memory because it might cause other problems.
Check out the easiest way to make a Roblox hair.
13. Reduce Maximum Processor State
Intel Turbo boost helps to automatically set the CPU processor speed to a higher level when a demanding app is running. But if you manually set the processing speed always to be 100%, you might face many problems on your device, along with games showing stutter. Set a suitable value for the maximum processor state.
Here's how to reduce the maximum processor state:
Click the Windows icon and go to Settings > System > Power & sleep > Additional power settings.
Choose the Change plan settings of your currently selected plan.
Select Change advanced power settings.
Expand Processor power management, then Maximum processor state.
Set On battery and Plugged in values to 80% to 90% and Apply the changes.
It will stop the CPU from being stressed out and cause overheating resulting in micro stutter in games.
Check my latest post If you are facing problems with Roblox Error code 267.
14. Delete Unnecessary Programs
In case you have too many programs installed on your device and you don't have much storage space left, your games might show issues like lags, choppiness, and micro stutters.
So don't keep any programs you don't need. Keep your computer storage clean as much as you can.
15. Upgrade RAM
Upgrading RAM will definitely improve your gaming experience. Try to purchase a higher speed with bigger storage space RAM.
If you have dual channels available, make sure to use both channels. Even if you only use 8GB RAM, use both slots with 4GB each.
Quickly check what to do when the Roblox account is hacked.
FAQs
What does micro stuttering look like?
When a certain frame is supposed to be displayed but isn't finished processing yet, we can see shaking and tearing on the screen; that's micro stuttering.
How do I fix my CPU that stutters?
To stop CPU stutter, turn down games' graphics, update graphics drivers, disable Windows Game Bar, enable V-sync, disable Intel Turbo Boost, Dynamic Tick, and Diagnostic Policy Service.
Can CPU cause micro stutter?
Yes, when the CPU is under too much pressure and gets overheated, it can cause all kinds of problems along with micro stutter.
Final Thoughts
Congratulations! your games should be buttery smooth now. No more stutter, choppy gameplay that gives you a headache, no more losing to noobs and abusing your keyboard and mouse.
From now on, your gaming experience will be smooth with stable fps.
Let me know if you have any questions regarding increasing fps or other concerns about improving gameplay. See you in the comment section.