Online shopping became more important than ever during the recent Corona pandemic, and Amazon and eBay are big shots in this department. Now, if you tell me you have faced issues with their services like late shipment or late packaging, they are common problems. But What if you cannot place the order in the first place?
There have been some problems with not accepting the shipment address. You may come across the message, "Sorry, this item can't be shipped to your selected address" and that's a real bummer.
Just before the pandemic, I moved to my new house and wanted to order some products on Amazon and faced a similar issue. Amazon was not accepting my address. After searching for a while, I was able to work my way around.
The good news for you is that you don't need to wander around many web pages to find the solution because in this article I will tell you how you can solve this problem and place your orders as you wish.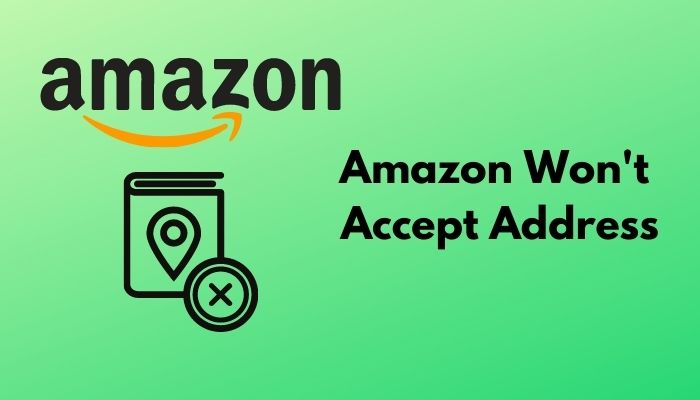 Why is Amazon not Accepting Your Address?
If you have fixed your mind on buying a particular product and then proceed to enter your address, a message pops in front of you, "Sorry, this item can't be shipped to your selected address" then you are not alone.
So why does Amazon shows this message, to begin with?
Being one of the biggest e-commerce platforms, Amazon needs to update its rules and regulations depending on different legal and market-related changes.
In this article, I will mention some probable causes that may apply to your situation.
Here are some probable for Amazon not to accept addresses:
Your given location may not be registered on the Amazon website and cannot authorise product shipment to that location.

You need to provide a street address for some particular products to receive the package. So, selecting a P.O. box or Amazon hub Locker won't work as the delivery address.

The state where you are trying to buy a particular product may have a prohibition over that kind of product. Because every state has different rules for their mail shipping, you may not receive some products there.

Amazon cannot ship every item on every geographical location you set. So it may become a handicap for your address.

The item may be ineligible for shipping because it's large or oddly shaped.

Certain hazmat items (including, but not limited to, lithium batteries) may be restricted from shipping to your area.

The seller you are buying from may not ship the product to your location because some carriers can't deliver to certain address types.

Choosing an offer from a seller who does not ship the product internationally.

You've chosen an offer from a seller who doesn't ship to your address due to the nature of the product (e.g., perishable, hazmat, etc.).
As you can see, there are quite a handful of restrictions on product shipment.
So, the superfetch service is using a lot of CPU? Check out how to disable SuperFetch on Windows 11.
What to do When Amazon is Not Accepting Address?
Don't get too worried if Amazon is not accepting your address. Here is what you can do if Amazon is not accepting your desired shipping location:
#1. Enter A New Address
If you are facing a problem with your current address, then you can try a different address and see if it works or not. There you can try adding your business or office address or a friend's address.
Here are the steps to enter a new address:
Head over to

My Account

on Amazon.

Select

Settings.

Look for

Add New Address

in the

Address Book Section.

Enter another address there, such as your business or office address, or you can enter a friend's address.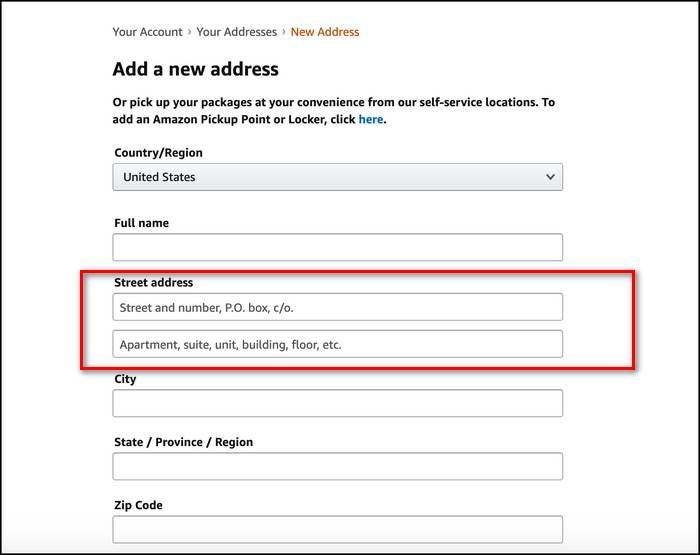 Now you can head over to the product you want to purchase and see if it approves the address or not. If it still does not work, you may proceed to the following method.
Check out our expert-recommended to fix Stop Apps Running in Background Windows 11.
#2. Chose A Local Post Office Or Amazon Hub As Address
If changing your address does not do any good, then you can try out setting your pick point to the nearest Post Office or the nearest Amazon Hub.
Amazon almost always drops their parcel at a post office if selected as a pick point. So what you can do is find the nearest post office to your address and set it the address to receive the product.
Amazon Hubs are the official Amazon pick points to pick up your products.
Have some time to spare? Check out our latest fix for Bluetooth Toggle Missing On Windows 11.
If you are willing to pick your product directly from their Hub, then follow these instructions to set it as your shipment address:
Log into your Amazon account and go to

My Account.

Select

Manage Address Books.

Click on

Search For A New Amazon Pickup Location.

Pick one of the offered search options, e.g.,

Enter Your Address

or

ZIP code

.

Click on the

Search

button.

Choose a suitable point for you.

Hit the

Select

button.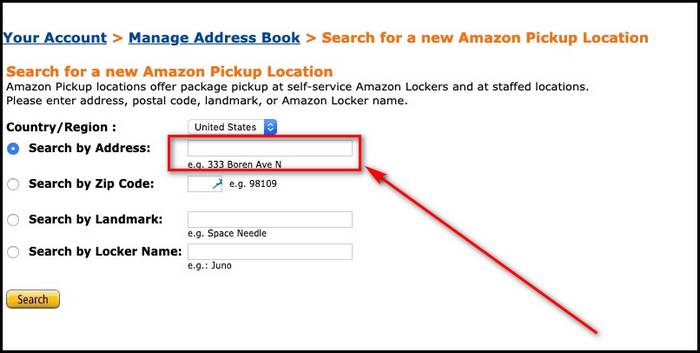 Now when you go to order a product, you will be able to add that Amazon Hub location as your pickup address under the Add To My Address section of your account.
Amazon Did Not Deliver A Product
There are cases where customers never received their product, which various reasons can cause.
Here are some possible reasons why you did not receive your product:
Incorrect or incomplete address.

The package may have gone lost, damaged or delivered to the wrong address.

Local courier service does not deliver to your location or tried to deliver to your location but failed.

Someone present at the listed address refused the delivery.
No matter the reason if you did not receive your delivery, you should place a complaint as soon as possible so that you can get refunded easily.
Check out our expert-recommended post on how to Fix Blue Screen on Windows 11.
Conclusion
Hopefully, if you follow this article thoroughly, now you will be able to add your address, and Amazon will accept your address. Amazon updates their database regularly, and as a result, more and more place is being geographically covered.
During this pandemic, stay safe and maintain a safe distance from everyone to keep yourself and others healthy. If you have other questions regarding this topic, then let us know, and we will be more than happy to help you out.