Destiny 2 has gradually become famous since it was first released back in 2017, and it is one of the most optimized online games. Despite this, some players across the globe faced some bugs, crashes, lags, etc. One of the most reported problems is FPS drops and lags.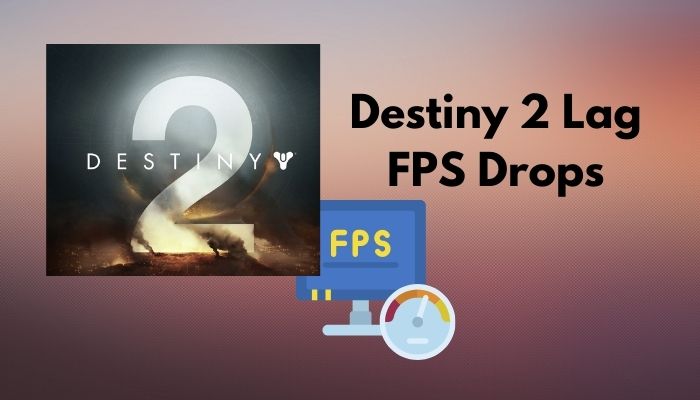 I have been enjoying the game since day one. In the initial period of its release, it was not loved that much. But after some changes here and there with more tweaks, it became popular, mainly after the Forsaken update.
Personally, I love Destiny 2 a lot as I often stream it. I faced some frame drops during my gaming session about a month ago. So looked into the matter and tried to fix it. After that, many players asked me in Discord how I fixed the issue. So I thought, why not let everyone know and help them get some good gaming sessions.
In this article, I will be helping you out with the lag issues, and FPS drops. There are quite some ways to fix this problem as the problem varies from computer to computer. What you need to do is stay tuned till the end of the article to try out the solutions and find out which one suits you.
Check out our separate post: Destiny 2 Ascendant Challenge Location
How to Fix Destiny 2 Lag and DPS Drop Issue
There are quite a number of causes for your game to lag or drop frames. So you can do trial and error to find which one works for you.
Here are the methods to fix Destiny 2 lag and FPS drops:
Method 1. Update Graphics Drivers
People often forget to keep their software up to date, and graphics drivers get the least attention for some reason. Manufacturers often update their graphics drivers to stay updated with the new games and software being released now and then.
Some updates may fix some issues but raise another bug. So There are continuous updates for graphics drivers. So if you love gaming, keep your drivers updated, which will give you the best experience every time.
Also, check out our separate post on fix Path of Exile lag spikes.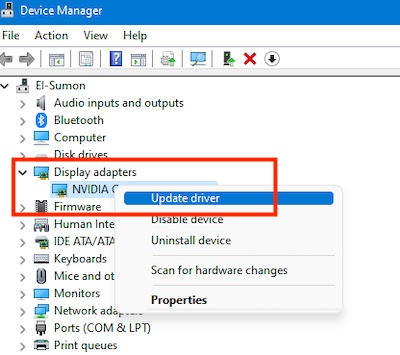 To update the graphics drivers, you need to check your graphics card model and find look it up on the manufacturer's official websites to look for updates. You may be using an Nvidia graphics card or an AMD GPU. So go to their website and see if there are any new updates on your specific card.
If you find a new version, download it and install it on your computer. Restart your computer, and the updates will be applied. Now try running Destiny 2 and look for lags. If it did not fix the issue, then move on to the following method.
You may also like to read: Destiny 2 Ascendant Challenge Locations
Method 2. Change Graphics Setting in Destiny 2
One of the best options for increasing your FPS is to lower some video settings from the menu, especially if you have a medium to the lower-end computer. Even there are some frame drops in high-end GPU too. So don't sweat about it that much. You may see some quality drop, but it will give you a significant FPS buff.
Open up the game, go to Settings, and head over to Video. Here is the setting you need to change in there:
Window Mode: Fullscreen. There are benefits of having a windowed and borderless screen, but Fullscreen enables some FPS boost.
Resolution : 1920 x 1080. You may have a higher resolution monitor, but you need to have a good GPU and hardware to run on that resolution.
V-sync: Off. Tuning it off helps to get some extra frames.
Framerate Cap Enabled: Off
Field of View: 60-90. It is a personal preference but setting it to a maximum of 90 will help you get stable frame rates.
Anti-Aliasing: SMAA. Sometimes FXAA makes the game blurry, so keeping SMAA is recommended.
Screen Space Ambient Occlusion: Off
Texture Anisotropy: 4x
Texture Quality: Medium
Shadow Quality: Low. Shadow quality gives a lot of depth to the gameplay but needs more resources and sometimes drops some frames. So keeping it low helps a lot.
Depth of Field: Low
Environment Detail Distance: Medium
Character Detail Distance: High
Foliage Detail Distance: Medium. What Foliage does is give your game more detail, and you may not need them as they are kind of unnecessary. You can even set it to Low if you want.
Foliage Shadows Distance: Medium.
Light Shafts: Medium
Motion Blur: Off. Keep it off to have clarity while sprinting.
Wind Impulse: Off
Render Resolution: 100%
Chromatic Aberration: Off
Film Grain: Off
Try these settings and see if you get better performance. In-game video settings impact the game frame rates mostly. If you have preferences about video settings, you may proceed to the following method.
Here's a complete guide on how to 1v1 in CS: GO Commands.
Method 3. Verify The Integrity Of Destiny 2 Game Files
One of the causes for the game to face frame drops or lag is corrupted or missing game files. You may find one or more files broken because of antivirus, which sometimes mistakes game files as viruses. So do check the integrity of the game files to eliminate the probability.
Here are the steps to check the integrity of Destiny 2 game files:
Launch Steam on your computer.
Go to Library from the top left and look for Destiny 2.
Right-click on the game and select Properties.
Navigate to the Local Files section and click on Verify Integrity Of Game Files.
Wait as the process finishes.
Close steam after the checking is complete.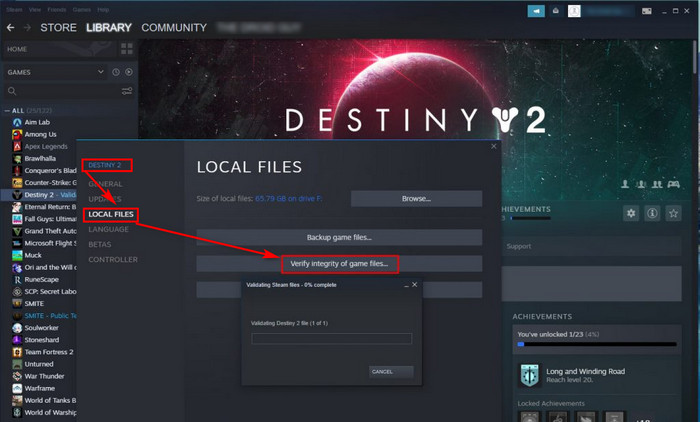 Steam looks for defective game files in your computer, and if it finds one, it replaces it with the new one stored in their cloud. Now try playing the game and see if the game still lags or not. If the answer is yes, you may proceed to the next method.
Also, check out our separate post on how to fix Valorant freezing and crashing.
Method 4. Clear Game Cache And Close Unnecessary Programs
Sometimes damaged cache files cause the game to lag, and if programs are running in the background, they may also consume resources. These may be potential causes for your Destiny 2 to drop frames, and it is really easy to clean these.
Here are the steps to Clear Destiny 2 Caches:
Press the Windows key and type in Run.
Open Run type %appdata% and hit the OK button.
Find a folder named .
Double-click the folder to enter and find the DestinyPC folder.
Delete the folder to clear the cache.
When you delete the cache, the game will automatically generate new cache files, and hopefully, it will help the game run smoothly.
Remember to close the apps running in the background while playing Destiny 2. Because sometimes the background apps consume a lot of resources, leaving the game to have fewer resources to run may result in an FPS drop.
Pro Tip: Make sure you have a stable internet connection. Destiny 2, an online game, needs a stable connection to work correctly, and there are times when lag or frame drops occur because of poor internet connection.
You may check our exclusive tutorial on what is Average Combat Score in Valorant.
Method 5. Update Windows and Disable Overclocking
It may sound irrelevant, but windows updates often fix game frame drop issues. So consider checking on your OS updates and keep them up to date. There have been reports where players could have good and stable game performance after they updated their Windows.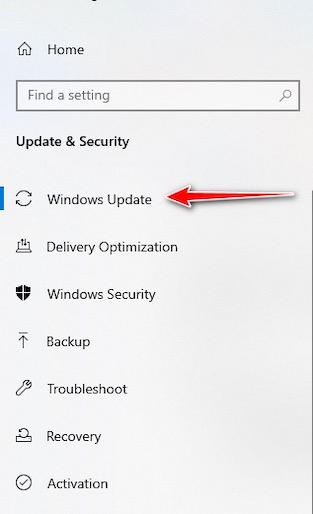 Be it Windows 10 or Windows 11, keep an eye on your windows updates and keep them updated.
If you have been overclocking your GPU to dish out a little bit more performance from your GPU, then you should probably try to stop overclocking. Overclocking does give a performance boost but too much overclocking may backfire on you. So reset your GPU to default clock speed and see any improvement in your game.
Check out the easiest way to fix Call of Duty Warzone installing shaders bug.
Final Thoughts
After all this time, Destiny 2 has made a soft corner in my heart. So I strongly suggest you enjoy this game and apply these solutions if you face FPS drop or lag. Because we all know lagging experience is extremely frustrating for gamers.
Hope that this article has helped you solve the lag and FPS issues with your Destiny 2. Feel free to share your thoughts and queries with us, and we will be happy to respond. Happy gaming, everyone!