Sony has designed the PlayStation 5 in a very slim and compact way to make it easily portable. So, when you go on a vacation, you can effortlessly carry your favorite console and enjoy gaming in any hotel or residents.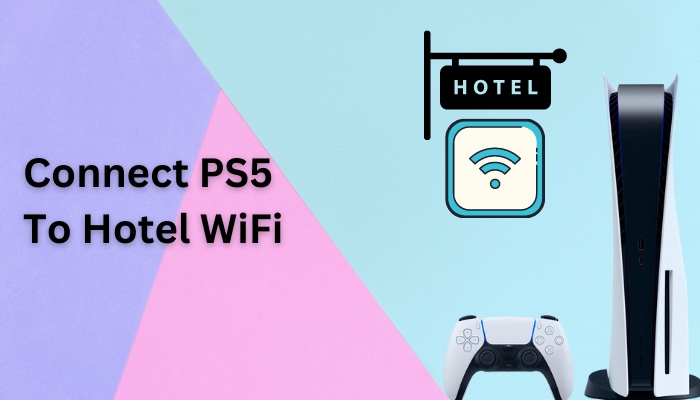 Trying to link your PS5 to any unknown Wi-Fi is somehow complex for new users, as it requires network authentication first.
Hence, this article will guide you on the proper way to authenticate hotel Wi-Fi on PS5.
Let's begin!
How to Connect PS5 to Hotel Wi-Fi
You can connect your PS5 to hotel Wi-Fi networks with the help of the PS5 default authenticator or using your smartphone as an authenticator. Moreover, for many hotels, you have to match your console frequency to the hotel Wi-Fi so that your PS5 can authenticate without any errors.
Usually, when you link any hotel Wi-Fi to your PlayStation, you need to agree to the terms and conditions of their Wi-Fi. Only after that you can enter the Wi-Fi credentials to log in to that network.
However, PS5 does not open any browser page to agree on the terms when you connect to hotel networks, thus failing to authenticate the Wi-Fi. That why, you will face failed connection prompt.
To mitigate this issue, you have two options—use your PS5 native options to authenticate or use your Smartphones.
Let's discuss more briefly for better understanding.
Here's a complete guide on how to fix PS5 not downloading games.
1: Authenticate via PS5 Native Options
Connecting the hotel Wi-Fi to your PS5 is simple as pairing it to your home Wi-Fi. But, users face difficulties at the time of authentication. Fortunately, you can utilize the PS5 Built-in Authenticator in such situations.
Here are the steps to use PS5 Built-in authenticator to connect to hotel Wi-Fi on PS5:
Go to Settings on your PS5 home screen.
Select Network and then, Settings.
Choose Set up Internet Connection.
Input the right Wi-Fi username and password of your hotel to connect. The Connection will fail. But don't worry. It will be gone after you complete the authentication.
Move back to PlayStation's Settings page.
Open User's Guide, Health & Safety, and Other Information.
Select Users Guide and click Yes on the popup.
Once done, a browser page will open, where you will find the hotel sign-in page and the login authenticator details. Enter every needed information, and a popup with a green tick that says success will appear.
After that, you can run a network test to confirm whether the connection is working or not. For this, go to PS5 Settings > Network > Connection Status > Test Internet Connection. Wait until your PlayStation displays Connection Test Complete.
If the test runs okay, you are good to go.
2: Use a Smartphone for Authentication
Alternatively, you can use a smartphone to authenticate hotel Wi-Fi for your PS5. To do so, you must first connect your smartphone and PS5 to the same hotel Wi-Fi.
Here's how to connect PS5 to the hotel network using phones:
Connect the Hotel Wi-Fi on your smartphone.
Set up the same hotel Wi-Fi on your PS5. A failed message with two options given— will pop up.
Select How to Authenticate under the failed error text. A popup with a code will appear, For example, PS5-440 that says sign-in required in the Wi-Fi option on your mobile.
Tap on the code and input the Password displayed on the PS5 screen.
Press Connect. A new notification will come.
Click on the notification to redirect you to the hotel login page.
Enter hotel login details and agree to the terms and conditions.
Once done, you will see PS5-XXX connected, and your PS5 is online to use the hotel's Wi-Fi network.
Quickly check our epic post on PS5 1080p 120hz not working.
FAQs
Why Can't I Connect PS5 to Hotel Wi-Fi?
The major reason for the connection failure of hotel Wi-Fi on PS5 is a faulty authentication approach and network frequency on your PS5 not matching the hotel Wi-Fi.
How do I authenticate the network on PS5?
To authenticate the network on PS5, connect to that network and go to the User's guide. Enter the necessary information to authenticate the network successfully.
Does PS5 have its own Wi-Fi?
Yes, a PS5 has it's own Wi-Fi that comes with a Wi-Fi 6 network card and supports 2×2 MU-MIMO wireless transfers and Bluetooth.
How do I change the WiFi frequency of a PS5?
To change the Wi-Fi frequency of a PS5,  Settings > Network > Settings > Set Up Internet Connection > select your current network > Wi-Fi Frequency Bands.
Final Words
It's easy to connect to a Wi-Fi network on PS5, but verifying any unknown network on it can be a hassle.
After following this guideline properly, I am sure that you now know the ways to utilize the free hotel Wi-Fi and play games on your PS5 on the go.
Feel free to share your thoughts in the comment box below. Happy Gaming. Godspeed!