Amazon users can easily change the email address associated with their Amazon accounts.
Recently, when visiting the GetHuman forum, I found several articles about how to change my amazon email address. Further research into the same thing, I understood that most Amazon customers and retailers are searching for Amazon account email address changing methods.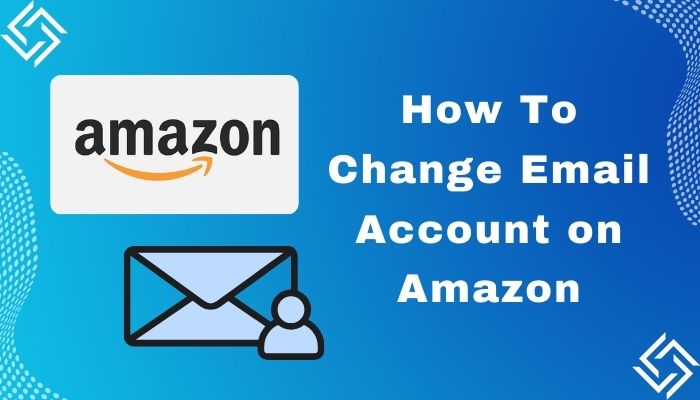 We all know that some web services and websites use our email address as a username to make it simpler to access. In this case, changing the email address associated with the account is a little challenging.
Read the whole article to change your Amazon email account without trouble.
Stay tuned!
Check out our separate post on Fix Amazon Won't Accept Address
How to Change Email Address on Amazon
As of December 2018, Amazon has 162 million unique web browser visitors and 122 million for the mobile application. And its mobile base is growing faster now.
While the app had 9 million users, it added 14 million people in just 5months till the end of January 2019.
Therefore, you need to create a new email address to get a new digital slate. But to confirm your updates and information later, you need to update your account information for the various sites you use.
Follow our guide on Can You Lock the Screen on Amazon Fire Tablet
On Mobile Application
The methods to change the email address for all mobile OS are the same. To change the email address on Amazon, you will need to access that new email address to get one-time verification (OTP) code from amazon.
Here are the steps to change your email account on amazon:
Open the Amazon Application that you will find in the app drawer.
Login to your account if prompted.
Tap the profile icon in the bottom of your screen.
Select Your account from the menu list.
Tap Login and security under the account setting header.
Type your Password to verify your account.
Tap Edit next to your email address.
Enter a new email address and tap Continue to get an OTP from amazon.
Enter the OTP and tap Continue.
Enter your Amazon password and tap save changes.
After entering your password, you will be directed to the login and security settings menu with a notification that your changes have been saved.
Check out our latest fix for how to Transfer Songs From CD to iPod or iPhone
On Web Browser
Amazon is one of the biggest multinational companies worldwide, and its developer knows everything about their user needs..
Accordingly, Amazon offers a simple service to change the email address associated with their amazon account. Users can also update other amazon account-related information.
Here are the steps to change your email account on amazon:
Go to a Web browser.
Type

 

Amazon.com and hit enter.
Click on Your name in the page's upper right corner, and a menu will drop down.
Select Your account. You should see this on the right side of the dropdown menu.
Click Login and security.
Enter your Password (if prompted). Skip this step if you are not prompted for your password.
Click Edit next to your email.
Enter your new password and click Continue to get OTP.
Enter an Anti automation You can skip this step if you are not asked to verify that you are not a robot. Otherwise, respond to the prompt and click continue.
Enter the One-time password sent to your email and click continue.
Enter your amazon password and select save changes.
These are the straightforward methods to add or change a new email address to an Amazon user account. After updating, you will start tracking updates and receiving order confirmation to your new email address.
So, the superfetch service is using a lot of CPU? Check out how to disable SuperFetch on Windows 11.
FAQs
How do I find my amazon email id?
Click your account to select login and security. You will see your current account details, including the email address listed on your account.
Can you have two amazon accounts with the same address?
With permission from Amazon, you can have two accounts but for different product categories. Whenever you have any crossover of categories or products, both of your accounts will be suspended forever.
How does Amazon know if you have multiple accounts?
Amazon traces accounts in many ways, from your IP address to browsers and browser plug-ins, computer operating systems, and cookies. They keep track of names, email addresses, and passwords.
How do I get a free amazon account?
To get a free Amazon account, follow this: Under the sign-in button, click start > complete the form with your name, email, and password > Click on create your amazon account. Follow the prompts to verify your email address.
Is it easy to change email addresses on Amazon?
Honestly, the process for changing the email address for your Amazon account is quite simple. Go to your Account and Lists > Login and security > Edit next to your email.
How do I change my email address?
Sign up for your account and go to your Accounts and Lists > Login and security > Edit next to your email > give your new email address and continue.
Have some time to spare? Check out our latest fix for Bluetooth Toggle Missing On Windows 11.
Conclusion
Amazon is the world's largest online retailer and prominent company which focuses on digital streaming, e-commerce, artificial intelligence, and cloud computing.
The biggest downside is that the chances of a lifelong email account change are poor. But it is also possible if you decide to use a new work email or switch to another email provider.
If you want to know more about this, you can let us know in the comment section .