Mapping a network drive on your PC is an effective way to access data stored on a different machine. It basically labels the network drive in your computer's File Explorer as a local drive.
Unfortunately, there are a few prerequisites and technicalities that might prevent a few from mapping a network drive on their Windows 10 PC. If you're one of those unfortunate, you've come to the right place for a proper solution.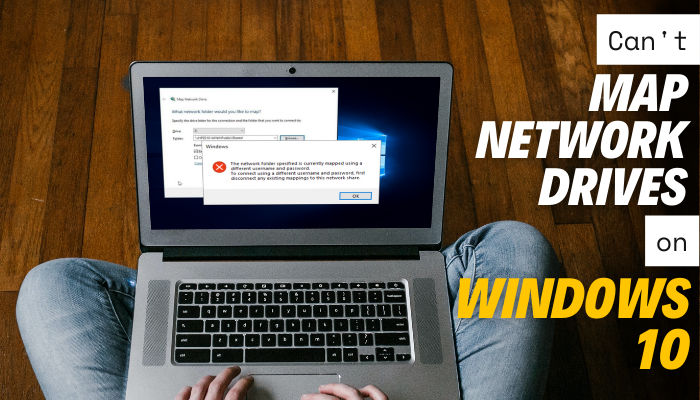 Let's dive into this article, as I have thoroughly discussed what you need to do when you can't map network drives on your Windows PC.
Why Can't I Map Network Drive on Windows 10?
The most common reason why Windows 10 users might have some trouble mapping a network drive is due to connectivity or online availability issues. Another probable reason for being unable to map network drives and getting error 0x80070043 is when a user updates their Windows 10 PC from v1909 to v2004.
Lack of permission or incorrect access credential will also prevent you from mapping network drives or even seeing any mappable drive at all. Not to mention, improper Windows settings can also be a culprit for the issue on hand.
Here's why you can't map network drives on Windows 10:
The network drive is connected to another WiFi network.
You don't have the correct credentials to access the remote machine.
The network drive might be offline or having technical issues.
Outdated Windows 10 version.
Incorrect Windows settings.
Private network drive.
In case the drive is offline or set to private, you won't be able to map it on your PC no matter what you try. But the issue lies on your end, you're in luck. That brings us to our main topic…
5 Easy Fixes When You Can't Map a Network Drive on Windows 10
If you're unable to map a network drive, first, you need to ensure that you have the correct credentials and necessary permission to access the said drive. Also, make sure you're connected to the same network as the remote drive.
After that, delete the current network drive from File Explorer(or use the Registry Editor) and try mapping it again. Additionally, make sure your Windows 10 computer has 20H2 or later update installed and disable offline files.
Then, remove the previous credentials for the network drive and re-enter it again to check whether you can access it or not. If you can, carefully follow these steps to map a network drive.
Too brief for you? Don't worry. Below, I have discussed 5 concise methods in great detail that should resolve this issue in no time.
Here are the methods to fix can't map a network drive issue on Windows 10:
1. Delete the Current Network Drive & Remap it
One of the most common issues when mapping a network drive is being unable to connect/access the network drive. In case you can't access the network drive anymore, you need to delete it from your computer and remap it again. Here's how to do it:
Double-click on This PC from your computer's main screen to open File Explorer.
Right-click on any available network drive and select Disconnect.
Alternatively,
Press Windows Key+R and type regedit.
Go to HKEY_CURRENT_USER\Network and right-click on the network drive's letter.
Select Delete > Yes.
Navigate to HKEY_CURRENT_USER\SOFTWARE\Microsoft\Windows\CurrentVersion\Explorer\Map Network Drive MRU.
Delete the entry for the network drive.
Now, go to File Explorer to map the network drive again and input any necessary credentials to finish the process.
2. Exclude Credential Providers Using Local Group Policy Editor
Another effective solution to resolve this issue is to ask the network provider or the drive owner to make change in the group policy and enable the exclude credential providers option from their end.
These are the steps to exclude credential providers via the group policy editor:
Click on the Windows search bar and type gpedit.
Select Edit group policy.
Click on Administrative Templates from the left-side pane.
Double-click on System from the right-side pane.
Scroll down to find the Logon folder and double-click on it.
Double-click on Exclude credential providers.
Select Enabled and hit Apply > OK.
After the drive owner/provider has made such changes, you should now be able to map the drive on your Windows 10 PC.
3. Disable Offline Files
Keeping offline copies of the network files can come in handy, but they can often introduce unexpected errors due to syncing issues. To solve such errors, disable the offline files option from your PC.
Follow these steps to disable offline files on Windows 10:
Press Windows Key+S and type sync center.
Hit Enter.
Select Manage offline files from the left side pane.
Click on Disable offline files.
Now reconnect to the network and check if you can map the drive. If not, move on to the next method.
4. Re-Enter your Credentials Using Credential Manager
Your entered credentials can get expired on the remote machine and thus prevent you from accessing or mapping a drive from it. In that case, you need to remove the existing credentials and re-enter them to again login to the remote drive. Here's how:
Press Start and type credential manager.
Hit the Enter button on your keyboard.
Select Windows Credentials and expand the Modified: Today section.
Click on Remove > Yes.
Reboot your PC.
Open Credential Manager again using the same steps.
Click on Add a generic credential.
Input the network drive's address, username, and password.
Hit OK.
You should now be able to access the remote drive, given that the credentials are accurate and have been granted the necessary permission.
5. Update Windows 10 to 20H2 Version or Higher
Last but not least, make sure you have the latest Windows 10 version installed on your PC.
To check the version, press Windows Key+R and type winver. Then hit Enter. You'll be able to see the Windows 10 version. If it's older than 20H2, you need to update the Windows ASAP.
Conclusion
At the end of the day, you still won't be able to map a network drive if you don't have a stable internet connection or the network drive itself is unstable. That's why you need to ensure the network drive and your home/office network is up to speed.
Anyway, that's all for now. Which method has worked for you? Let us know in the comments below.
Have a nice day!