After installing Windows 11, you are so hyped to use all the latest features of it. Most of all, the fabulous Dark Mode of Windows 11 with all the catchy icons! But you got surprised with sadness that you couldn't apply Dark Mode because Windows 11 isn't activated.
So, you are desperate to activate Windows to get your hands on all the features. But don't you know how to activate it with the activation key?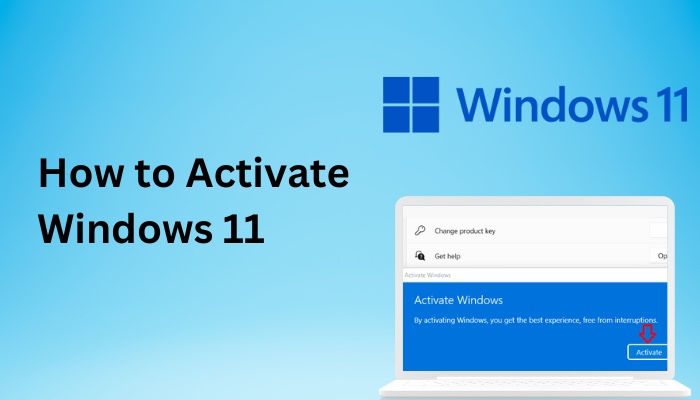 Don't worry; I am here for you with this article to help you activate it. I will show you the authentic way to activate Win 11.
Let's begin the activation process of your Windows 11. So, get a cup of coffee and start reading this article.
How to Activate Windows 11 in the Safest Way
Activating Windows 11 is like a walk in the park. All you need to do is buy the Windows 11 activation license key and place it in the exact place. You can activate Win 11 from Settings or CMD with KMS. Using the authentic method to activate Windows will keep your data and the PC safe.
Note: Microsoft is offering the KMS keys on their official website. So, you don't need to worry about the authenticity, and it's legal too.
So, without wasting your precious moment, let's begin the Windows 11 activation process with some methods. Follow the below methods to activate it.
Here are methods to turn on Windows 11 activation most safely:
1. Use Windows 11 Product/Activation Key
If you have upgraded from an activated Windows 10 to 11, you don't need to activate Win 11 again. The Windows upgradation process will carry forward that activation to Windows 11. But you must activate it after installing a fresh Windows 11 on your device.
For that, you need to purchase the activation key. After buying the product key of Windows 11, you need to follow the below steps.
Here are the steps to use the product/activation key for activating Win 11: 
Click on the Windows logo icon and select Settings.
Select System from the left pane.
Click on the Activate now button from the right side of Windows isn't activated status.
Select the Change Button of the Change product key option.
Copy and paste the activation key into the Product key text box.
Click on the Next button and select the Activate button after that.
After that, you will find that the Active status with a green tick shows beside the Activation state. Now, you have activated Windows 11 successfully.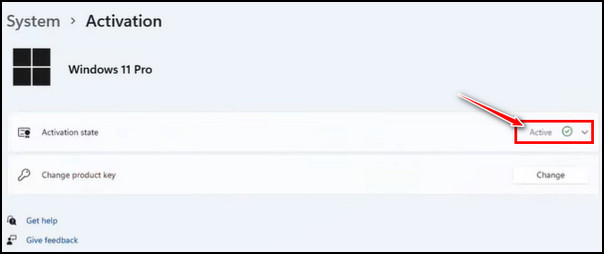 Read more on how to boot to safe mode in Windows 11.
2. Activate Win 11 with CMD & KMS
You can Activate the Windows with the KMS client activation process and, of course, with the product key. You don't need to worry about it anymore because Microsoft has officially included the KMS program. Go to Microsoft's official page and learn about it.
You must launch the CMD and write commands to enable Windows 11 activation with the product key through the KMS server. So, let me show you how to activate it with CMD & KMS.
Here are the steps to Activate Win 11 with CMD & KMS: 
Go to Micorosft's KMS product key page.
Scroll down and copy any KMS Client Product Key for Windows 11.
Press the Windows key + S and search for CMD.
Choose the Run as administrator option for CMD.
Type the following command & paste the copied product key at the end.
       slmgr /ipk <product key>
Hit the Enter key from the keyboard.
After that, a popup window will appear with the Installed product key successfully message. Now you must set up a KMS server using the CMD.
Type slmgr /skms <kms server name> in the CMD.
(For the KMS server, you can give kms7.MSGuides.com, kms8.MSGuides.com, or kms9.MSGuides.com, etc. For more, you can search for the list of KMS servers on the web)
Hit Enter key, and you will see a popup with the KMS machine name set successfully message.
Type slmgr /ato command in the CMD and hit the Enter Key again.
After that, wait for a few seconds, and you will see the Product activated successfully message within the popup window.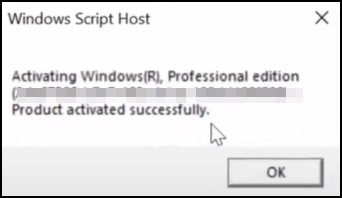 Check out the easiest way to fix blue screen on Windows 11.
Disadvantages of Not Activating Windows 11
Without activating Windows 11, you may not apply the Dark Mode and can't access Personalization settings. Plus, you will miss crucial Windows updates & bug fixes and have to tolerate the Activate Windows watermark on the screen. Also, you'll get stuck with limited themes.
With an inactive Windows 11, you can't change the colors and font. Also, you can't change the lock screen wallpaper as you want. It's like you can only do limited personalization, which is boring.
If you go to Settings, there are many things you can't change. The Windows Start menu is an important feature from which you can access frequently used apps and perform several tasks. So, you can't change minor settings in the Start menu from an inactive Windows.
The taskbar is a crucial part of Windows OS; you can pin or unpin any application. The pain part is you can't customize the taskbar either. Additionally, you'll get frequent notifications to activate your Windows which will annoy you greatly.
So, it is meaningless to keep working with Windows 11 if you can't use its full features. You must activate it right away.
Also, check out our separate post on how to fix Windows can't access network drive on Windows 11.
FAQs
Do I really need to activate Win 11?
Yes, you must activate Win 11 because you can't use all the features. With the limited customization, you'll get stuck to a fixed lock screen, font, themes, app color schemes, etc. You won't get crucial Windows updates and bug fixes.
Is Windows 11 activated permanently?
If you enable the activation once for Windows 11 with the activation key, it's activated permanently. Similarly, a laptop or device with pre-installed activated Windows will remain activated constantly.
How long can I use Windows 11 unactivated? 
You can use Windows 11 without activation forever if you want because Microsoft allows you to use it without activation. But you'll get limited features only.
How many characters code in the Windows activation key? 
There are 25 character codes in the Windows activation key. You'll need all of it to activate the Windows OS.
Wrapping Up
Most Windows OS users around the globe installed Windows 11 as their daily driver. If you are a Windows user, you know you can't do much with limited features and customizations.
A windows 11 without activation won't let you use all the features and bind you with limited personalizations. So, you must activate it right now.
Have you read this article and activated your Windows 11 by following my methods? Please let me know in the comment box below if you need further assistance with Windows 11.
Best of luck using the activated version of Windows 11. Peace out!