DDR5 offers an enormous leap in mega transfer rates over its predecessor. And the prospect of this technology reaching astronomical data transfer capability is becoming more evident each moment as we speak.
Though, you need a compatible CPU to savor the goodness of DDR5. In this article, I'll provide you with a complete overview of such a DDR5-supported processor list.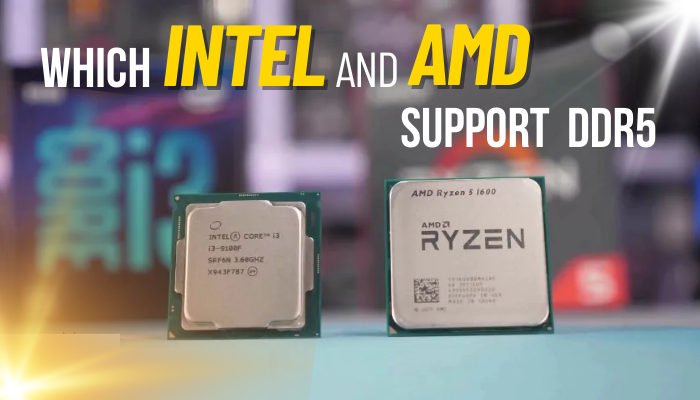 Let's dive in, shall we?
DDR5 Supported Intel and AMD CPUs
Intel 12th and 13th generation and AMD 7000 series processors have full support for DDR5 memories. Besides, AMD 6000 series mobile processors A.K.A APUs also come with native support for DDR5, although they are built on Zen 3+ architecture.
See, the CPU stack as of today is not that much when it comes to DDR5 support, as we're only passing the first phase of adaptation; considering both the manufacturer Intel and AMD.
But there's more than enough to embark on the DDR5 club. I've categorized the DDR5-supported processor list below.
Here is the list of DDR5 compatible Intel & AMD CPUs:
CPU Family (Intel and AMD)
DDR5 Supported CPU
Supported Memory Type
Supported DDR5 Base Speed (MHz)
Intel Core i9
12900/F/T, 12900K/KS/KF, 13900/F/T, 13900K/KS/KF
DDR5, DDR4
5600/4800
Intel Core i7
12700/F/T, 12700K/KF, 13700/F/T,
13700K/KF
DDR5, DDR4
5600/4800
Intel Core i5
12600/T, 12600K/KF, 12500/T, 12400/F/T, 13600/T, 13600 K/KF, 13500/T, 13400/F/T,
DDR5, DDR4
5600/4800
Intel Core i3
13100/F, 12300/T, 12100/F/T
DDR5, DDR4
4800
Intel Pentium & Celeron
Pentium Gold G7400/T, Celeron G6900/T
DDR5, DDR4
4800
Intel Mobile (Includes 28W P & 15W U)
13th gen and 12th gen processors e.g., i9 13980HX, 12950HX, i9 13900H, i7 1370p, i7 1365U, etc.
LPDDR5, LPDDR4x, DDR5, DDR4
5600/4800
Intel Mobile 9W U series
i7-1260U, i7-1250U, i5-1240U, i5-1230U, i3-1210U, Pentium 8500, Celeron 7300
LPDDR4X, LPDDR5
5200, 4800
Intel 4th Generation Xeon (Max, Platinum, Gold, Silver, Bronze) Scalable CPU (HEDT)
Xeon 8480+, 8470 etc.
DDR5
4800, 4400
AMD Ryzen 9
7950X, 7950X3D, 7900X, 7900X3D,
DDR5
5200
AMD Ryzen 7
7800X, 7800X3D, 7700X, 7700
DDR5
5200
AMD Ryzen 5
7600X, 7600
DDR5
5200
AMD Ryzen Mobile
Ryzen Mobile 7000 & 6000 Series APU
DDR5, LPDDR5
4800
You know, the list of DDR5 supported CPU will eventually grow every year until DDR6 is out.
To shed more light on DDR5, you need a compatible motherboard to get the system running.
Not to mention, you have to swap the processor and motherboard completely if you are on a DDR4 system. The reason is that no DDR generation is forward or backward compatible.
So, a motherboard is necessary, right?
Let's have a sneak peek at DDR5-compatible motherboards in the next section.
DDR5 Supported Motherboard
On desktop, several chipsets from AMD and Intel can take advantage of the DDR5 memories. That being said, not all of them can stretch the frequency of memory modules to a similar speed.
Here is the compatibility list of DDR5 Chipsets:
Manufacturer
Chipset Name
Memory OC
Target Consumer
Intel
Z790, Z690
Yes
Enthusiast Gamers & Creators
Q670, Q670E, R670E
Yes
HEDT
W680, W790
Yes
B660, B760, H670, H770
Yes
Users on a budget
H610
No
Regular users with tight budget
AMD
X670E
Yes
Enthusiast Gamers & Creators
X670
Yes
Cheaper cut down version of E version
B650E
Yes
High mid-range
B650
Yes
Mid-range
There are lots of differences between DDR4 and DDR5, and the DDR5 supported motherboards doesn't have a backward compatibility.
Is DDR5 Worth It?
DDR5 is definitely an upgrade, offering faster-than-ever data transfer rates. As these memories are still at the early stage, availability is scarce. Hence, the price is steep. Not to mention, you have to pay a premium for a DDR5 memory-compatible motherboard.
So, that's just the economic situation. But how about the performance gain? Does DDR5 make any difference?
Well, it does in certain workloads and games. In such applications, noteworthy performance improvement is pronounced. Though on average, this margin is insignificant.
For example, I tested my core i9 13900K with DDR5 and DDR4 RAM. Across different games, I've seen a mere 5% difference on average. In some titles, however, the FPS gap is noteworthy.
In production-type software, the gap is even narrower. There is virtually no tangible difference in my book.
So, depending on the type of game or work, you should choose the right RAM for your PC.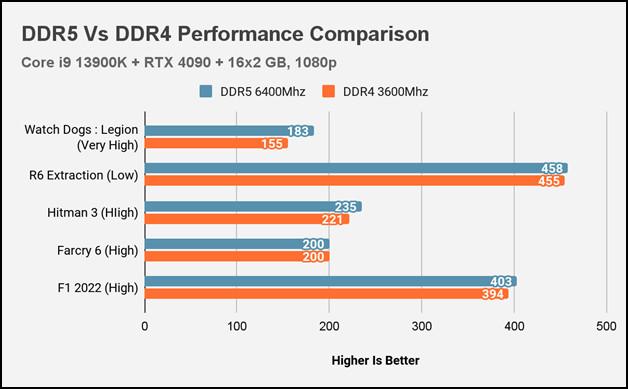 For the absolute best performance, DDR5 is worth your money. But if you are on a budget, DDR4 is a no-brainer for both value and performance.
FAQs
Does Ryzen 5000 Support DDR5?
No, Ryzen 5000 series does not support DDR5. However, you can pair high-speed DDR4 memories with the help of a top-end motherboard.
Is Ryzen 7000 DDR5 Only?
Yes, Ryzen 7000 series only supports DDR5 memories. Unlike Intel, AMD completely removed DDR4 support on their latest generation of processors.
Is Intel 13th Gen DDR5 Only?
No, Intel 13th gen CPUs are compatible with both DDR4 and DDR5 RAM.
Ending Remarks
As both AMD and Intel have introduced DDR5 to the mainstream market, it's still a growing and confusing question of which CPUs are compatible. Hence, comes this article covers everything you need to know.
Have a nice day!