Most users sell their old hardware after building a new PC, with the exception of the storage device, because people keep all kinds of vital items there for a long time.
People can use this internal storage, such as SSD, as an external storage device in their new PCs. However, the process is a little hard for most users.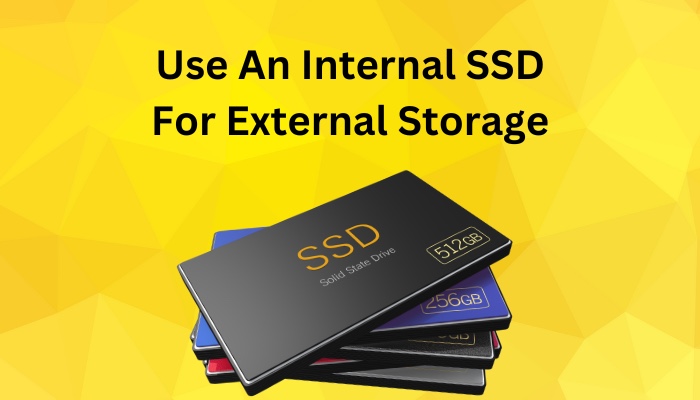 So, in this article, I'll walk you through three simple steps for using an internal SSD as external storage in a PC.
Tag Along!
How to Use An Internal SSD for External Storage
Before you can use an internal SSD as an external drive, you must normally go through three steps. First, copy every file from the old SSD to the new hard drive, including the operating system. After that, construct a second enclosure for the old SSD and finally Reset the old internal SSD's setup.
Note: Before you may use your old SSD as an external device, you must first move all of your previous data to another storage device. If your old SSD becomes physically damaged or suffers from HDD failure, it may be difficult to utilize as an external drive. As a result, it is preferable to test the HDD and ensure that it can run correctly ahead of time.
Here are the steps to use an SSD as an external device:
Step 1: Transfer Old SSD Data
You must transfer your old SSD data to another storage device because it may become damaged or corrupted while being used as external storage. You can transfer all of your data manually, but it will take time. As a result, you can utilize a data transfer tool.
Here is the process of transferring old SSD data:
Connect your SSD with another external device like HDD or SSD.
Download the MiniTool Partition Wizard application and install it.
Click the Migrate OS to SSD/HD Wizard feature on the main screen.
Choose option A and click Next to continue.
Select an HDD or SSD as the destination and click Next.
Click Finish when a note tells you how to boot from the destination disk.
To begin the transfer, return to the primary interface and select the Apply button. You can safely dispose of your old internal SSD when the file transfer process is done.
Also, check out our expert's recommended fastest PCIE 4.0 SSDs.
Step 2: Put SSD in an Enclosure
You'll need an enclosure to use your old SSD as external storage. Before purchasing such a product, ensure the dimensions (2.5 or 3.5 inches) and interface of your SSD are compatible with the enclosure or converter. You can check your SSD information from your computer.
Here are the steps to check your SSD information:
Press the Win key to open the Start menu.
Type System Information in the search bar.
Open System Information.
Go to Components > Storage > Disks under system information.
You may find your SSD model, dimensions, and supported port type on this system information page. Depending on the SSD model, you must purchase an enclosure or a USB adaptor.
Note: You can also check your SSD specifications on their individual websites, as well as the information inscribed on the SSD.
Also check our exclusive tutorial on can SSD Improve FPS.
Step 3: Reformat the SSD
You must reformat your SSD since the old format file layout may interfere with the new format file layout. So, to format the SSD, you can utilize Windows built-in utilities such as Disk Management or the Command Prompt option.
Here is the process to format SSD using Disk Management:
Type Disk Management in the Start menu and open it.
Select Format by right-clicking a partition on your old SSD.
Enter a disk name (optional) and a file system in the pop-up box. Then click OK, and your SSD will format itself. You can format your disk using the Command Prompt option as well.
Here are the steps to format SSD using Command Prompt: 
Press Win+R to open the Run window.
Type cmd and press Ok to run Command Prompt.
Type these commands in sequential order.
Commands:
diskpart
list disk
select disk
list partition
select partition
format fs=ntfs quick
Your SSD will be formatted automatically after the operation is completed. If you wish to use a different file system, simply replace NTFS with the file system of your choice, for as format fs=fat32 quick.
Also, check out our separate post on will SSD reduce high disk usage.
Conclusion
Using an old SSD as an external storage device can benefit PC users because it saves money while also increasing computer storage.
So, in this article, I've demonstrated how to use an internal SSD as external storage in a PC.
If you have any feedback or queries, drop your comment in the section below.