The Word Game or Gaming itself triggers an adrenaline rush in everyone obsessed with video gaming. You might have a powerful gaming rig with Windows 11 installed to play high-end AAA titled games with ease.
Keeping that in mind, Microsoft added Game Mode in Windows 10 and 11 to deliver high performance; while gaming, the Game Mode optimizes the system resources. Nevertheless, it might cause performance issues on some custom-built windows PC setups.
To fix the issue and avoid performance drop-down while gaming, you must turn off Game Mode in Windows 11. And the Game Mode is turned on by default in Windows 11.
If you don't know how to disable Game Mode in your Windows 11, read this article till the end.
Let's get started.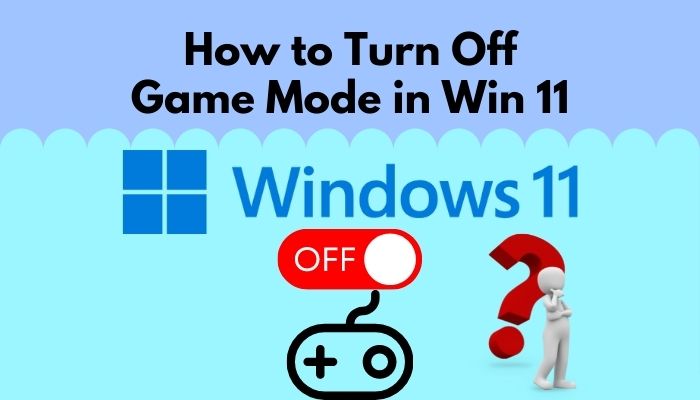 Also, check out our separate post on how to fix the Start button not working on Windows 11.
Should You Disable Game Mode in Win 11?
Gaming experience depends on the performance quality that is delivered by the hardware. Yet, not only does hardware affect your gaming performance, but software optimizations do that too. Sometimes, software optimization can cause a decrease in gaming performance if it is left turned on.
Speaking of software optimization, the Game Mode in Windows 10 and 11 offers software optimization to improve gameplay. It only focuses on the system resources to strengthen the gameplay.
Meanwhile, along with other gamers, I found that this specific mode in Win 11 didn't make a huge impact on high-end systems. So, let's take a quick look at the Game Mode.
Here's a complete guide on how to restore files from File History on Windows 11.
What is Game Mode
Game Mode is a recent feature by Microsoft, and it's available in only Windows 10 & 11. This feature gives the highest priority to games over all other processes. Microsoft developed this feature to run the games faster and provide you with higher framerates while gaming.
This mode does all the tweaks in gaming through software optimization. When it is turned on, the Windows update will be set to pause automatically to ensure stable performance during gameplay.
This gaming feature was first introduced in Microsoft's Windows 10 creators update in 2017.
Though, this mode can improve efficiency if you multitask or run lots of processes in the background. You should turn it off if you have high-end gaming setups and no need for further software optimization. Some gamers face issues when they turn on the Game Mode.
Microsoft is still working on its Game Mode to improve its optimization. Meanwhile, it will be a wise decision to turn it off to get the most out of your high-end hardware. In some rare cases, Game Mode can cause performance issues.
If that's the rare case for you, you can quickly turn it off. But keep in mind, turn it off only when you are playing games, and you don't need software optimization to boost your gameplay.
Check out the easiest way to switch domain controller on Windows.
How to Disable Game Mode in Win 11
Disabling the Game Mode is an easy task to do. You don't need to go to the BIOS settings to disable this gaming mode. It's still a terrible feature due to the lack of constant optimization.
A lack of software enhancement can drain your system's processing power instead of boosting it. For this reason, you should disable this Game Mode.
Here are the steps to turn off Game Mode in Windows 11: 
Right-click on the Windows logo and select the Settings option.
Select the Gaming option from the left-side main menus.
Click on the Game Mode, which will redirect you to the Game Mode's settings option.
Flip the switch, and the Game Mode will turn off eventually.
Easy peasy! You have successfully disabled the Game Mode settings in your Windows 11. Told you, it's not so difficult to turn it off.
However, you can again turn it on when you need it. Simply go to the Settings > Gaming > Game Mode and flip the switch to turn it on.
As long as you are not a heavy gamer and multitasker most of the time, this feature can boost your working speed.
Follow our guide to update Drivers on Windows 11.
FAQs
Should I get better performance from the Game Mode in Win 11?
Well, it depends on your system's hardware. You can turn on Game Mode if you have a low-end hardware-based system. You will get a performance improvement while gaming or multitasking. No need to turn it on as long as you have high-end hardware installed in your system.
What happens if I turn on Game Mode in Win 11?
When you turn on Game Mode in Win 11, this feature prioritizes all the system resources for gaming. It helps you to get stable framerates in the games. Game Mode will restrict any background tasks that are irrelevant to the games.
Does Game Mode cause lag while gaming?
In the Windows 10 game mode, users face lags and stutters in the games after turning it on. But in Windows 11, this Game Mode is more optimized than before. However, you might face issues after turning it on and playing games. Well, cases like this are rare.
Final Word
Gaming quality is the main factor for a hard-core gamer. Along with hardware optimization, software optimization can improve your gaming performance. If you are getting low-performance while the Game Mode is on in Windows 11, don't blame the Game Mode only yet; there might be other reasons too.
The Game Mode is just only a drop of the ocean as there may be other factors that can cause low FPS while gaming.
What's your thought about the Game Mode feature in Windows 11? Is it useful or another futile feature from Microsoft? Do let me know your thoughts.
Let the games bring peace to you!