I take tons of photos every day. Even if I see something that is not so interesting, I take a snap. I try not to do it, but this has become an obsession.
As a result, I am running out of storage most of the time. I can offload all photos from my iPhone to my Windows computer and regain the storage space.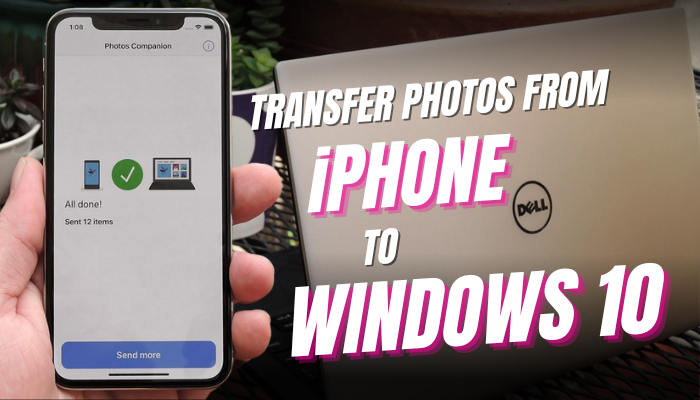 If you are in the same boat as me, follow along with this piece, where I show you how to move photos from your iPhone to your PC.
How to Transfer Photos from iPhone to PC on Windows 10
Windows 10 has a great app to view and transfer your photos. It's called Photos, for obvious reasons.
This can detect all the photos from your iPhone and arrange them in order of the months they are taken. I feel this is a great thing to have, as you can scroll and find photos from an individual month rather than scrolling endlessly.
Or you can manually select photos from the File Explorer and send them to the destination folder. You may have copied files from a USB drive or a Camera a million times. This is no different from that.
But first, the PC needs to recognize the iPhone. You need iTunes for that. That way, all necessary drivers will be installed on your PC.
Let's prep your phone for the transfer, then.
1. Connect your iPhone to the PC
Download the latest version of iTunes from Apple's Website. If you already have it installed, do check for updates and install its latest iteration.
Now connect the iPhone to the PC using a lightning to USB cable. Unlock your phone using your passcode.
You should see two alerts now. One will ask if you trust the computer, and the other asks for permission to allow the PC to access the photos on your phone. To transfer the files, we need to allow both, so tap on Trust and Allow, respectively.
The iPhone should now be detected as a drive on your PC. That means Windows has detected it properly. So, let's transfer the photos now.
2. Transfer Using the Photos App 
This app comes preinstalled with Windows. That means you do not need to download it from some app store.
Follow these steps to transfer iPhone photo to a PC using Photos:
Type Photo on your Start Menu. Click on the Open button. If it is present as a live tile, click to open it.
Click on the Import icon and select From a connected device.
Select All, Items since last import, or None.
Note: If you want only to save selected Photos, select None and manually select the Photos you want to save. If you have already used Photos before to transfer, you can choose Items since the last import. To save everything on your iPhone, choose All.
Click on Change Destination to change the default location of the transferred photos. By default, it saves to C\Users\Username\Pictures.
When you have selected everything, press the Import button. After the transfer finishes, Photos will alert you.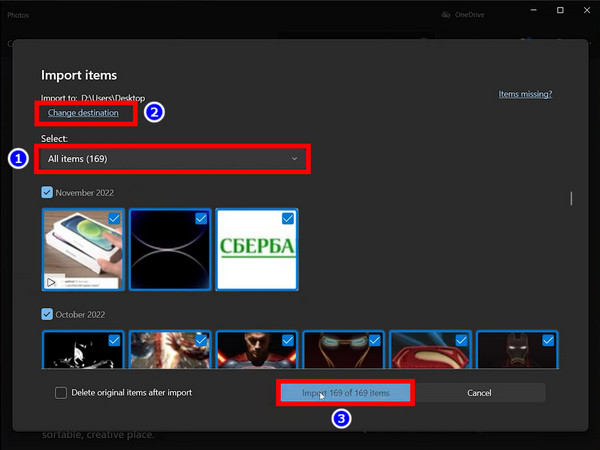 You can go now and check out all the photos you took. You will definitely find multiple ones occupying unnecessary space. Select and delete them.
3. Using File Explorer
There are two ways of moving photos using File Explorer. You can either import all images or choose only keep the selected ones.
Once connected, the iPhone will show up as a connected drive. If you click on it and go inside this drive, you will find a DCIM folder.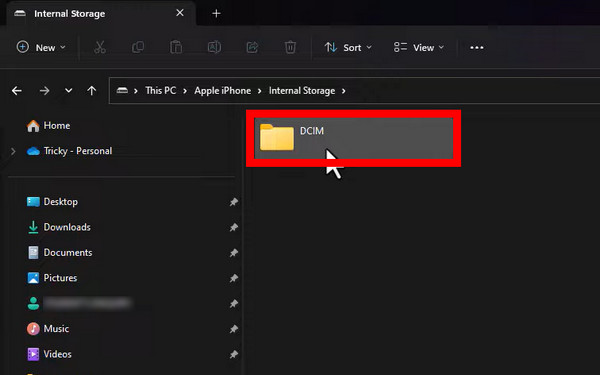 Here all the images are placed according to the months they were taken. To select multiple photos, press Ctrl and click on the individual files. After choosing the photos you need, copy them to your backup drive.
To keep all the images on your PC, simply copy the entire DCIM folder. Depending on the number of photos, the size of this folder can vary. But if you are like me, clicking snaps all the time, expect this folder to be large.

Note: Before copying, check if that disk drive has enough free space. Otherwise, all photos will not be backed up.
How to Transfer Photos from iPhone to PC without USB Cable
If you wish to transfer the photos from your iPhone wirelessly, you can do that using iCloud. This is more like downloading the photos from iCloud's web app. But you must select to sync all your pictures to iCloud beforehand. Otherwise, you cannot download them from here.
There is another thing to consider.
The free iCloud tier only gives you 5 GB of space. So, if you already have used them, then the most recent photos are probably stored locally on your phone. Then the earlier steps involving the Photos app are a better way to get your phone's photos on your PC.
Let's look at the steps to download photos from iCloud on your PC:
Go to the iCloud website from any browser.
Press the Sign in button and enter your Apple account credentials.
Enter the 2FA code sent to your iPhone.
Click on Photos.
Select the images you want to download. To download everything, press Ctrl + A. This will select all photos.
Press the Download icon.
You should see a zipped file download on your PC. Unzip these using any free tools such as 7zip.
All your iCloud photos are now on your computer.
Frequently Asked Questions
Why can't I transfer photos from iPhone to USB?
If you do not allow Windows to access your iPhone photos, then you cannot transfer them to your PC. So connect your phone and give all the permissions that pop up on your screen. Also, ensure that the photos are stored locally on your phone to transfer them.
Why is my iPhone not showing up on my computer?
If the iPhone is not detected properly, it will not show up on your computer. Try plugging it into a different USB port allowing the required permissions.
Conclusion
Using all three methods mentioned here, you will get all your iPhone's photos on your PC. This makes it easier to edit if you are on Windows.
The best thing about every one of them is you don't need any third-party applications. That means no bloatware, annoying ads, or even viruses in the worst cases.
Do share how your experience went in transferring your photos.
With that said, we have reached the end of this article.