Microsoft Forms makes it very easy to collect data or information. With a wide range of fields and options for customization, it is one of the better offerings out there. Also, as part of the 365 ecosystems, it is deeply integrated with apps such as Sharepoint or Microsoft Teams.
In this article, I will show how you can make changes to a form that you created earlier using Microsoft Forms. If you didn't know how to create forms, that is included in this piece too.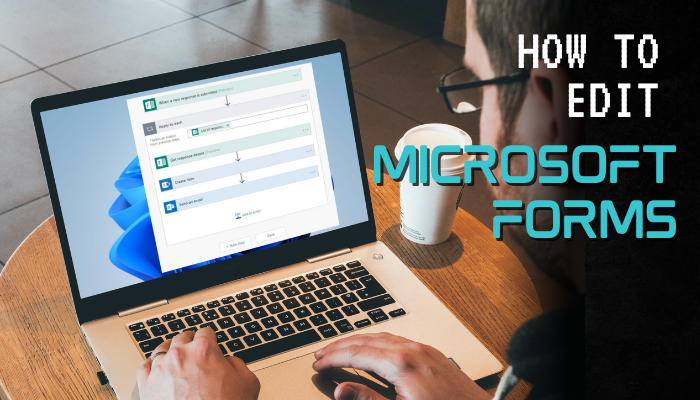 So, without further ado, let's get started.
How to Edit Microsoft Forms
The forms that you have already created will be shown in the Microsoft Forms homepage. If you have used the same account to create forms in Teams, these will be present too.
To demonstrate this, I have created a form that aims to create opinions from the customers of a Jam and Jelly company. The target is to get an idea as to how we can improve the products for our next batch. As we are looking to introduce some new flavors, it is a good idea to know what the people like most.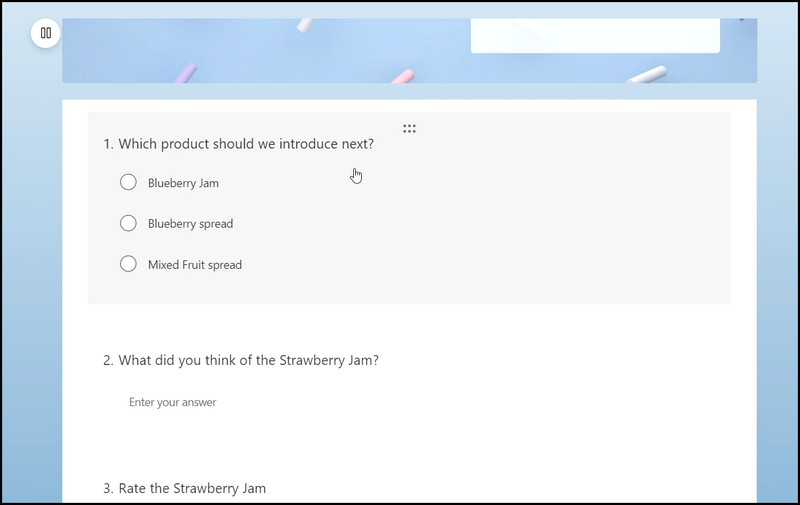 But I forgot to add a section in that form.
So, let's look at how I can edit it.
These are the steps to edit a form using Microsoft Forms:
Go to forms.office.com and log in using your credentials.
Scroll down and click on the Recent tab.
Note: The Recent tab will show all the forms created using the same account. It includes Teams and Sharepoint. My Forms will only show the forms that you created here. Shared with me shows all forms that you have access to, and Filled forms show which you have filled earlier.
Click the form that you want to edit.
Here you can see the different fields that I have created. Let me add an image to the first one to make it more engaging.
Click the first field. To insert an image, click the image icon next to the field heading. You can add images from your computer or search from the web. I searched for a nice image and clicked the Add button.
Click on Add option to add another item to this list. I added Chocolate spread as another option here.
To delete an option, hover the mouse over it unit you see a delete icon. Click it, and it is removed.
To add another field, click the + You can add a Choice, Rating, Date, and Text field. I wanted to add a field that asks the user for a choice. Then add the field text and the options.
Note: Microsoft Co-pilot AI will provide you with suggestions for the field text and options. Clicking these will add the options automatically.
Turn on the Required toggle in fields where you want the user not to skip this option.
Press the Preview button to see what the form looks like. If something does not look good, you can make changes to them.
Once everything looks okay, you can go ahead and copy the link to the form. To do this, click on Collect Responses and Copy Link button.
Anyone with this link will take them to the form, and from there, they can send their opinions.
Microsoft SharePoint is a shared space where you have all files for your organization. You can also add Microsoft Forms here. That way, all your team members can voice their opinions right from there.
But if you are the author of a form and want to make changes to it, you have to go to the Microsoft Forms site. Then the changes that you make there will be reflected on SharePoint.
As for Teams, you can edit Microsoft Forms from its interface. But the forms must be created from Teams if you want to edit them. Other forms cannot be edited, and you can only submit responses.
We tested this using a form created using the Microsoft Forms website and shared it with a Teams group chat. There, you can only submit responses. To edit the form, you need to go to the Microsoft Forms webpage and make the necessary changes there.
How to Create a Form Using Microsoft Forms
Creating a new form is very similar to when you are editing it. All you need is to add the fields and the texts that they contain. You can add fields for inserting texts, selecting options, or inserting dates.
Once you add a field, you add another by clicking the Add New Field. Microsoft Forms has all the tools to create forms with engaging items.

For example, you could ask your customers to rate a specific product. When the responses are recorded, you can see the average stars and total stars sent by the users.
Adding a Likert scale to a form is also an option. You can add respective questions and their possible answers here. The respondents will then be able to submit their answers by clicking on each option. You can see the responses in a separate section on the Microsoft Forms webpage.
Frequently Asked Questions
Can you edit a Microsoft Form after sharing?
Yes, you can edit a Microsoft Form as long as you are its author. You can edit it on Microsoft Forms webpage.
Can anyone edit Microsoft Forms?
Only the author of a form can edit a Microsoft Form. If you have given anyone edit permissions, only then can they edit them.
Can you edit Microsoft Forms in SharePoint?
No, you cannot edit Microsoft Forms on SharePoint. You can insert a form into a SharePoint site, where participants can submit their responses. But you can only edit a form from Microsoft Form's webpage.
Final Words
This article shows you how easy it is to edit Microsoft Forms. Also, if you want to create a new one, you can do that too.
Editing a form is important if you have a typo and need to remove it. This also opens up the possibility to add new items should you feel like it.
I hope you had a good time reading this guide.
Until next time, it is time to say goodbye.