I think you will agree with me when I say:
Nowadays, most people want a Beauty and The Beast type of combination when it comes to choosing components of their gaming PC.
And for this reason, G.skill has launched their Trident Z Royal DDR4 series memory modules.
In this G.Skill Trident Z Royal Review you will get to know more about its stunning jewelry-like design and awesome performance.
These memory modules are the new game changing RGB ornaments for all the gaming PC enthusiasts out there.
But your questions might be: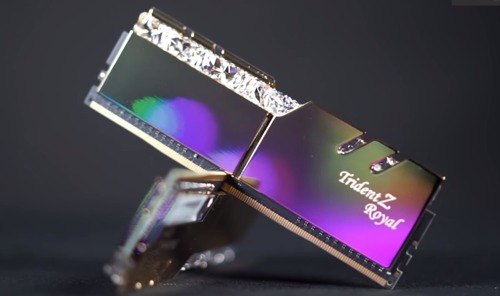 Is it worth upgrading or buying G.Skill Trident Z Royal for my new PC build?
Or, do these G skill memory modules bring any major change in terms of performance?
Well, I know it's a bit confusing! That's why, In this G.Skill Trident Z Royal review I have answers to all your questions.
So, in this G.Skill Trident Z Royal Review you will get to know if the Price versus Performance ratio of these g skill memory modules are worth it or not.
Before starting the review, there are some things I want you to know…
Firstly, I am going tell you about all the things you need to know before buying these expensive memory modules.
Plus, I will show you all the pros. and cons. of these trident z DDR4 RAM.
You will be shocked:
When you get to know about the new upgrades that G.skill has provided with these trident z RGB RAM. As there are some drawbacks too, you will need to consider reading the full post to get a good idea about the g skill trident z RAM.
I will tell you everything  step by step so that it becomes easier for you to make the decision of buying it or avoiding it.
So, here are the newest features of the Trident Z Royal series memory modules:
Also check out some good PSU for your Awesome Gaming PC.
Trident Z Royal Design
You might be doubtful about the design of the new Trident Z Royal series memory modules. Specially, if you haven't seen one in person. But no problem, i have seen them.
And Let me assure you that that:
I just bought these modules only because of its beauty. And I found the pros and cons later.
But I don't want you to do like that. I really want you to know if this glittering thing is gold or not.
I firmly believe that:
Trident Z Royal series memory modules are made for the next level beautification for your Gaming PCs. You just can't take your eyes off it while they are glowing. Just kidding. But  honestly, I will say that, these are the best looking RAM I have seen so far.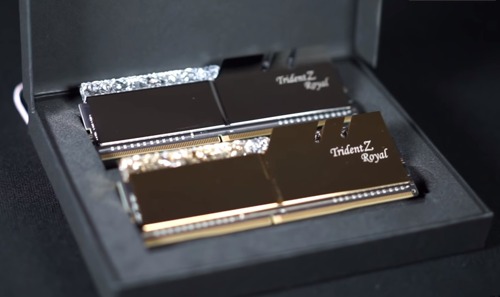 I mean, What can you ignore? Every single thing looks Damn gorgeous starting from the heat sink to the RGB illuminated crystal like cover.
The new heat sinks of this RAM are made of glossy finished metals and they look stunning when they reflect the RGB lights.
These gorgeous looking memory modules come with two color variants: Gold and Silver.
Check Today's Price of Trident Z Royal Gold 4000Mhz ➜➜
The best thing you will notice in a second:
Is the crystal like illuminating part under which there are addressable RGB LEDs. The RGB illuminated part continuously changes colors and gives a beautiful Rainbow-like effect at default settings.
Better Heat Sinks for Faster Cooling
The new heat sinks are mainly designed for better cooling performance and stunning looks.
I mostly like the glossy finishing of it as it shines under RGB lighting of the PC. These heat sinks are made for highly overclocking incompatibilities.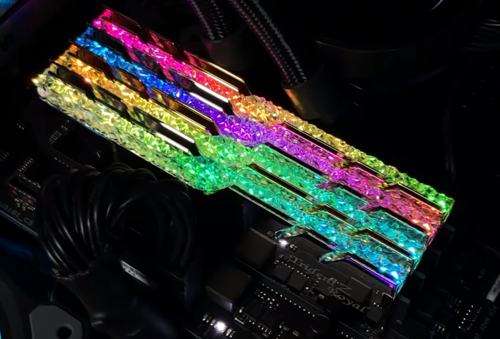 You might be wondering:
But, what these heat sinks are made of?
The heat sinks of these memory modules are of completely newly designed and the alloy of metal body of the heat sinks are mostly comprised of Aluminium. So, it's both attractive and effective for performance.
All New Gorgeous RGB Illumination
The Royal series RAM of Trident Z has got a better illuminating design than its predecessor. The new design of the crystal like plastic makes the RGB illuminations more beautiful.
You will get Heart-Shaped eyes:
Seeing the beauty of these glittering jewellry like memory modules inside your PC.
Under the illuminating body there are 8 LED zones for controlling the light's color separately.
The good thing is, the LEDs are addressable as a result, perfect rainbow effect and many other cool moving lighting effect can be made with it
One problem, that is:
For now, this RAM support only Aura Sync by which  you can control RGB effects if you have an Aura Sync supported ASUS motherboard.
Hopefully these memory modules will support the other softwares too in future. if you face any problem regarding to RGB LED lights syncing then you can check this easy fix for asus aura sync.
 G.skill Trident Z Royal Performance
first of all you need to know that:
The new design isn't the most attractive of these memory modules. The most attractive part of these RAM are features, it's high speed overclocking abilities  and it's great performance .
I am sure that:
You have never heard of a Ram which is rated to 4600 MHz before this one.
And this is not the last limit of speed you can go up to.You can overclock it to and insane amount of speed.
You will be amazed to know that:
I myself have overclocked my 4000 MHz kit to 4400 MHz.
Trident Z Royal DDR4 RAM Series Technical Specifications
The Royal series RAM of trident z comes in 16GB to 128GB kits having up to 4600Mhz speed.
These are one of the best performing DDR4 memory modules until now.
These are the available type of kits in the market: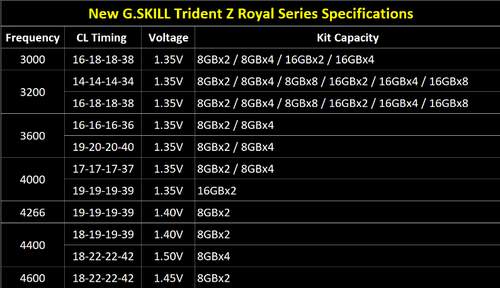 Check Today's Price of Trident Z Royal Gold 4000Mhz ➜➜
There is no doubt that:
More speed of Ram= More performance.
But you need to know that how much  speed is your required to get your satisfactory performance.
So, for most users i will recommend to get a 8GB x2 / 8GB x4 kits of 3200MHz/ 4000MHz /4400MHz modules as these are enough for most applications and can handle most tasks easily.
Overclocking  and XMP Supports of Trident Z royal Memory Modules
First of all this memory modules support XMP 2.0(Extreme Memory Profile 2.0) which will let you overclock the RAM very easily.
If you aren't familiar with XMP then i will say that:
It is the most easiest way to overclock a ram without any further thinking. Everything is set to a decent setting and you just need to active the Extreme Memory Profile from the bios to overclock your Ram.
Want to know the best part?
You can also overclock the Ram with custom speeds and voltages. You can also set the clocks as you need to get the perfect speed out of these memory modules.
Pros. and Cons. of Trident Z Royal RAM
I know, this is the part you all were looking for. The twist of the story which might change your decisions. So, here are some Pros. and Cons. of these memory modules:
Advantage
»

Trident Z Royal RAM look absolutely stunning

»

The G.skill Royal series memory modules are one of the highest rated  in terms of RAM speed.

»

No worries about overclocking, as the premium heat sinks of Trident Z Royal got your back.
Cons
»

The price to performance ratio of trident Z RAM series might not be suitable for most of the users. You can get a better high RAM if you don't get the royal series RAMs.

»

These modules aren't for you if you aren't interested in high overclocking of RAM.

»

Sometimes dust sticks to the glossy heat sinks of Royal series Trident z RAM and its visibility is unacceptable for the PC enthusiasts.
FAQ
Question: Does Trident Z Royal RGB RAM come with 4 GB kit?
Answer: No, they only come with 8 GB & 16 GB modules.
Question: Does Trident Z Royal RAM support gigabyte RGB Fusion?
Answer: No, not until now.
Question: Does Trident Z royal RAM support Aura sync?
Answer: Yes.
Question: Which software does Trident Z Royal RGB Ram support for lighting control?
Answer: Trident Z RGB control and Aura Sync.
Question: Is Trident Z Royal RGB ram sold in single module?
Answer: No, it comes with dual module kits.
Final Thoughts
Now that you have known almost everything about the Trident Z Royal RGB memory modules, you are ready to make your own decision that whether your are buying it or not.
I will still say that:
In case you don't have a good overclockable ram, or you are building a new Gaming PC then these RAM are a suitable choice for you.
And if you are satisfied with your current good overclockable Ram's performance then no need to spend bucks for these modules.
But I can guarantee you that:
You will certainly find better changes in your PC's performance if you get a kit of 4000 MHz or above modules of these RAM and overclock them properly.
Lastly, These memory modules will serve your purpose of both beauty an beast performance.