The best part of Google Meet is you do not need to download and install anything on your computer. But, that does not mean it will compromise your audio quality and volume throughout the meeting. If it happens, most likely, the problem lies in your Apple headset.
If this is your case, do you know how to deal with this efficiently?
No worries. As an Apple AirPods user, I also faced a similar issue once with Google Meet. Being a technological geek, I researched it minutely and gathered a number of ways to fix this.
So, keep reading to solve your problem. Please, do not skip any part as I am going to explain the fixes step by step.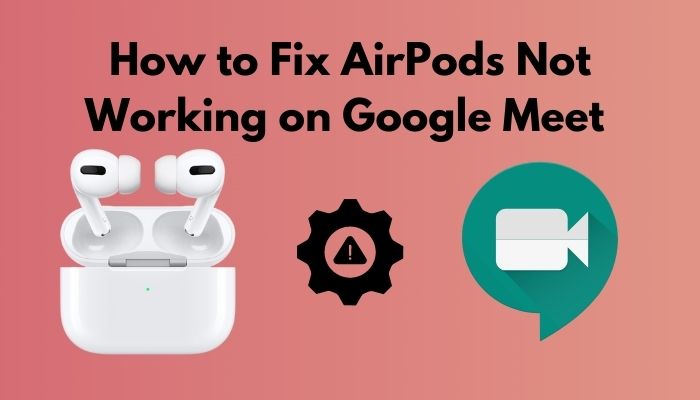 Follow our guide to Fix Discord Airpods Not Working
How to Fix AirPods Not Working on Google Meet
Users sometimes have a variety of issues with AirPods like not working on double-tapping, sudden connection loss, either of the pods is not working, and many more. Still, it is happened to be the best listening kit because of its quality, finishing, and quick comeback.
Lately, a problem of AirPods has come of age is they are not properly working on Google Meet or Zoom like video conferencing platforms. Though the problem does not last long, it happens quite often, as per reports.
Suppose you have joined an online class or an important office meeting. All the participants interact, but you cannot take part as you cannot hear them, although they can listen to you. If anyhow this was your case, the following solutions are for you.
Here are the methods to fix AirPods not working on Google Meet:
1. Check your Audio before Meeting
Google Meet has an outstanding feature to check your audio and video prior to joining a meeting. What you need to do for this is pretty simple.
Here are the steps to check your audio status before joining a meeting:
Click on the meeting invitation link.
Allow your microphone and camera to let you capture and present to others.
Tap on the Check your audio and video button just below your image.
Select the default PC or Mac speakers for a smooth meeting.
Click on the Ask to join button on the right side of the window once you are ready to join.
This is the primary way to review your audio status before joining a meeting. If it does not work for you, let's go further.
Read more on Why do My AirPods Keep Pausing
2. Check your Computer Audio
You may have pressed the mute button by mistake, and no wonder it happens to many. The volume level may go down. So, it is better to have a thorough check of your computer's audio system.
Here are the steps to check your computer audio using Spotlight search:
Open your Spotlight search.
Search for audio MIDI, and click on the suggestion Audio MIDI Setup that appears first. A dialogue box named Audio Devices will pop up.
Locate Macbook Pro Speakers from the left pane. If there is a sound output icon, it's ok.
Right-click on it and select Use This Device For Sound Output if the sound icon is not there.
Restart the computer.
Now, check if it works perfectly.
Also learn, Why do My AirPods Sound Muffled
3. Check your Mic Settings
There is a possibility that your existing Privacy Settings are preventing Google Meet from accessing your microphone. Therefore, making a change in mic settings may improve your situation.
Here are the steps to check your mic settings:
Go to System.
Select Sound.
Choose your mic as your default input device.
Hit the Troubleshoot button and wait a moment to let your computer automatically detect and fix your audio issues.
Return to Settings.
Go to Privacy.
Scroll down to Microphone from the left pane.
Tap on the Change button to give access to the microphone.
Toggle the button on to allow apps to access your microphone.
Follow our guide on how to Skip Songs with AirPods
4. Change Bluetooth Settings
In AirPods, it is pretty common to have instability in Bluetooth connections. As AirPods are workable due to Bluetooth network, a single breach in this causes dysfunction of AirPods.
Here are the steps to change Bluetooth settings:
Get into the Bluetooth of your device.
Tap on the device that you want to be worked on.
Remove it from the device list.
Turn off the device and back it on.
Reopen Bluetooth and re-add your AirPods.
Now, check if they are working smoothly. Hope it will, as it made the issues up for many.
5. Review the Browser Settings
As Google Meet solely operates on a browser without any application, a slight change in browser settings may cause AirPods malfunction. And, of course, your Chrome should be up to date. To check, follow the steps below.
Here are the steps to review the browser settings:
Go to google.com.
Tap on the lock icon at the left of the address bar. A popup will come.
Select Site Settings.
Set your microphone to allow it so that Google Meet can access it. You will get it under the Permissions
Click on the browser menu- the three dots icon.
Go to History.
Click on Clear browsing data from the left pane.
Tap on the Clear Data
Close your browser and open it again if you are done with this. Then check if your AirPods are working smoothly.
You may also like to read: AirPods Case Not Charging No Light
If you are still facing issues with your AirPods, try cleaning cookies of Google Meet. This has evidently worked for some users.
Here are the steps to clear Google Meet's cookies:
Click on the 3 dots icon at the top right corner of your browser.
Go to Settings.
Click on Security and Privacy from the left pane.
Navigate to Site Settings under the Security and Privacy
Locate and select google.com.
Tap on Clear Data.
Log into your Google account and check if it works.
Read more on how to Turn Off AirPods Notifications
7. Check Site Permissions
Your browser may automatically reconfigure some settings, and thus, it does not allow Google Meet to connect with your Pods. So, review the permissions, and here is how to do that.
Here are the steps to check site permissions:
Visit chrome://settings/content/microphone on your Chrome browser.
Make sure the option Sites can ask to use your microphone is checked. You can locate it under Default behavior.
Now, restart the browser and check the meeting invitation link if the AirPods work.
8. Update Audio Drivers
Lack of driver updates also causes sound problems with AirPods. So, you may try updating audio drivers. It may work; you never know.
Here are the steps to update the audio drivers of your system:
Go to Device Manager. Simply type Device Manager on the start menu bar and click on the appeared suggestion.
Locate Sound, video, and game controllers from the options available.
Right-click on the microphone and select update drivers.
This way, you have successfully updated the audio drivers on your computer. Please, let me know which method suits you the best.
Check out our separate post: AirPods Connected But No Sound
Final Thoughts
To wrap up, many have proven and tested the fixes I demonstrated above for AirPods not working. So, you may follow the steps without any hesitance. And, do not forget to let me know if you have anything more prompt to solve the AirPods sound problem.
Still, if you are undergoing the same situation, I recommend closing other tabs except for Google Meet and checking if it performs better.
Was this article helpful? If so, share it with your buddies.