HDMI has always been a supporter of FreeSync technology since its inception. It's been an advantage to gamers and content viewers for its capability to avoid tearing and reduce shuttering.
Also, FreeSync supports displays with HDMI ports long before HDMI 2.1, and it even uses VRR technology which reduces input latency and ghosting issues.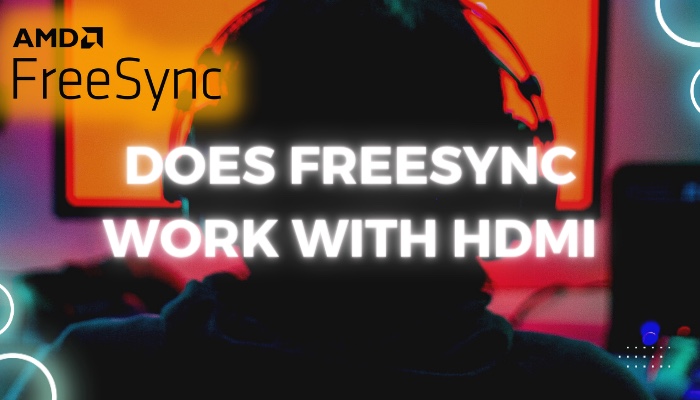 Furthermore, many displays on the market today include FreeSync technology. And throughout the article, I'll go over FreeSync and how it works with HDMI.
Does FreeSync Work With HDMI?
Yes, FreeSync was developed by AMD and supported by HDMI from the beginning. Now there are many FreeSync-compatible monitors which also have the feature of variable refresh rate. And on FreeSync, these refresh rate technologies come long before HDMI 2.1.
AMD has used adaptive sync technology such as FreeSync since its birth, and it works well with HDMI. Furthermore, FreeSync is widely available and compatible with a wide range of monitors. It even gains traction, as well as its competitor G-Sync, entering the market before FreeSync.
To ensure a better experience with monitors, FreeSync is always a necessary feature. And it boosts the total enjoyment of a display on another level. You need to fulfill some requirements to enjoy FreeSync features. Now, let's talk about the conditions of FreeSync.
What Are The Requirements of FreeSync?
A FreeSync-enabled monitor isn't enough to get full-fledged feature assistance. To take advantage of more FreeSync features, you must have a monitor or laptop that supports AMD FreeSync technology.
Furthermore, if you have the most recent graphics driver that is FreeSync compatible, it will perform even better.
Because I have an Xbox OneTM X, FreeSync was built in, and I use it with an HDMI cable. As like me, you can take advantage of FreeSync technology if you have an OneTM X or an Xbox OneTM S.
AMD Radeon™ graphics cards start with Radeon™ RX 200 Series, and all the latest iterations have built-in FreeSync. In case you have them, then it's almost plug-and-play for you.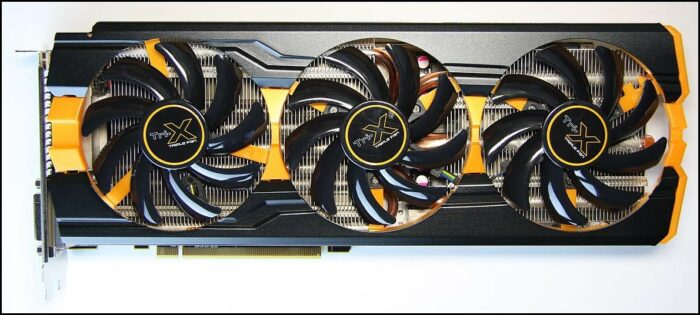 Also, Nvidia GeForce 10 series or newer series can utilize the features of FreeSync with some tweaks in the Nvidia Control Panel.
If you buy a new graphic unit, then you will get the FreeSync quality anyway. But for older GPUs, you need to double-check what features they provide and their compatibility. And you can check to monitor specifications from the manufacturer's website.
Search with your monitor model name and collect the specifications and compatible features with the manufacturer's site.
That being said, FreeSync supports HDMI or display ports, and for your convenience, you can use any one of those.
What Display Connectors Support FreeSync?
For FreeSync to operate, it needs both hardware and software to sync correctly. For that reason, it's not working on every display or functioning with every graphics card. Also, for some hardware, you need specific requirements.
Nowadays, most of the displays come with verities of ports. There is HDMI and Display Port, and some even come with Type C. Let's discuss the display connectors and how well they support FreeSync. Connectors that are supported by FreeSync are stated below.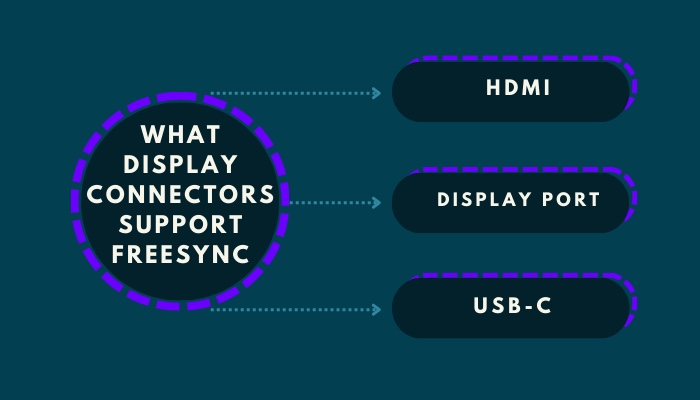 1. HDMI
As I told you before, from the beginning, AMD FreeSync supports HDMI. Between the two big giants, AMD and Nvidia, AMD FreeSync supports HDMI, but Nvidia still doesn't offer HDMI support.
In the beginning, AMD didn't offer variable refresh rate (VRR) support, but now they also adapt to this feature. Which helps them to reduce overall ghosting problems and enhance user experience.
Also, HDMI is now vastly available between monitors, TV and gaming consoles. You can even connect the different devices with HDMI like connecting PS5 with your smart TV or running the Zoom app to your Smart TV.
2. Display Port
With HDMI, you can also use the FreeSync with a display port. Display port added the variable refresh rate support from the year 2014. Nvidia G-Sync still only uses the Display port for adaptive sync technology.
Having said that, Display port is not available on every device. Gaming devices like PS5 doesn't come with a Display port as well as the Xbox doesn't have the port, but it's possible to use an adapter if you don't have an option.
3. USB-C
In the present time, USB-C is vastly growing over displays and other connections. It may be true, most FreeSync users are still not using the feature with USB-C ports. But nobody can deny that its growth is remarkable compared to HDMI and Display Port.
All versions of FreeSync are established on VESA's Adaptive Sync protocol. That's why you can use FreeSync features over USB-C.
I hope now you realize you can use FreeSync technology over all the available ports that come with displays. So we got the display and learned which ports to use for FreeSync. Let's enable the feature.
Here's a complete guide on how to fix Nvidia control panel missing.
How to Enable FreeSync
Regarding AMD, turning on FreeSync is a straightforward process. Although some Nvidia GeForce 10 and 20 series GPUs support Nvidia FreeSync, they do not support HDMI. Nvidia only supports Display Port.
Here is how you can allow FreeSync to go over HDMI:
Connect your machine to a FreeSync-compatible monitor via an HDMI cable. Download the latest AMD graphic drivers from the AMD website. Select your driver tool and ensure it matches the right windows variant that you are using.
After completing the installation, follow these steps to enable FreeSync for AMD:
Select AMD Radeon Settings from the Programs menu.
Click the Gear icon from the top right corner to access Settings.
Click the Display tab. If you have multiple displays, then you can choose whichever you want to activate.
Toggle the Radeon FreeSync. And that should enable the FreeSync option.
As mentioned before, Nvidia also supports FreeSync. But keep in mind that Nvidia doesn't support FreeSync over HDMI. Assuming you still wish to use FreeSync over the display port. Then read along.
If you have an Nvidia driver, then you need to take some more steps than AMD based system. If you don't update your Nvidia Control Panel, then first update the driver.
After editing or installing your Nvidia Driver Software, take these actions to enable FreeSync on Nvidia:
Right-click on the desktop.
Click on Nvidia Control Panel.
Find the Display from the left section.
Click on Set up G-Sync.
Check the box of Enable G-Sync and click Apply
Check out some budget-friendly CPUs for RTX 3070, 3080, 3090 series.
FreeSync Tiers
FreeSync is divided into three levels. The basic free tier already includes the ability to avoid screen tearing, lag, latency, and stuttering. The higher stories provide more. Let's see what they offer.
| FreeSync™ | FreeSync™ Premium | FreeSync™ Premium Pro |
| --- | --- | --- |
| Certified | Certified | Meticulous color and luminance certification |
| Tear free | At the lowest FHD resolution of 120 Hz | HDR capabilities and game support |
| Low latency | Low framerate compensation | At the lowest FHD resolution of 120 Hz |
|               ㅡ | Low latency | Low framerate compensation |
|               ㅡ |                   ㅡ | Low latency with SDR or HDR |
FAQ
Do all AMD FreeSync™ enabled displays to go through an authentication process?
Yes. All displays must go through a thorough review process as part of the AMD FreeSyncTM technology program.
Does FreeSync work with Nvidia on HDMI?
Nvidia is compatible with FreeSync. The Nvidia Geforce 10 and 20 series GPUs support Nvidia FreeSync. However, they only work with Display Port. Nvidia's adaptive sync technology is still available via the Display port.
Does HDMI 2.0 support AMD FreeSync?
AMD Variable refresh Premium is compatible with HDMI 2.0 and DisplayPort 1.2 or later.
What is FreeSync over HDMI?
FreeSync is an adaptive synchronization technology for LCD and OLED displays that support variable frame rates. Its objective is to prevent tearing and reduce judder caused by an imbalance between the display's refresh rate and the fps of the content. And it's well supported over HDMI
Final Thoughts
FreeSync is gaining popularity due to its royalty-free and simple-to-use options, as well as a wide range of methods for implementation. Whereas G-Sync provides hardware-based and superior performance, FreeSync provides adequate performance.
Over 950 monitors and over 50 TVs are available with FreeSync technology. And they are all HDMI compatible. Most buyers will find it convenient and simple to enjoy dynamic refresh rates and reduce screen tearing and slurring caused by the monitor failing to keep up with the fps of the content.