Do you want to build a new computer but are stuck on a tight budget? As a result, you are confused about whether you should go for a good CPU or GPU.
If this is the case, you've come to the right place.
I am a professional gamer and have been playing games for the last ten years or more. I know how much higher FPS matters in competitive gaming. In this article, you will see the role of A CPU in FPS.
Read this article full to have a clear concept regarding this topic.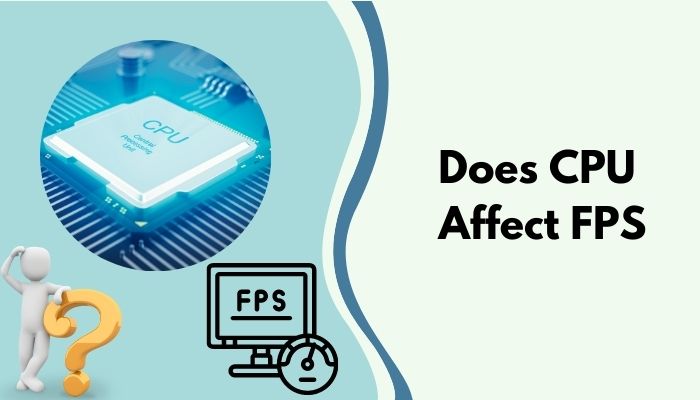 Also, check out our separate post on fix Microsoft block level backup engine high CPU usage.
How does a CPU Affect FPS?
The CPU is the brain of the computer. It's in charge of all the instructions that need to be processed. It basically is the powerhouse of a computer because the CPU performs every instruction and task. Yes, CPU does have an impact on frame rates. Not drastically, but yes, it has.
Frames per second, or FPS, is a measurement of how fast graphics appear on a computer screen. In video capture, playback, and video games, frames per second (FPS) is a measurement that evaluates display device performance.
In simple words, fps is how fast the contents on the screen refresh every second. It is the most demandable thing in the gaming and graphical department.
When you're playing a game, your CPU communicates with the various components of your computer. It will give instructions to the GPU and feed data to it to render textures and sceneries.
Therefore, if your CPU isn't quick enough to keep up with and instruct the GPU, you will receive poor FPS, your games will lag, and you will have a horrible experience overall.
Here's a complete guide on how to fix CPU temperature jumping up and down.
Here is how CPU can affect frame rates: 
At the time of starting a game, the CPU looks for the storage for the relevant files and resources, then loads them into RAM for speedier access.
The CPU must process the appropriate instructions and computations quickly enough for the GPU to render each new picture.
The CPU takes your input and calculates your motions and locations every time you use a keyboard, mouse, or another input device. As a result, it instructs the GPU on what to display on the screen.
So, yes, a faster CPU can help a lot with the other components that need more immediate instructions to obtain better frame rates.
Also, don't forget to check out our experts tested best CPU cooler with screen.
How does RAM Affect FPS?
As the question asked, yes, a ram can affect frame rates.
As a gamer, I know the effects of RAM in games. I always look for methods to enhance my frame rate without losing visual quality. When it comes to RAM, the difference in FPS might be huge depending on the amount and how it's installed!
Here is how RAM can affect frame rates:
First of all, the amount of ram is significant. A lower amount of ram often fails to gain higher frame rates. It might even fail to run games due to a shorter amount of ram.
Ram speeds also have an impact on frame rates. Intel systems don't face this issue because intel capped the ram speed to 2666 MHz. But the AMD system has a much higher ram speed limit, 3200 MHz. A lower frequency ram results in lower frame rates in the AMD system.
Another factor that causes low frame rates is, using ram in single-channel mode. Every motherboard has at-least two ram slots. While running a ram on a single slot or channel in the motherboard gives significantly lower frame rates than a dual channel.
Also, check out our separate post on is an expensive CPU cooler worth it.
How Does GPU Affect FPS?
GPU has a direct relation to the frame rates. The main component helps you achieve higher frame rates in the game.
But there are some cases where it can affect frame rates.
Here is how GPU can affect frame rates: 
Video memory size is an essential factor. If your GPU has a smaller V-RAM, it will not give you higher frame rates compared to a larger V-RAM-equipped GPU.
The bandwidth of the GPU is also another factor. Smaller bandwidth may result in low frame rates.
GPU wattage is another crucial factor. If your system(mostly laptops) doesn't give the GPU enough power or the GPU has a lower power limit, you will get low frame rates.
Check out the easiest way to Fix CPU Cooler Clicking Noise.
How to Improve FPS in Games
Now, the concern arises about how you can improve frame rates in games.
I am dividing this part into two sections. Hardware tweak and software tweak.
Here I'm listing these two sections below:
Implementing New Components
This section is for those willing to spend money and want to upgrade their system.
Here is how you can improve fps by upgrading hardware:
Upgrade or adding a new GPU to your system can boost frame rates significantly. Newer GPUs have a higher memory count and bandwidth. Those can easily push frame rates to a very demandable number.
Upgrade your existing processor to a newer one can boost frame rates. Getting a processor with a higher core count can give you an extra edge. However, there is a minimal difference in frame rates between a 6-core CPU and an 8-core CPU. But bumping up from a 4-core CPU to a 6 or 8-core CPU will give you a better overall performance.
For ram, you can either upgrade your existing ram kits or install a second ram if you have a single stick of ram. Overclock your ram(if needed) to make sure you get the full speed from your ram. Getting a total of 16 gigabytes of dual-channel ram can easily give you your desired frame rates if you have a compatible system.
A proper cooling system can boost your system's performance which will end up in better frame rates in games. As you game on your system and it is not cooled correctly, then overheating can lower CPU performance and can even damage your system. So having a decent cooling system is very important.
Do check our latest post on the Does CPU Affect FPS Count.
Tweaking Existing Components
This section is for the people who don't want to upgrade their system but want the most out of it.
Here is how you can improve fps by tweaking softwares:
Enable Game Modes in Windows 10 or 11 to have an optimized experience. That will help your system to push more frame rates.
Lower your resolution if you don't have a robust system. By lowering the resolution, your system needs to push fewer pixels on the screen, which will result in better frame rates.
Update your drivers. Older drivers don't have the optimization of the latest games or softwares. Updated drivers can help you to get better frame rates.
Perform a disk cleanup to clean the system junks. These junks may often cause performance drops. Cleaning those junks can boost frame rates.
Overclock your CPU and GPU. Overclocking will let you get the most out of your system. You can quickly notice the difference in frame rates after overclocking your CPU and GPU.
Go through our epic guide on how to Fix Keyboard Not Working In BIOS.
Final Opinion
So, at the end of the article, you know the factors which may affect frame rates in games. And as the main topic of this article asked, yes, CPU can affect frames rates. If it is not as powerful as the other system components or is an older system, that may not run the game properly.
Hopefully, you've learned everything there is to know about in-game FPS. And which factors may affect frame rates.
I hope I have answered all the questions regarding frame rates. Use this information to get better frame rates in games.
Thanks for reading. Feel free to contact me if you have any further queries.