The overclocking feature has become a gimmick these days. Almost every vendor pushes their products by adding OC in the product's name. Whether the OC-labeled products are actually Overclockable or not.
Therefore, the B560 chipset is only RAM XMP compatible, but not technically CPU OC compatible.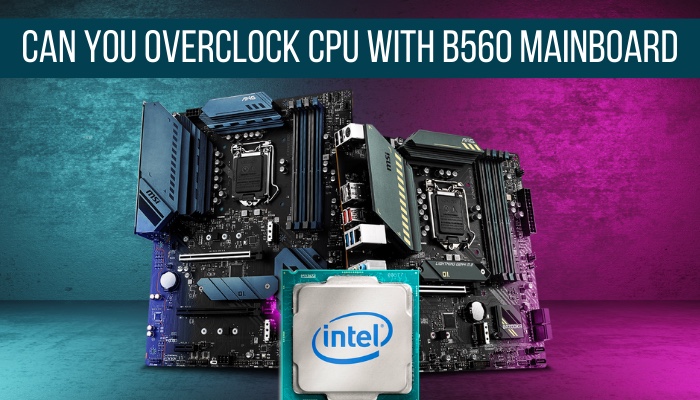 However, MSI, Gigabyte, Asrock, ASUS, etc. are pushing b560 motherboards as Overclockable by improving the VRM section at an insane level.
So let's jump in and untangle the OC twists, by analyzing some of those B560 mobos shortly.
Can a B560 Motherboard Overclock CPU at a Friendly Budget?
Everyone loves to flex their rig by saying it's an OC model, as this trend is on fire. Motherboard manufacturers try hard to build such products, even though a chipset like B560 isn't CPU overclock compatible on paper.
Renowned manufacturers like ASUS, MSI, Gigabyte, Asrock, BioStar & EVGA are developing sturdy mainboards that look cool and perform accordingly. Not to mention, the performance isn't as impressive as the design tries to impose.
On budget一People always crave a balanced combination of Beauty and the Beast. Thus, Mobo manufacturers often target this affordable chipset as B560 to grab most consumers.
Though the B560 chipset is enough for specific PC users' expectations, I advise extreme overclockers should avoid these. Undeniably, the expected performance requires a fitting chipset to act well.
But new Overclockers might get satisfactory results from these B-series' Higher-Grade motherboards. That extra price should endorse the performance.
I wouldn't spend more than 120 bucks on a slightly boosted mainboard that performs as the regular $80 B650. The price should be justified according to the performance uplift.
Speaking of the price, it's totally up to you, whether you prefer design over performance. Motherboard manufacturers also release incredibly attractive-looking motherboards targeting such customers.
Keeping performance as the priority, motherboards from budget sections are grabbing more attention from consumers and manufacturers. For such hype, advanced VRM is improving gradually, and new innovative technologies like Memory TRY-IT are evolving.
MSI has introduced this Memory TRY-IT feature to boost RAM performance to the next level. Although the XMP is significantly useful and generalized for most motherboards, new technologies like Memory TRY-IT can bring new improvements.
So, you can always depend on high-quality build motherboards from renowned brands with B560 chipset, if you are seeking an all-rounder package that will satisfy your moderate gaming need and professional workforce.
Check out our recent article on can you Overclock CPU without BIOS.
Which B560 Motherboards Are Value for Money?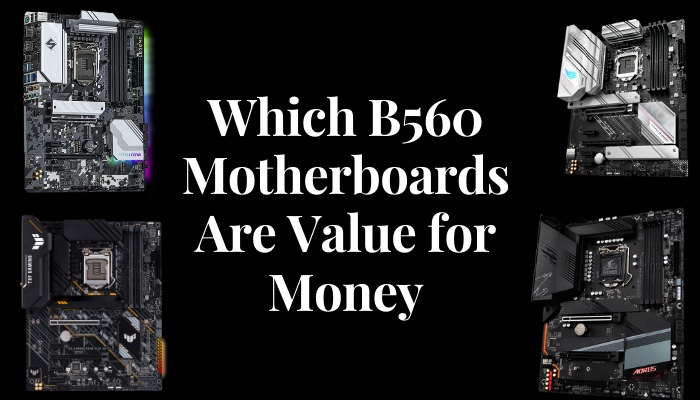 After trying several high-grade motherboards from various manufacturers一 Asus TUF Gaming B650M-Plus WiFi, MSI B560 Tomahawk, MSI B560M Bazooka, Gigabyte B560M Aorus Pro, & more.
Pairing with core i5-11400, Core i7-11700, and Core i7-11700K processors, we shorted those motherboards according to performance, heat efficiency & price.
As a result, most high-end Gaming motherboards like Ausous, Tuf, Bazooka, ROG, PRO, etc. performed pretty similarly. But The Gigabyte B560 Aurous PRO was stable and consistent on VRM heat anticipation.
But MSI B560M Bazooka, ASUS ROG series motherboards were head-to-head compared with the Gigabyte B560 Aurous Pro. Although some other motherboards are more acceptable for the sake of performance, we kept the price-to-performance ratio as budget is a vital fact when choosing a mid-range chipset motherboard.
Or else, you can go for Z690 chipset motherboards if you aim for an intensive overclocking experience, spending more on the motherboard.
Follow our guide to fix boot device not found error in BIOS.
How Does VRM Enhance Motherboard Performance?
The VRM (Voltage regulator module) is an essential part of the motherboard when you're thinking of Overclocking. The more efficient and powerful VRM your motherboard has, the more you can push your motherboard for overclocking.
Since all the components of a Computer communicate through the motherboard circuit, it's essential to use a better quality motherboard to achieve more performance.
Distinct peripherals require very specific electricity flow in different circumstances, which the VRM section must handle with perfection. This electricity flow generates excessive heat in the memory channel, demanding adequate heatsink and more MOSFET on the circuit.
Therefore, the VRM sections are the most focused part of the motherboard while you mandate intensive Overclocking. Performance boost solely depends on the VRM if you mirror between motherboards with the identical chipset.
Check out a separate post on how to tell if a game is CPU or GPU-intensive.
FAQs
Can you overclock the CPU with any motherboard?
No, not every chipset support overclocking. In fact, Z series motherboards are Overclocking expert mobos with Intel CPUs.
Does overclocking increase FPS?
Of course, overclocking impacts the FPS, people are destined to overclock for more FPS while gaming.
Should I overclock my GPU or VRAM?
You can't just overclock a GPU without the help of VRAM, adjusting both will result in a better outcome.
Is higher VRM better?
Since VRM is directly responsible for overclocking, a better VRM will cherish you with stability and power.
Conclusion
Mid-range chipset-based motherboards like B560 are justified over the price-to-performance ratio & the graphical view of motherboard design. But you can't have both with a limited budget, as the price depends on the manufacturing and build quality.
Choose what exactly you want, then select your mainboard accordingly to spend wisely. Instead, choose Z series mobos if you have no budget issues.
Comment for more information, or share your opinion here.