Verdict: All three SSDs are good in their own right. The Samsung 970 Evo Plus is the better one among these three in terms of performance and value. On the other hand, the 970 Evo is better if you want something within a budget. However, the 970 Pro is disappointing for its extremely high price.
If you're looking forward to building a top-notch gaming rig or even a workstation, SSDs are always a viable option.
That said, Samsung is one of the finest brands to look for high-performing SSDs. They come with plenty of options that are tried and tested to be labeled as reliable.
The Samsung 970 Evo and 970 Evo Plus are two such SSDs on which you can rely. But which one is the better one between them?
Tough to make a choice. Isn't it?
What if I add the Samsung 970 Pro to the comparison. It gets much tougher. Right?
No worries, my friend. I've got you covered through this comprehensive comparison guide. In this guide, you'll get to know how these three M.2 NVMe SSDs fares up against each other. To know in-depth about their abilities, stay with me to the end of this guide.
Also, check out which SSD is better in between Samsung 980 and 970 Evo.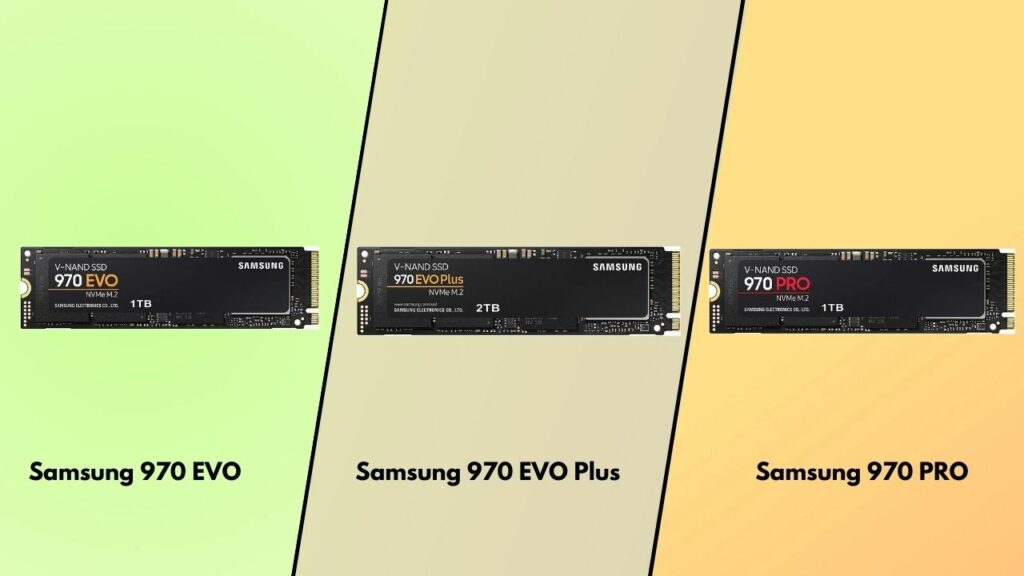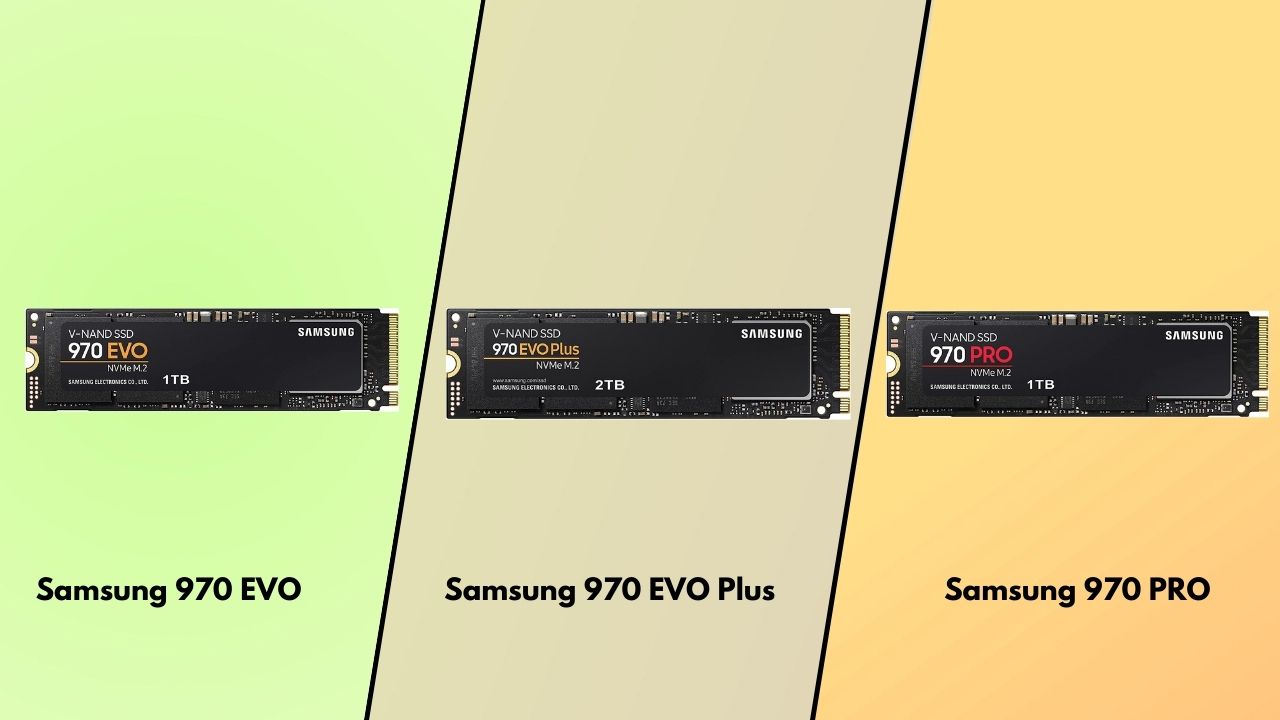 Samsung 970 Evo Vs. 970 Evo Plus Vs. 970 Pro: 5 things to consider
Whether your focus is towards gaming or 4K video editing, having an SSD ensures a performance boost.
It is always the same thing with a regular HDD. When you use it in your build, after a period, it slows down. And that eventually affects the performance of your system.
Since their inception, SSDs have evolved. The versions that were popular during the initial period aren't that much used nowadays. The reason is that with each iteration, something new was introduced.
Eventually, that played a massive part in the performance enhancements of the SSDs that we see nowadays.
Now, the M.2 NVMe SSDs is a leap over the SATA SSDs. These are very reliable storage options and can deliver high-end performance.
You might question why they are ahead of SATA SSDs. The reason is quite simple.
Also, Check out the battle-tested comparisons between Samsung SSD 980 Pro and Samsung 980.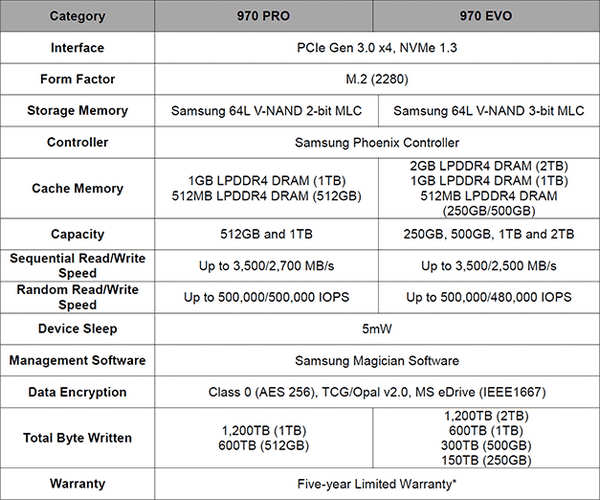 The SATA SSDs are mainly focused on standard performance. But if you want to use the full potential of your computing speed, then an NVMe SSD is a better option.
Samsung is a front-runner when it comes to top-end NVMe SSDs. The three models that I will be discussing in this guide are almost equally competent.
But you need to focus on a few things if you want to get the best one among these three. And that is what I am going to tell you right now.
Here are the key differences among the Samsung 970 Evo, Evo Plus, and Pro:
1. Read and Write Speeds
Both the read and write speeds of your SSD are equally crucial for your system. Because for any activity you do in your system, both these read and write speeds play a role.
If you're a typical gamer, you might not feel it. But during intensive gaming, load times do differ for different SSDs. And this difference ranges between 4-5 seconds.
Now, read speed is the measure of how quickly your SSD can load any file or program. Whereas the write speed mainly refers to the promptness in saving anything particular in the SSD.
That said, the SSDs that come with faster read/write speed offers better output than their competitors.
All these SSDs come with max sequential read and write speeds. But that is not what you should consider while choosing the right SSD.
The thing that you should consider in this regard is the average sequential read and write speed. Also, you should take the sustained speeds into account, as hitting the advertised max speeds is not always possible.
Check out the comparison between NZXT Kraken Z63 & Noctua NH-D15.
Between the Samsung 970 Evo and the Samsung 970 Evo Plus, there are discrepancies in both of their average sequential read and write speeds. For the 970 Evo, I found out that the average sequential read speed is 2135 MB/s. And the average sequential write speed was 2130 MB/s.
In the case of the 970 Evo Plus, there was an increase. The average sequential read and write speeds for this model are 2370 and 2180 MB/s.
Therefore, it is evident that the 970 Evo plus can read relatively faster than the 970 Evo Evo. And in the case of writing the data, it has a slight edge.
Overall, considering these average speeds, the 970 Evo plus is a better option than the 970 Evo.
However, is it better than Samsung 970 Pro?
For the 970 Pro, the average sequential read and write speeds are 2350 and 2080 MB/s, which is slightly less than that of 970 Evo Plus. But it comes with a greater average sustained write speed, which is about 1900 MB/s. Eventually, this makes it a better option for writing data without a cease.
But the Evo Pro lacks everywhere despite the 23% edge in sustained speed over Evo Plus.
That is why the Samsung 970 Evo Plus is the superior of the three, followed by 970 Pro and 970 Evo.
Check out the comparison between NZXT Kraken Z63 & Corsair iCUE H115i Elite Capellix.
2. Capacity
When you're buying an SSD, you buy it as the primary storage or to meet the storage deficit in your system. All these models of SSDs come in various capacities. It is pretty standard for specific models to have multiple versions based on their capacities.
It is also the same for the three models we are comparing in this guide.
Both the Samsung 970 Evo and the 970 Plus come with a plethora of options. In both of these models, you'll find 250 GB, 500 GB, 1 TB, and 2 TB versions.
However, for the Samsung 970 Pro, the options are limited. You'll find only 500 GB and 1 TB versions under these models.
Therefore, both the 970 Evo and Evo Plus are competitively greater than Samsung 970 Pro due to having more versions. Also, check out the fastest PCIe SSD.
3. Endurance
One of the major ways of differentiating among the M.2 NVMe SSDs is by measuring endurance. Terabyte written or TBW denotes endurance in the SSDs.
Before that, you might question what endurance is.
Endurance is simply the lifespan of the SSD you will be buying. It is totally based on how many write/erase cycles a flash block can withhold before failures or errors.
Now, different versions of a particular model can come up with different endurance ratings.
When I compare the Samsung 970 Evo and the 970 Evo Plus, they have endurance over 600 TBW.
That means you would need approximately 16 years to wear out both these models only if you write 100 GB data daily.
In the case of the Samsung 970 Pro, the endurance is 1200 TBW, which is double the other mentioned models in this guide.
By now, I guess I don't need to tell you how long the 970 Pro will last.
4. Form Factor
By form factor, we mean the size and the physical attribute of any device. It goes similarly for storage like SSDs or HDDs.
Now, for the SSDs, the selection of the correct form factor is quite crucial. If you don't know what form factor your build actually needs, it would get tough to choose any viable option for your system.
For all the three models we are discussing here, the form factor is identical. Be it Samsung 970 Evo, Evo Plus, or Pro, all of them come with an M.2 2280 form factor.
And that's a good thing because that helps you keep your system free from clutter and saves space.
5. Pricing and Value
All of these three SSDs come with high-end pricing. If you have to differentiate among these three versions, the Samsung Evo Plus has a higher tag than Samsung Evo.
And as for the Samsung 970 Pro, it is too highly-priced.
When it comes to offering value, I would say that the Samsung 970 Evo is the most reasonable and budget-oriented. And when it is about the overall best, it is definitely the Samsung 970 Evo Plus.
What is an M.2 SSD?
For the SSDs, M.2 is a form factor. These types of SSDs are rectangular in shape and are the fastest type available in the market.
And due to this trait, they come with an expensive price tag.
These SSDs come in a lot of versions, ranging from 250 GB to 2 TB storage sizes. They are most suited to the gaming builds that have motherboards with M.2 slots. The best part is that they are pretty flexible to use, and in terms of performance, they offer more value than the SATA SSDs.
FAQ
Question: Is Samsung 970 Pro worth it?
Answer: To be honest, no. The Samsung 970 Pro is one of the fastest M.2 SSD to buy and, in some cases, a superb choice for a gaming build. However, in terms of reasonability, it fails to make a mark mainly because of its higher price point.
Question: Is the Samsung 970 Evo Plus better than the 970 Pro?
Answer: Yes, it is pretty ahead of the 970 Pro. The 970 Evo Plus boasts superior speeds, which eventually gives it an edge in performance over the 970 Pro.
Final Thoughts
As I end this comparison guide, I have touched every possible aspect that can draw a comparison among these three superb SSDs.
I want to tell you that all these SSDs are better in their own right. They sport some top-end features that make them market-leading. I hope that after going through this guide thoroughly, you'll get your desired SSD.
Still, if any question arises, do let me know in the comments.