Exchange Server and Outlook are terms that people working in an organization come across a lot. Both serve to transmit emails between people. But does that mean they are the same?
Let's say how a browser and an internet connection are related. Both complement each other, but one would not work without the other. That's how Outlook and Exchange work.
This article will give you a quick explainer of what these apps do. By the end, you will have a clear grasp of how these two services are connected to one another.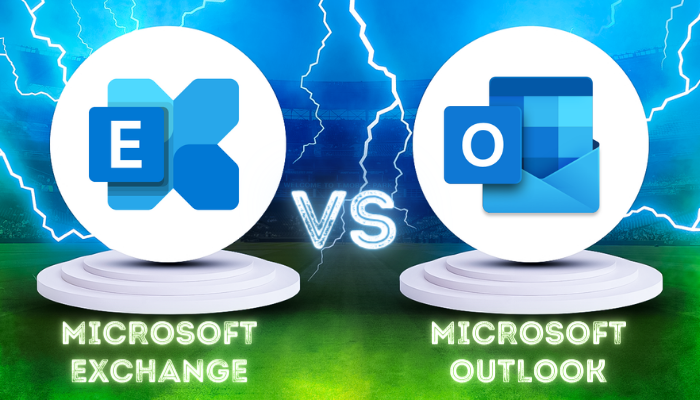 Without wasting any further, let's start then.
What is Microsoft Exchange?
Microsoft Exchange is a messaging service that is responsible for managing emails, contacts, and calendars for all employees across an organization. If you instead want to manage only a personal account, you can do that too. Think of it as a tool that can manage everything related to emails. It supports the standards used by email clients such as POP, IMAP, SMTP, etc.
When a new employee joins a workplace, he is given a corporate email address. That is created on an Exchange server. All the data and respective permissions reside there. So if you want to  give the new user access to the company OneDrive, Teams chat, Sharepoint site, etc., you can configure them from here.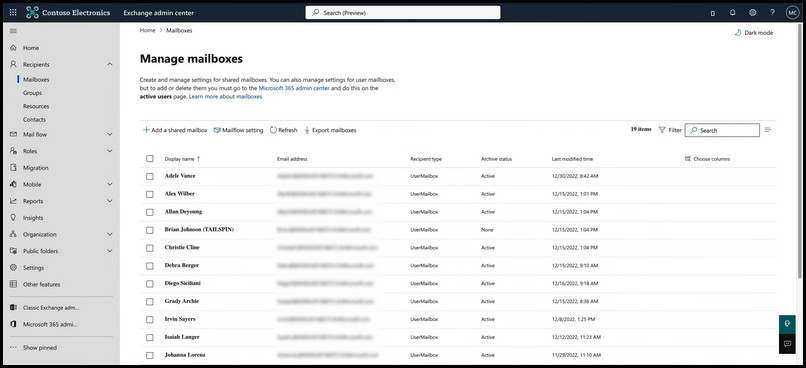 There is also the option to control emails coming to the new user's mailbox. You can set permissions so that only a certain domain will be accepted in your inbox, which is great for increasing security.
You can host Microsoft Exchange on your premise and run it. Or use the cloud version of the tool known as Exchange Online. Which is basically Exchange hosted by Microsoft's servers, and you pay a monthly subscription fee to enjoy its benefits.
What is Outlook?
Microsoft Outlook is the email client that you can use to access emails and calendar appointments. It works with a paid Exchange subscription or a free Outlook.com account.
The Outlook app is available for Windows, Mac, Android, iOS, and the web.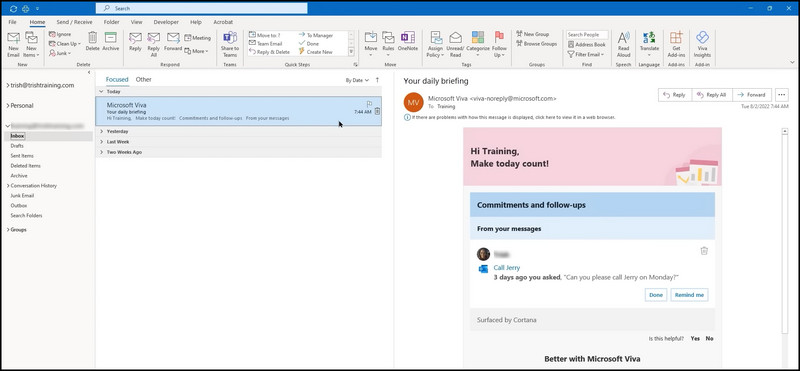 You can read emails, reply to them, access and add events to your calendar and manage your contacts. For people communicating in an organization, Outlook is basically a single app that can manage all these tasks in one place.
You can get by using a free Outlook account. This is fine for personal use. But you will have limited features that you get on a paid plan.
Microsoft Exchange vs. Outlook
The first thing you need to know is Microsoft Exchange is a mail server that comes with a subscription plan. Whereas, Outlook is the mail client that takes all the data from the exchange server, which you can access from its interface.
I will assume that you are using a free version of Outlook and how it compares with an exchange account.
Now that we have established what both of these services are let's look at the differences between them.
Storage Space and Pricing
A free Outlook account comes with 15 GB of space for your emails. You also get a 5GB OneDrive space for storing your photos, documents, and files.
Microsoft Exchange comes with a paid plan or is bundled with a Microsoft 365 subscription for Individuals and Businesses. You get 50 GB of mailbox storage with the base plan. This starts at $4/month. With Plan 2, you get 100 GB of mailbox for $8/month.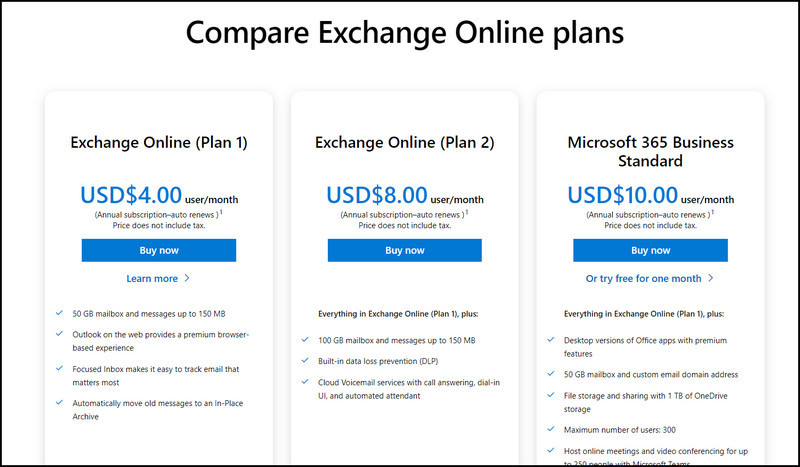 Note: This does not include the Microsoft Office applications such as Word or Powerpoint. You only get access to an Outlook email using an Exchange account.
Security
Microsoft Exchange has security safeguards that include protection against viruses and malware. To protect your data from loss or corruption, there are redundant servers and data recovery services in place. Additionally, you can filter emails so that it follows a certain rule of your Organization. Plus, there are a lot of controls that you can enforce on an account from the Exchange Admin Panel.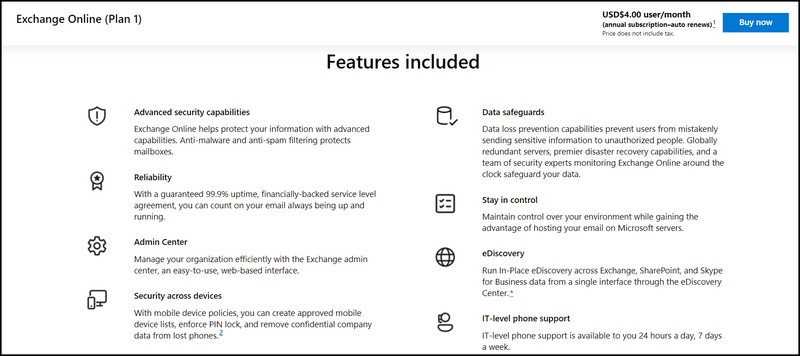 Outlook is pretty secure, with Microsoft pushing regular security updates to it. Depending on how you have configured your account, you may need to enter a 2FA PIN to enter your account. For spam emails, Outlook determines it automatically and sends it to the Trash folder.
Message Size
The free Outlook account allows you to send an email with an attachment of a maximum of 20 MB in size. With an Exchange account, the max size of emails that you can send increases to 150 MB.
Features
Outlook has an easy-to-use interface for accessing your inbox, sending messages, upcoming events, and contacts.
Microsoft Exchange, on the other hand, can manage every aspect of your email account. This includes creating mailboxes, assigning Microsoft 365 resources, setting up filters on your mail, managing accepted and blocked domains, and assigning roles to a user account. This list is endless.
It has all the tools you need to customize and create the perfect email that suits your organization.
Usability
Outlook has a very simple interface. It has easy-to-access menus, and one can easily switch between email and calendars. In short, you can get up and running in a very quick time.
Microsoft Exchange, on the other hand, has controls that require time to master it. The options to customize your emails are extensive. The interface is great; it's just there is too much going on for a novice user to handle it.
This by no means indicates that Microsoft Exchange is not a great tool. It just requires more work to get used to.
Frequently Asked Questions
Is Outlook 365 the same as Exchange?
Microsoft's 365 service also includes the Exchange Server. That means you can use an Outlook email account configured using that email server.
What are the benefits of using Exchange?
An Exchange account gives you an increased mailbox size, a business email improved security, shared calendars and contacts, more control over your email account, and more.
Conclusion
Both these services sort of fulfill each other. Exchange is the backbone, holding and managing the data securely. And Outlook is the interface through which you can access emails.
Yes, you can access Outlook without the need for an Exchange account. But with an exchange account, the features it comes with enhance your overall experience.
I hope you have differentiated between the two by now.
With that said, it is time to say goodbye.