You can build a budget gaming rig for under 500 dollars these days — thanks to spiraling GPU prices. Since gaming is your main focus, you may be tempted to save some bucks in the processor department.
So, how about using an Intel Pentium as the CPU? Will it be able to handle the demands of modern gaming?
These are the questions I will be answering for you today. And to help you make the decisions easier I have also provided some data in the form of benchmarks.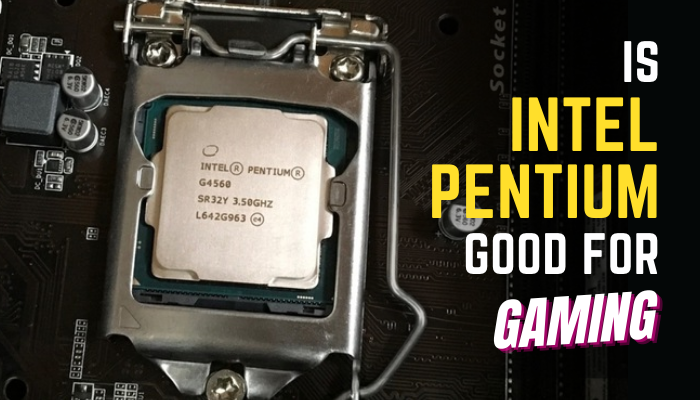 Let's get started then.
Intel Pentium Lineups Explored
Pentium processors are divided into two groups namely Gold and Silver. These are dual-core processors with the exception of hyperthreading. The Gold tier them enabled while the SIlver ones come without it.
The 10th gen Pentiums use the LGA 1200 socket. These are codenamed Comet Lake. You can use any 10 and 11 gen supported motherboards with these CPUs.
Intel did not release an iteration for the 11-gen processors.
| Processor | Cores/Threads | Clock Speed | Cache (L3) | TDP |
| --- | --- | --- | --- | --- |
| G6400 | 2/4 | 4.00 GHz | 4 MB | 58 W |
| G6500 | 2/4 | 4.10 GHz | 4 MB | 58 W |
| G6600 | 2/4 | 4.20 GHz | 4 MB | 58 W |
| G6400T | 2/4 | 3.40 GHz | 4 MB | 35 W |
| G6500T | 2/4 | 3.50 GHz | 4 MB | 35 W |
The 12th generation of Pentium processors follow the same architecture. For the socket, you are looking at LGA 1700. As of now, there are no 13th gen Pentium processors announced by Intel.
| Processor | Cores/Threads | Clock Speed | Cache (L3) | TDP |
| --- | --- | --- | --- | --- |
| G7400 | 2/4 | 3.70 GHz | 6 MB | 46 W |
| G7400 T | 2/4 | 3.10 GHz | 6 MB | 35 W |
With Pentium, you will miss out on features such as Turbo Boost or overclocking. They do not come with an unlocked multiplier, meaning you can not eke out more performances further down the line.
Here, I have not included the Pentiums for the 9th generation and earlier models. If you are buying a new unit right now it does not make sense go to for such an older Pentium.
We also compare an Intel Pentium with an Athlon comprehensively in a separate article. Do check it out.
What are the Comparable Processors to Intel Pentium?
If we look at the offerings from AMD, Athlon seems to be a like-for-like replacement. Since AMD announced Ryzen, only two Athlon processors were released for desktops. They are based on the Zen architecture produced on a 14 nm lithography. Similar to the Pentium Gold, they are hyperthreaded with 2 cores and 4 threads.
| Processor | Cores/Threads | Clock Speed | Cache (L3) | TDP |
| --- | --- | --- | --- | --- |
| 200 GE | 2/4 | 3.2 GHz | 4 MB | 35 W |
| 3000G | 2/4 | 3.5 GHz | 4 MB | 35 W |
Note that some older Intel processors from the 10th gen and earlier have fallen steeply in price.
For example, the 10th gen i3 10100 can be found at a similar price to a current-gen Pentium G7400. If you add $20 more you can get an i5 10400F too!
Additionally, laptop and desktop Pentium processors can be very different in their respective performance.
On the AMD side of things, you can opt for a Ryzen 5 5500 or a Ryzen 5 4650G for prices not far from a current-gen Pentium. As for how they compare in performance, the next section provides a detailed benchmark comparing each against the other.
Wondering how a Pentium differentiates from a Core i3 processor? This article lists the key differences and makes purchasing easier for you.
How well does Intel Pentium Perform in Games?
Before diving into games, let's look at some purely CPU-focused benchmarks. For the benchmarks, I have selected Cinebench R15, R23, and Geekbench 5.
These apps focus primarily on the single and multi-core performances of your processor. This is crucial as most games are multi-threaded these days. In those games, the CPU's with more cores will result in higher frame rates.
First off is Cinebench R15.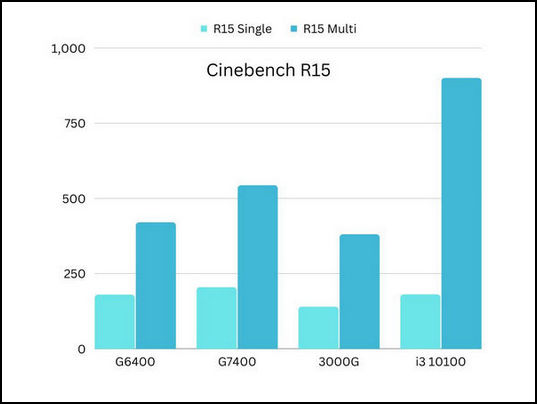 Next up is Cinebench R23.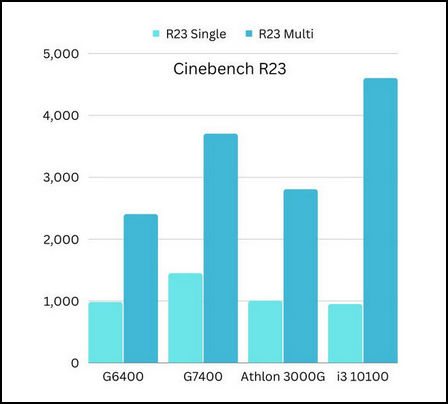 Finishing off with Geekbench 5.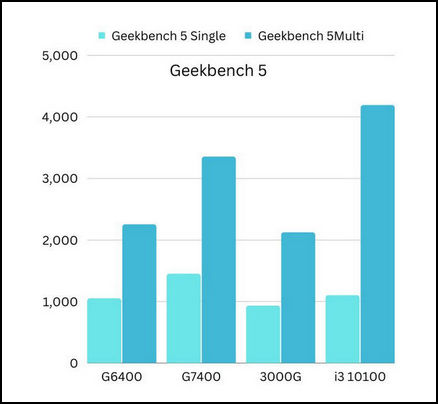 It's results time now.
Pentium G6400 and Athlon 3000G perform almost similarly in single and multi-core tasks. With a newer architecture, the G7400 shines here. It beats the older i3 in single-core tasks but remains 30% slower in multi-cores based workloads.
Now let's switch our focus to gaming. I have selected e-sports titles such as CS: GO, Fortnite, Apex Legends, and COD Warzone. For single-player campaigns, GTA 5, Battlefield 5, and Cyberpunk 2077 makes the cut.
As for testing, I have gone with a GTX 1650 as the GPU. While I could have used a more high-end model to fully test the Pentium's capability, you are more likely to use an entry-level card in this type of build.
Besides GTX 1650 recently came on top of Steam's hardware survey, so it is totally fine to game with, albeit with a mix of medium to high settings in most games.
Here are the rest of the components used in my test bench:
| | |
| --- | --- |
| Processor | Ryzen 5 5600, @ 3.5 GHz (4.4 GHz boost) |
| RAM | 16 GB DDR4 @ 3200 MHz, dual-channel |
| GPU | GTX 1650 DDR5, 4 GB |
| SSD | Samsung 970 Pro 1 TB Gen, Gen 3.0 |
Let's take a look at CS: GO first.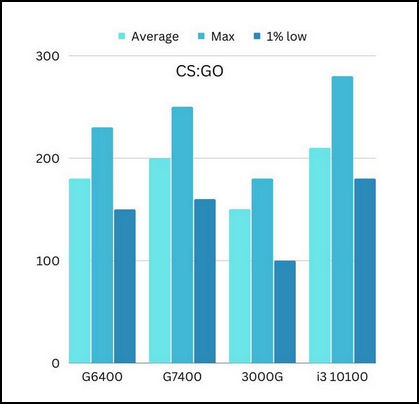 CS: GO is fairly easy to run. All four CPUs manage over 100 fps using a mixture of low and medium settings. I got a few kills too, even though I am not that good in competitive titles.
Here the takeaway is that CS:GO is mostly dependent on the CPU. While both Pentiums manage respectable frame rates, you can get more frame rates with an i3.
Let's see how Fortnite stacks up.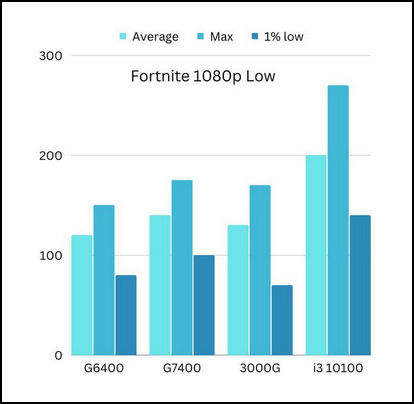 Both Pentiums run Fortnite well. But we see a huge change as we move to the i3. That means Fortnite scales up well with more processing power on board. The 1% lows reflect this too.
With the i3 the FPS never drops below 100. But with the G6400 and 3000G, we see a decline in the lowest frame rates, particularly with the Athlon.
The most intensive scenes where the battle heats up slow down the game mostly. I ran into some intense fights in Faulty Splilts. When I had two or more players nearby me, that is when the Athlon dropped the most frames.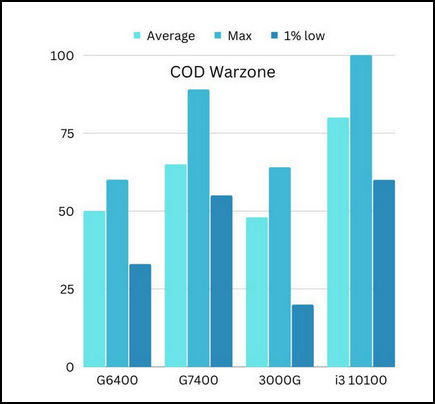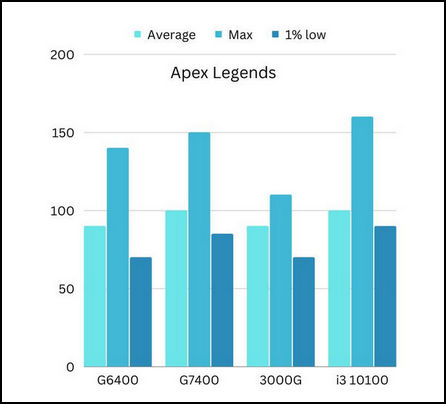 The next two competitive titles are quite taxing on your CPU. Particularly COD Warzone.
On Apex Legends, the minimum frame rate never goes below 50 fps on all CPUs. Both Pentiums average closer to 100 FPS with the i3 pulling ahead of them. The Athlon performs well considering its price point.
COD Warzone is where the older Pentium and the Athlon take a hit. The 1% lows of 27 and 23 FPS reflect this. During intense gunfights, you can expect these frame rates.
The newer Pentium G7400 improves the 1% lows significantly to a respectable 55 FPS. This is when it comes really close to the i3 10100.
So, what about single-player titles? You do not need 200 fps to ace these games and the FPS shows that. Anything closer to 60 fps will make the game enjoyable. Let's now see some more results.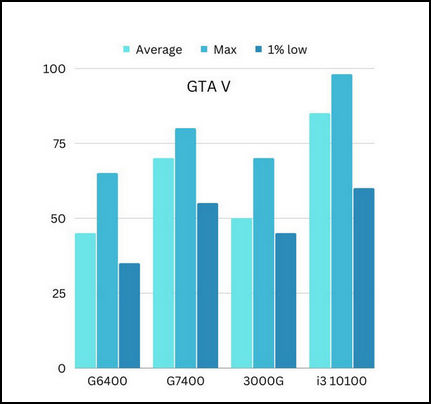 All the processors did well here, barring the Pentium G6400. Surprisingly it produced the lowest of the frame rates among the bunch, but still, I did not feel bogged down by its 1% low of 30 FPS.
This happened occasionally during the first few seconds when going into a new location. Other than that it was a good experience.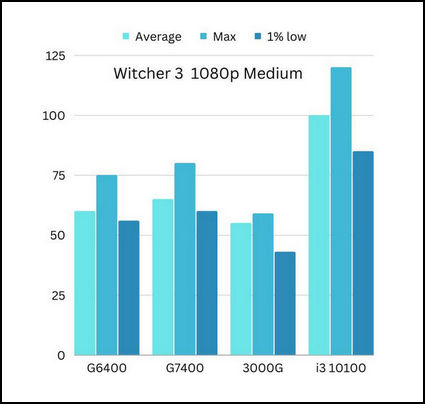 I got more than 50 fps from both Pentiums, including the 1% lows. I did not experience any significant frame drops from any processors. Even the Athlon did well with a lowest of 40 FPS.
Finishing off the benchmarks, we have two of the most demanding games on this list. Cyberpunk 2077 and Battlefield 2077.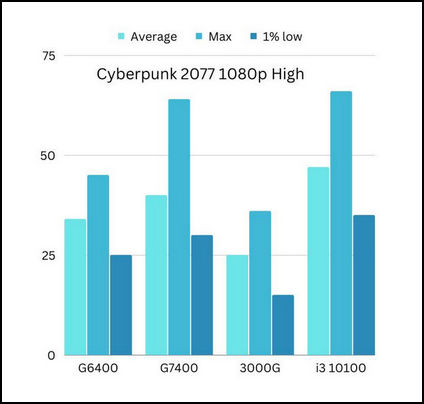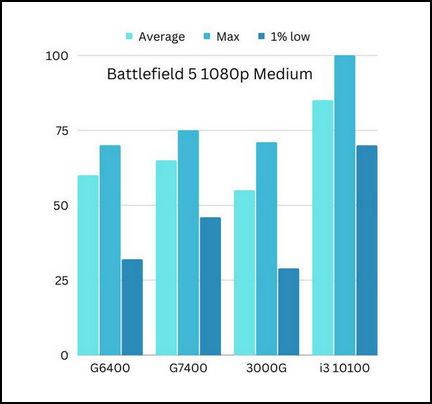 With Cyberpunk, we ran with High Settings enabled. Both Pentiums had similar 1% lows nearing 25-30 fps. But the G7400 got us a maximum of 60 FPS. This was very close to the i3 10100, which got 65 FPS.
On Battlefield 5, the older CPUs struggled. The Pentium g6400 and 3000G got some frame spikes, which you can see by the difference between the minimum and maximum FPS. The newer Pentium held up well with a minimum fps of 47 FPS.
In BF5, increasing the core count gets you more performance. The i3 got a minimum of 75 fps. This proves the point and I got silky-smooth frame rates as a result. The newer Pentium with the improved golden cove cores gets a good boost too.
Despite having a weak processor, you can easily optimize the CPU to get better gaming performance.
Is Intel Pentium Good for Gaming?
Before benchmarking all the results I thought I would have rejected the Pentium used solely as a gaming machine. But the results surprised my inner budget gamer.
In short, you can run e-sports titles with a Pentium pretty well when using a mix of low to medium settings. The frame rates are more than acceptable and you will not lose out on any competitive play.
But when it comes to really demanding games, such as Cyberpunk, that is when the CPU holds back your GPU. A minimum quad-core processor is needed to hit the sweet 60 fps spot. That's when the i3 shines with consistent frame rates.
In a nutshell, you can actually game with a Pentium if you pair it with a low to mid-range GPU (such as the GTX 1650). But if you want the best frame rates across all games, an i3 is the best bang for the buck.
We also compared Atom and Celeron processors with Intel Pentium. When buying a lower-end laptop this comparison will really help you out. Recommended read for you.
Ryzen 3 is another great choice for gamers on a tight budget.
Frequently Asked Questions
Is Pentium good enough?
Pentium is good enough for running office applications, media playback, and web browsing. But if you want to run games, you need a dedicated GPU. But still, it will struggle in modern games that are designed to utilize multiple threads.
Which is better Pentium or i3?
Pentium is slower than an i3 due to the presence of two fewer cores. This makes it slower in games that need at least a quad-core processor to game properly. But for running simple tasks such as web browsing a Pentium is totally okay.
Is Pentium Silver good for gaming?
Pentium Silver is a toned-down version of Pentium made specifically for laptops. These come with an Intel UHD iGPU. Unless you are running really simple games such as Roblox or Minecraft, a Pentium Silver is not good for gaming.
Final Words
Pentiums used to be totally great for gaming a few years ago when four cores processors were at the tip of the iceberg. Fast forward a few years and now you can find an i9 13900 K with 24 cores and 32 threads. And this is not a joke but the fastest Pentiums are still stuck with 2 cores and 4 threads!
So games now utilize more cores that are thrown to them and get you better performance. Meanwhile, Pentiums, not the most ideal for gaming are still good options when playing light esports titles with low details.
That summarizes this piece for you. Hope you had a great time reading it.