As JPEG is the most widely used digital image format, converting HEIC to JPEG is not uncommon.  And being a variant of HEIF, HEIC created a lot of confusion too.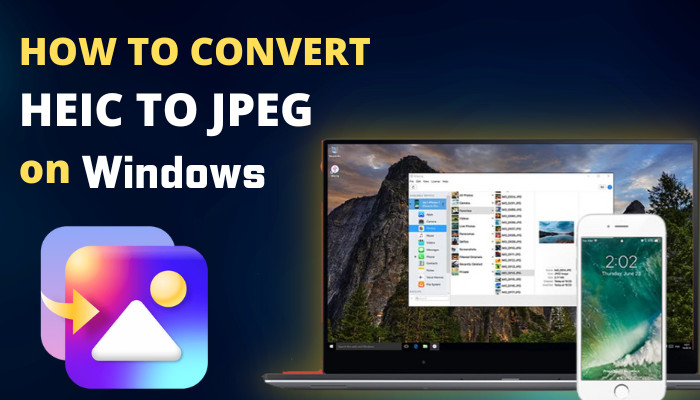 So, eventually, whatever the case for you, converting one file type to another has to be done. In this article, you'll learn how to open & convert any HEIC to JEPG from your Windows OS.
How to Open HEIC Image Files in Windows
Windows don't directly open HEIC or HEIF file format images. You must install some extensions to open these file types from your Windows. Go to Microsoft Store and search for HEVC Video Extensions. Just spend $ 0.99 to install this and then install HEIF Image Extensions.
Without installing these extensions, you won't be able to open any HEIF or HEIC file format-based image files. Windows system will ask you to install the extensions.
However, if you don't want to spend $ 0.99 for the HEVC Vidoe Extension, you can search for the HEVC Videos Extensions from Device Manufacturers and download it. After installing it, also download  & install the HEIF Image Extensions extension.
Here's how to open a HEIC file on Windows step-by-step:
Go to Microsoft Store and search for HEVC Video Extensions.
Click on the $0.99 button, and choose a way to pay.
Select the Install button after paying.
Search for the HEIF Image Extensions and click on the Install button.
Go to the HEIC file location where you saved it.
Right-click on the HEIC image file.
Select Open with > Photos.
Note: Alternatively, you can choose the Paint app instead of Photos to view this type of image file.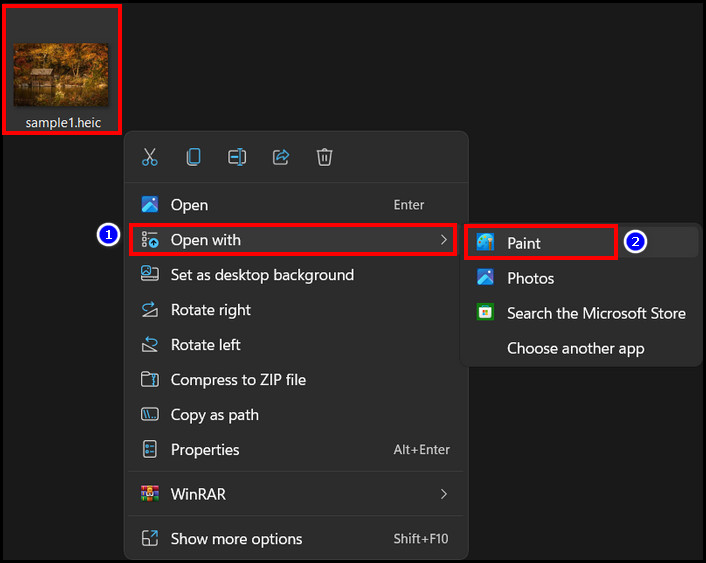 Now, you can open and view any .heic extension files.
But what about converting this file type to the mostly used JPEG image format? Let me show that too.
How to Convert HEIC to JPEG from Windows PC
To convert .heic extension-based image files to .jpeg, open the image with the Windows built-in Photos app. So, right-click on the image and select Open with > Photos. Now, press Ctrl + S shortcut key to save it, and choose .jpeg for Save as type. Then Hit the Save button.
Instead of the Photos app, you can open the Paint app file. Then save the HEIC image file in the JPEG format. If you want a detailed procedure, follow the below steps.
Right-click on the HEIC or HEIF image file.
Choose Open with > Photos from the list of apps.
Click on the three-dot from the ribbon.
Select Save as or press Ctrl + S.
Rename the file if you want and select .jpeg from the Save as type field.
Click the Save button.
Alternative way
Right-click on the .heic extension type image file.
Select Open with > Paint.
Click File > Save as > JPEG Picture.
Browse the saving path, and rename the file if you want.
Hit the Save button to finish the process.
That's all. Now, you have successfully converted .heic image file to .jpeg from your Windows machine with the built-in apps.
Understanding HEIC File
High Efficiency Image Container, or in short HEIC, is Apple's latest image container format to compress photos to save the device's storage without losing some image quality. All the iPhones or iPads running on iOS 11 save images in this .heic file format.
It's an upgraded variant of the HEIF (High Efficiency Image Format) image file format.
However, this high-efficiency image file format is limited to Apple and Samsung, and other Android phones now save camera shots in HEIC format. This helps to save phone storage because HEIC takes up half the space compared to JPEG.
As an iPhone user, saving the phone's storage is one of my top priorities. And I bet it's yours unless you subscribe to cloud storage services.
And keeping that in mind, Apple aided this solution to all iOS users by saving high-resolution images in this HEIC file format to shoot tons of marvelous photos without worrying about storage.
This HEIC image format can save images half the size of a JPEG format without losing the image quality. If a JPEG image file takes 6.7 MB, the HEIC will only take 3.1 MB. So, it's half the size of the JPEG image file, but both are in the exact resolution.
Sadly, Windows doesn't support or open these .heic image files. If you want to edit HEIC or HEIF file formatted images on your Windows OS, you must follow the techniques mentioned in this article.
How to Convert a HEIC File to JPEG from Browser
There are several websites available to convert HEIC images right from the browser. You can go to heic to jpeg, Heic.online, convertio.co, CloudConvert, etc., websites to freely convert HEIC files into JPEG. So, if you don't want to install any extensions to open & convert, just use these sites.
The file conversion process is pretty simple. Let me give you an example with one website real quick:
Open the browser and go to Convertio.co website.
Click on the Choose Files button.
Select the image from the local drive, and click Open.
Click the To options down arrow button and select Image > JPEG.
Select the + Add more files button to convert more files.
Hit the Convert button.
After that, the file will upload & convert automatically. Once converted, click the Download button and save the file to the local drive.

FAQ
Does Windows automatically convert HEIC image files to JPEG?
When you transfer HEIC images to Windows PC, it will automatically convert those to JPEG. For sharing iPhone images to Windows, install iTunes for Windows OS.
How to open .heic extension image files to Windows?
To open .heic file format images in Windows, go to Microsoft Store, and download HEVC Video Extensions by paying $0.99. Also, install HEIF Image Extensions after that. Now, double-click on the image, and it'll open in the built-in Photos app.
Is HEIC better than JEPG?
HEIC format compresses image files far better than JPEG format. If a JPEG image file takes 8 MB for an image, HEIC will only take 4 MB. So, HEIC is better than JPEG in terms of storing capability.
Final Words
So, without a macOS-based device like Macbook or iMac, it'll be hard to open any .heic extension image files. However, there are official ways to open such file types from your Windows devices, and I've mentioned them in this article.
Comment below if you need further help.