Accessing a file from an old SSD is like going back in time and discovering old material that you'd totally forgotten about, but acquiring access to old storage can be difficult for certain users.
So in this article, I'll show you how to enter your SSD and access all of your files quickly.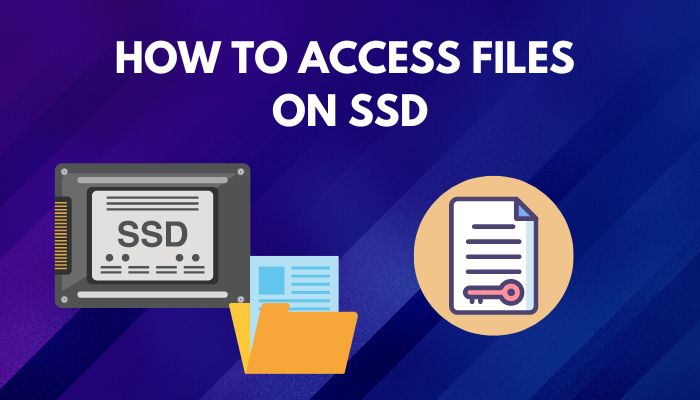 Let's get started.
How to Access Files on SSD
To access your files on SSD, navigate to the user folder of your old SSD and select the Properties option. Then, under the Security tab, select the Advanced option. Continue to the permissions section and choose the Enable inheritance option.
Before gaining access to an SSD, you must ensure that it is correctly connected to your computer. If you have a laptop Solid state drive and want to connect it to your desktop, check our recent article on connecting a laptop SSD to a desktop.
There are primarily two techniques for attaching your SSD to your PC. You can connect your SSD to your computer directly using a SATA connection or by inserting it into an M.2 SSD slot, or you can use an external device such as an enclosure or a USB adapter.
Here are the methods for connecting an SSD to a PC:
Connect SSD to Computer
You can connect a solid-state drive to your computer directly by using an additional SATA connector and extra M.2 slots on your motherboard. If your storage did not respond properly After connecting, you could check our recent post on storage keep disconnecting.
Here is the process to connect your SSD to your computer:
Open your Casing side case.
Identify the Port where you want to connect your storage.
Note: You must recognize the ports based on your SSD type. Connect your SSD through SATA or insert it into an M.2 slot.
Install your SSD to an M.2 slot or use a SATA cable to connect it.
Connect SSD Using Adapter and Enclosure
You can connect your SSD to a computer by utilizing a USB adapter or an enclosure. Enclosures are faster than USB adapters, but they are more expensive. So, depending on your requirements, you can utilize one of the converters.
After connecting your SSD to a computer, it will appear as a drive on your computer. Most files can be accessed without any form of permission. However, some folders may require permission from the administration to access them. In that situation, you must disable inheritance from the folder to have access to it.
Here are the steps to gaining authority over a folder:
Select the User folder you want to enter.
Right-click on the folder and go to the Properties option.
Go to Advanced under the Security tab.
Click the Continue button under the Permission option.
Select Enable inheritance option.
The computer began some operation after you selected the Enable inheritance option. After a short period of time, the procedure will be completed, and you will be able to access all of the folders and files on your SSD.
Conclusion
Gaining access to an old SSD can be a trip down memory lane for the user, but it can be difficult to grant access to these files at times.
So, in this article, I demonstrated how to properly connect storage to a computer and conveniently access the files on an SSD.
If you have any questions or feedback, leave a comment below.