As a hardcore gamer, I was always curious about interesting facts and stats of the gaming industry.
That's why I spent a huge amount of time researching and curating the most important video games statistics and facts.
If you like my effort, a share will be hugely appreciated!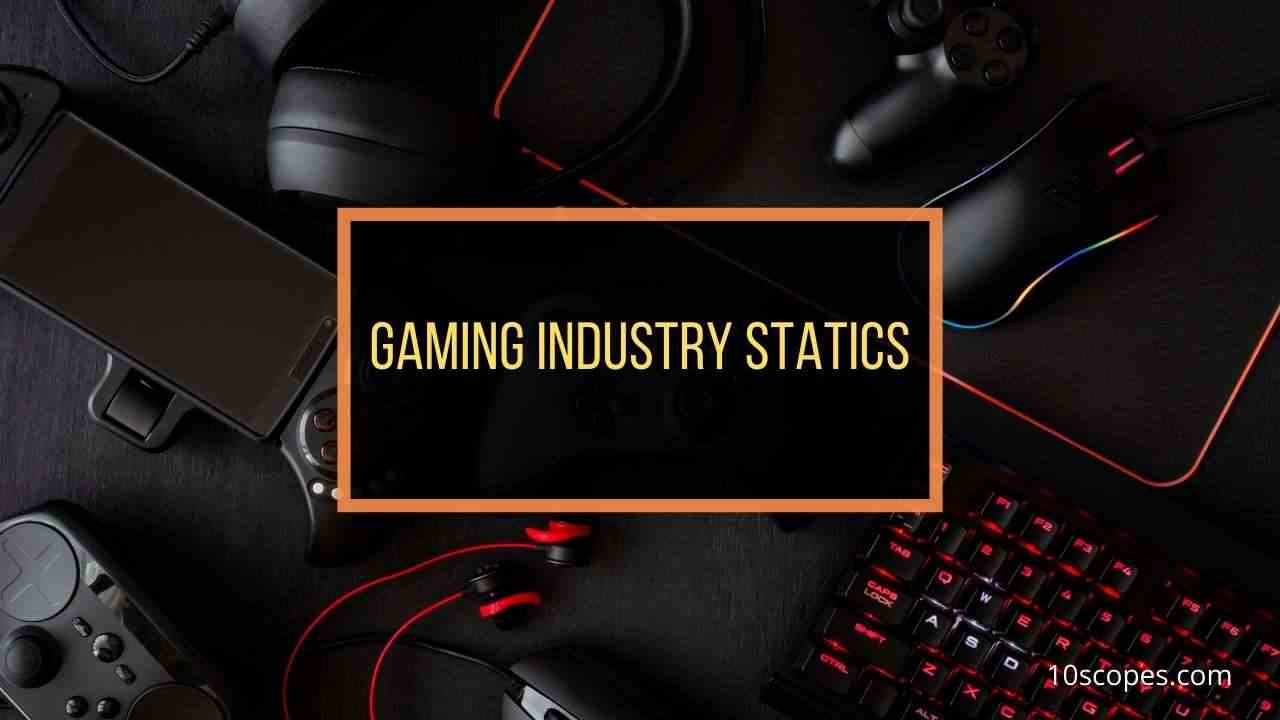 But, before going to the massive list, Let's take a look at the top video games statistics of 2020:
As of February 2020, Crossfire is the most played video game in the world (wiki)
PS2 is the best selling console ever. In fact, as of 2020, Sony sold over 158 million units of this console. (statista)
Crysis (Remastered) is the most graphic intenstiver game, even the latest RTX 3000 seris GPU struggle to render this game at its highest settings. (linustechtips)
As of october 2020, PewDiePie is the most subscribed gaming youtuber with a whooping 107M subscribers (YouTube)
Steam is the biggest computer video game store as it has over 17.03M active users. (steam)
Number of Video Gamers worldwide
At present, the number of active gamers worldwide is around 2.69 billion.
Finding the total number of people who have played video games is quite unimaginable. But from different surveys, it was possible to estimate the total active gamers around the globe.
Here are the stats about the total number of gamers in the past few years:
There were 2.5 Billion People playing video games in 2016. (The European Mobile Game Market)
In the USA, 75% of families have at least one video gamer. (WePC)
Age of 72% male gamers is around 18 to 29. (Entertainment Software Association)
60% of people in the United States regularly play video games for recreation. (GamingScan)
Gaming Industry Revenue Statistics
Gaming Industries are one of the top leading business industries around the world. But they are most popular in the US region.
Here are some of the unimaginable statistics for you to know about how much the gaming industry worth:
In 2019 Gaming industries had made a revenue of $151.9 billion. (review42)
88% of the total revenue of gaming industries came from only software sales. (WePC)
By the end of 2020, the revenue of the gaming industry can be around $90billion.
In 2018, only the video games sales made the industries a big revenue of $43.4 billion. (Statista)
Gender Statistics and Ratio of Male & Female Gamers
The ratio of male and female gamers is always changing. You will be shocked to know that, on average, the ratio of male gamers to female gamers is 3:2.
Below are some stats about the ratio of male and female gamers:
| Year | Male Gamers | Female Gamers |
| --- | --- | --- |
| 2019 | 54% | 46% |
| 2018 | 55% | 45% |
| 2017 | 59% | 41% |
| 2016 | 56% | 44% |
| 2015 | 52% | 48% |
Video Games Stores Statistics
Games are released everyday. But after calculating the number of games from the most popular platforms we found out that about 1181019 games came out till 2019.
Here are the number of games on different platforms:
Steam is the biggest collection of PC games and it's number is around 33554.
There are 327491 android games on Google Play.
811911 IOS games are present in the App Store.
PS4 has 1893 games.
The Xbox One can play 1760 games.
There are 3125 games on GoG(Source: gamingshift)
Mobile Video Games Industry Statistics
Mobile is the biggest gaming platform in the world. We can see a lot of games coming to our mobile application stores daily.
Here are some facts about this huge gaming platform:
In 2019, the Mobile gaming platforms made $68.5 billion.
45% of the total revenue earned by the gaming industries comes from the mobile gaming platforms.
At present 50% of the Mobile gamers are Female.
Online mobile games started from 2017 and it is becoming popular day by day. (Source: visualcapitalist)
Video Games Publishers Statistics
Like all other business sectors, Gaming industries also go through ups and downs. And the stats of these industries is quite unpredictable.
So, here are the top-earning game publishers in 2017:
Tencent Games – $18.2 billion
Sony Interactive Entertainment[12] – $10.5 billion
Apple – $8.0 billion
Microsoft – $7.1 billion
Activision Blizzard – $6.5 billion
NetEase – $5.6 billion
Google – $5.3 billion
EA – $5.1 billion
Nintendo – $3.6 billion
Bandai Namco – $2.4 billion (Source: wikipedia)
Video Games Genre Statistics
Everyone has a different taste, and it's no exception in case of their choice in games.
From the beginning, we have been seeing that there's no genre that's able to beat the most popular Actions Games.
And yes, Action games are the most popular among all other game genres. (statista)
Here's a graphical representation of the most popular game genre by number of players: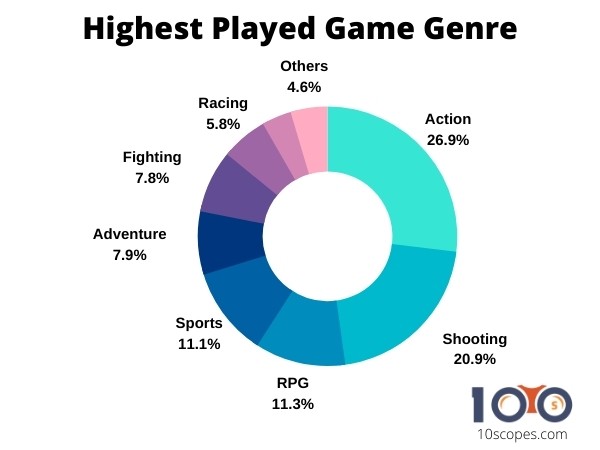 Most Played Games Statistics
The number of players in a game is always changing but the most played games are sitting at the top for a long time.
And here are the most played games so far:
League of Legends(by Riot Games)
Tom Clancy's Rainbow Six: Siege (by Ubisoft)
Valorant (by Riot Games)
Minecraft (by Mojang)
Hyper Scape (by Ubisoft)
Fall Guys (by Devolver Digital)
Grand Theft Auto V (by Rockstar Games)
Call of Duty: Modern Warfare (by Activision)
Apex Legends (by Electronic Arts)
Overwatch (by Blizzard Entertainment)
Hearthstone (by Blizzard Entertainment)
PLAYERUNKNOWN'S BATTLEGROUNDS (by PUBG Corporation)
Fortnite (by Epic Games)
Dota 2 (by Valve Corporation)
ROBLOX (by Roblox Corporation)(Source: newzoo)
Game consoles Statistics
The highest sold gaming Console in the world is Playstation 2 until 2020.
But many consoles have arrived till today and we should focus on them firstly because this will give us a good idea about who is the leading industry in selling game consoles.
So, here's the best selling game consoles from 2006 to 2020:
PlayStation 4 – 112.1 million units sold
Nintendo Wii – 101.63 million units sold
Nintendo 3DS family – 75.77 million units sold
Nintendo Switch – 62 million units sold
Xbox One – 50 million units sold(Source: Wikipedia)
And here's a graph of the best selling gaming consoles: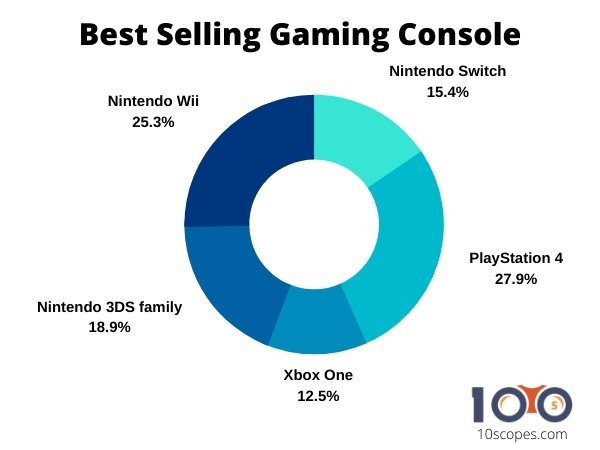 Twitch Game Streaming Stats
Twitch is the biggest game streaming service. And being the most popular streamed game in twitch is a big deal.
The following stats of games are made based on the number of streamers.
Here are the Highest Streamed games on Twitch in 2020:
Fortnite(3,140,505 Streamers)League of Legends(903,868 Streamers)Apex Legends(1,360,598 Streamers)World of Warcraft(318,030 Streamers)Just Chatting(793,331 Streamers)Counter-Strike: Global Offensive(772,307 Streamers)PLAYERUNKNOWN'S BATTLEGROUNDS(458,157 Streamers)Overwatch(543,819 Streamers)Tom Clancy's Rainbow Six: Siege(706,455 Streamers)Call of Duty: Black Ops 4(494,062 Streamers)(Source: sullygnome)
Warping Up
I hope you enjoyed this stats curation, Did I miss anything? Let me know in the comment section.
I'll try to update this page frequently.
Know More About Gaming and Gears
– asus rog armoury crate download
– best gaming headsets for glasses wearers
– best aura sync compatible fans
– best motherboard for i9 10900k
– best cpu cooler for i7 10700k
– best motherboard for i7 10700k
– best graphics card for i7 10700k
– best graphics card for i9 10900k
– best motherboard for ryzen 7 3700x
– best cpu cooler for ryzen 5 5600x
– best cpu cooler for ryzen 7 5800x
– best cpu cooler for ryzen 9 5900x