Are you trying to configure your Discord channel but confused by the complicated permission settings? Do you need an expert's help to set up the channel permission?
Then you landed on the right page!
Discord's channel permission can be tricky for someone trying to set it up for the first time. I faced the same issue when setting up my first channel on Discord. But, after spending hours doing some research, I finally had all the answers to my confusion.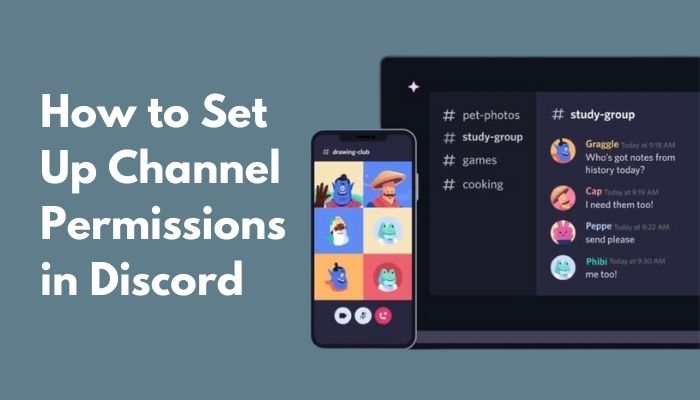 What is Discord channel permission?
Discord channel permission is the channel's rules and regulations that allow specific users to interact with a server channel. Like server permissions, channel permissions also determine which users can perform authorized actions inside the server channel.
This post will explain all the details about Discord channel permissions and cover the answers to the most common queries. I'll also show you how to set channel permissions without facing any Difficulties.
So, stick with me till the end, and don't skip any part to learn everything about Discord channel permission.
Check out our separate post on how to fix Discord screen share no audio problems.
How do Discord Channel Permissions Work
Channel permissions are built to provide specific permissions to channel members and keep all the activities in a discipline. Everybody in a channel is under permissions set by the admin or moderators.
Channel permissions play a vital role in keeping every activity in line inside it. These permissions give members the authority to do specific tasks and use various facilities which come with their roles.
Channel permissions override the role permissions. So, if you've already created some parts for your server and allotted a set of permissions to them, changing their channel permissions will automatically override the previous server permissions.
At first, you might be puzzled identifying what roles you should create and how to manage them. When channel permissions are combined with role permissions, they can be compelling.
With channel permissions, you can make voice channels for admin access only. You can also limit bots to be active on specific channels.
Many people face the problem of "Discord Notification not working". You can fix it easily by following a few steps on our separate guide.
How to Set Up Discord Channel Permissions
After setting up server roles and their permissions, it's essential to set up channel permissions. I have told you before that channel permissions allow specific users to interact with a particular channel. So, it's a vital setting for your channel.
Don't worry if you're new to these terms. I'll help you set up channel permissions with a step-by-step guideline.
Here are the steps to set up channel permissions in Discord:
Open the Discord app.
Go to your server.
Clicking on the cogwheel beside your desired channel to open channel settings.
Select the Permissions tab on the left-hand side.
Scroll down and select Advanced permissions.
Choose the permissions for the roles on the channel by clicking the checkboxes.
Click on the plus sign to add new roles if you want to manage channel permissions.
Assign channel permissions to the new role you've just created from the permission section.
Scroll down and click on Delete @usern_name if you want to remove someone from the permission panel.
As I said before, you have to remember that channel permissions will override server permissions. So, if you change the permissions of a role in the channel settings, it'll be their ultimate permission inside the channel, and the server role permissions won't override them.
Remember that you can either deny, default, or allow any setting in channel permissions. Setting a permission value to default will simply set the permission value the same as in the role permissions.
Setting anyone's permission to deny overrides any allowed permission set in the role permissions. It also prohibits any relevant permission in the channel.
Allowing permission for someone overrides any restricted permissions set in the role or channel permissions, allowing them the permission.
This step also helps in fixing discord Krisp not working issue.
How to Create a New Channel in a Discord Server
SO, you've already learned about channel permissions and how they work. But if you're wondering about creating a new channel inside your server and then assigning channel permissions, then this section is just for you!
Creating a new channel is a piece of cake, and you'll only need a few seconds. Follow my guideline for it below.
Check out some interesting discord commands for your server.
Here are the steps to create a new channel in the Discord server:
Open the Discord app.
Go to your server.
Click on the server name on the top-left corner of your screen.
Click on create a channel.
Select if it's a text or a voice channel and give a name to the channel.
Now your new channel is ready. Start adding people and assigning permissions by following my guide in the previous section.
Check out the easiest way to enable Discord push to talk.
What are the Role Permissions in a Discord Server?
Role permissions are the unique liberties given by the roles of a Discord server. It ensures the owner controls members to access various settings in a Discord server. Members with specific role permissions can ban impolite users or delete inappropriate messages.
The Discord permission system is based on roles that you assign to your members. The server owner can assign the permissions to specific roles inside the whole server or the server channels.
There are 29 permissions on Discord which are divided into three categories. All the categories have their specified subcategories of permissions.
I've listed and explained them below for your better understandings.
Also, check out our separate post on discord not ringing for incoming calls.
General Permission: It includes the overall unrestricted authorizations of all members, including the owner-administrator, moderators, and general members of the Discord server.
Text permissions: It allows the users in the Discord server to perform activities in the text channels of the server.
If you assign roles to the member of your Discord server, you have to allow them some permissions under text permission.
Voice permissions: It allows the users assigned with roles in a Discord server to perform activities in the voice channels of the server. It's almost identical to the Text permissions.
If you assign roles to a member of your Discord server, you need to allow them some voice permissions.
If you don't know about better discord, then quickly check out our epic guide.
What is the Difference Between Role Permission and Channel Permission?
There's a massive difference between role permission and channel permission. As you already know, you can allot role permission of your server and channel permissions differently.
Role permissions are when you categorize the member of your server with various roles and limit their activities with a different set of permissions. These permissions will hold them inside the central server.
Follow our guide to add a music bot to Discord.
But, channel permission is when you create different voice and text channels for various topics inside the server, and you want to set additional permissions for different types of servers apart from the central server role permissions.
So, a member or role might not need the same permission to a channel where he is not interested or doesn't need specific permissions. That's where the channel permissions come in. You can assign members with a new set of permissions, and they'll override the server role permissions. The members must abide by those permissions when interacting in that specific channel.
So, channel permissions will come in handy when you need to restrict or renew a member's or a role's permission in a specific channel but don't want to change their primary role in the server.
Have some time to spare? Check out our latest fix for Discord Browser Mic Not Working
How to Set Up Category Permissions on Discord
The category is a classification of channels in a Discord server. You can enlist several channels under a category if they are for a similar purpose.
So, you can adjust the permissions of all channels under the same category at once from edit category settings. In this way, you don't have to do the same task repeatedly.
Here's are the steps to set up Category permissions:
Open the Discord app.
Go to your server.
Click on your server name on the top-left corner of the screen.
Click on Create category.
Give a name to the category and enable/disable the private switch based on your choice.
Right-click the category and choose Edit Category.
Select Permissions in the left-hand panel to alter permissions and add roles.
Check out our separate post on how to enable Discord screen share and fix black screen problem.
FAQ
Question: How do I move a channel to a Discord category?
Answer: To move your channel to a new category, open the Discord app and go to your server. Click and hold the left button of your mouse on the desired channel name. Now drag the channel to the category you prefer.
Question: How do I make a Discord channel read-only?
Answer: To make a Discord channel read-only, click on the settings icon beside the channel. Move on to the Permissions tab and select @everyone. Then disable the Send Messages permission, and save your changes. No one can send messages in the channel, and it'll be read-only.
Question: How does Discord manage channel permissions?
Answer: Discord manages channel permission based on your preferences. You can adjust the permissions of a channel by clicking on the settings icon beside it. Then go to the Permissions tab on the left-hand side. Now select @everyone or a role name, then choose your desired permission.
Question: What is the permission of a Server Moderator?
Answer: A moderator of a Discord server has some necessary permissions like kick and ban members, see text and voice channels, control messages, and read message history as it is one of the primary roles to manage the server and the members. A moderator needs these permissions to maintain discipline.
Conclusion
So, I hope you don't have any more confusion about Discord channel permissions. I've covered everything you need to know about channel permissions to help you apply them in your channels all by yourself.
Also, don't mix up the differences between role permissions and channel permissions. See the difference from the above section to remember them once again.
If you don't feel confident yet, I suggest you read the document one more time to overcome the hesitation. It'll also help you to implement the guidelines in your situation.
If you've any further queries, please comment below. Our experts will help you right away.