Sapphire Trixx is a software to benchmark, monitor, and overclock your GPU to its full potential. You can put your GPU to the test and have the best rendering for your games and more.
I have used the software for a hefty amount of time, and I can assure you that it is good software for your GPU customization and monitor.
What is Sapphire Trixx?
Sapphire Trixx is a graphics utility that helps you customize, boost, and overclock your GPU. You can easily monitor and check your GPU's processes as well with the app. The software is essential for Sapphire graphics cards to have the best resolution and performance. The software's easy user interface helps you achieve your GPU's best quality execution and have it boosted up efficiently.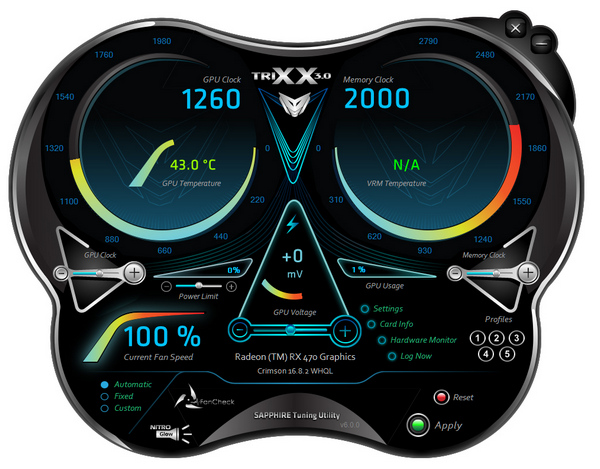 The software allows you to monitor your GPU settings like temperature, fan speed, voltage, and custom RGB light control. The interface of the software is straightforward to use. You can find the GPU aspects monitoring screen in the home dashboard and other features of the software.
Keep reading, as I will provide you with the 100% working download link for the software and a quick installation guide to help you out. Download Precision x1 to customize your GPU settings like temperature, fan speed, voltage, and RGB light control.
Download Sapphire Trixx for Windows 10
Trixx software, also known as a graphics Utility Engine, is compatible with Windows. The latest version of the software is faster and improved.  The software runs quite smoothly with Windows 7/8/10. You can do it all within the software, from GPU monitoring and customizing to changing RGB for the card.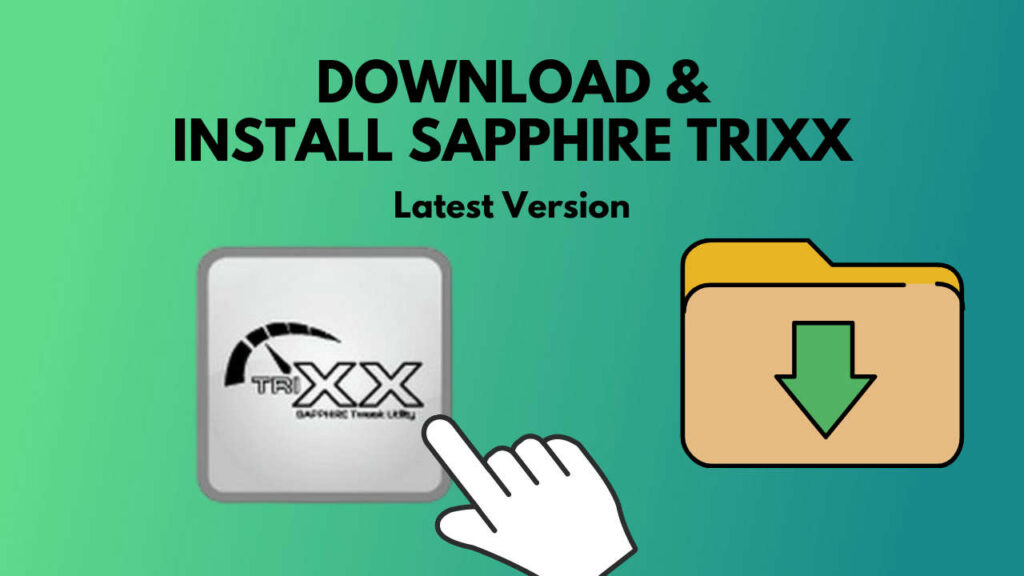 The software helps you with the total control of your GPU with an easy interface. The software helps you with the GPU lightings and allows you to monitor your processes fully. You can change and monitor your Fan speed to have a smooth run time.
Download Sapphire Trixx Latest Version ➜➜
All the files mentioned above are hosted on Sapphire's server. We don't host or modify any file whatsoever. Sapphire Trixx is the proprietary software of Sapphire.
| Name | Sapphire Trixx |
| --- | --- |
| Developer | Sapphire |
| Latest version | 8.3.0 |
| Compatibility | Windows 10/8/7 |
| Price | Free |
Sapphire Trixx Unique Features
Monitor GPU temperature
Inspect GPU fan speed
Watch Voltage and power of GPU.
Custom lights of GPU
Get an accurate benchmark.
Overclock GPU
Boost performance with boost feature
Also, Download RGB Fusion to customize your PC's motherboards, graphics card, LED strips, casings, and other peripherals in one click.
Sapphire Trixx Boost and How to Use it?
Sapphire Trixx boost is a unique feature of the Trixx software. It helps you achieve more significant graphics resolution results very quickly. You can easily change and customize the advanced aspects of your screen and set them to a higher setting.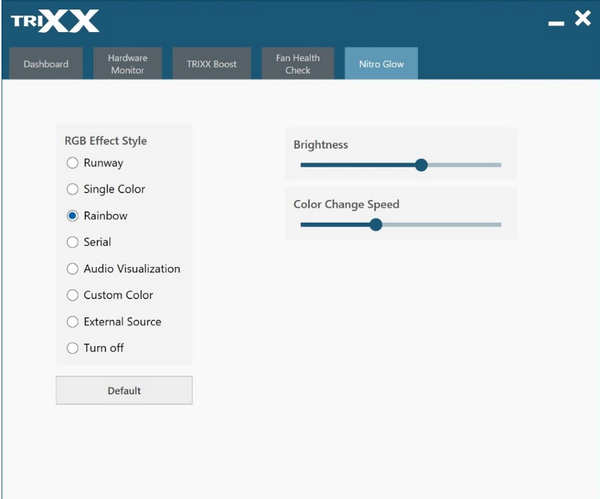 The feature creates a custom resolution just under significant modes to give you an enhanced screen resolution and performance.
The Trixx software boost options are an easy way to create and select enhanced resolutions for your screen. You can quickly get the best effects with this aspect.
Also, Check out how to Download Razer Cortex game booster to intensify your in-game performance.
Here are the steps to use Sapphire Boost:
Open the boost tab, and you will see the different options you can customize.
Change the resolution by sliding the percentage slider, and you will notice the resolution count changing as well.
Select a resolution option and hit apply.
How to Use Sapphire Trixx software
Trixx software is an efficient and smooth app to use. It has an easy user interface for you to have a good user experience.
You can easily track and custom the lighting, processes, and other options of your GPU with the help of the software. Using the software correctly will help you achieve the best performance of your GPU. Download Ryzen Master to tweak your processor to the full extent.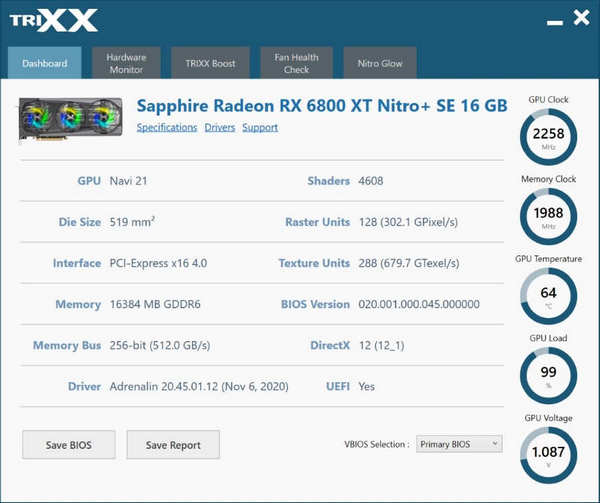 Here are the steps to use the Trixx software by Sapphire:
Open the software, and you will see the different GPU aspects shown in the window for your monitoring. You can monitor and save your info from this window. Also, change bios settings if necessary.
Click the hardware monitor options and see the aspects of your GPU and CPU to monitor. You will get different graphs to watch, such as temperature, voltage, fan speed, GPU usage, etc.
Click on the Nitro glow tab to select and custom the RGB of your GPU. You can change the color or set different lighting effects from this tab.
Click on the fan health clock tab and check the fans' health by testing out the fans. If there are any problems with the fan, then it will appear red on the monitor.
Click on the Trixx Boost tab to quickly create and select resolutions for your screen and set specific resolution modes for your screen.
How to install Trixx Software by Sapphire
The Trixx app is free software from the company itself. It is quite simple to install. It is an efficient app to use, and it has minimal setbacks. Also, check out the latest version of TT RGB Plus software to customize your RGB lights and fan speeds on all peripherals.
Here are the steps to install the Trixx app:
Click on the download link.
Download and extract the file.
Install the downloaded setup file.
Move the file to the desired location.
Run the software as an administrator.
Is Sapphire Trixx software worth using?
Sapphire's Trixx software is an excellent software to custom, manage, and overclock your graphics card. You can set various goals for different aspects of the GPU. It offers you a good interface and options to custom your GPU system.
The software allows you to dictate your GPU aspect and select your GPU's RGB on your own. Monitoring different parts and overclocking the card gives you a quality run time from the software.
The power and clock time of your GPU is essential thing for your runtime. The Trixx software helps you watch and boost the clock time and power to help you overclock and run your graphics card smoothly.
Download Corsair iCUE to get updated information on your battery usage, Fan speed, clock time, and temperatures of your Corsair Components.
The software can help you overclock your graphics card to give you a good run time. You can adjust the RGB setting, power, temperature, and clock time from boosting scenes to overclock your GPU. The correct benchmarking system helps you have updated news of your GPU performance.
The software is very safe to use, and it has no malware issues. I have never experienced any malware or data vulnerability after using the software. So, it is also a secure app to use.
I can assure you that the sapphire Trixx software is worth using from all these aspects and useful features.
Is the Trixx app safe to use?
The Sapphire Trixx software does not need any information about your PC, making it very secure to use and download. It has no issues with malware-related problems.
I have tested the software with ten antivirus software, and I have found no malware problems. There is no problem with viruses. Your computer data also remains risk-free.
You can also Download Gigabyte easy tune to overclock, monitor, and set cooling management.
It does not hamper any of your PC processes nor put your parts at risk by overclocking. It works properly without any problems.
There will be no data loss or violation of privacy from the software. It is 100% safe to use the software.
FAQ
Question: Can you monitor GPU systems with Sapphire Trixx?
Answer: You can easily monitor your GPU processes and systems with the Trixx software. It showcases a window to update you about the CPU and GPU usage, Temperature, Fan speed, Etc.
Question: Can you change GPU colors with Sapphire Trixx?
Answer: Yes, you can change the GPU colors with the Trixx software. You can go to the nitro glow tab and change colors or set lighting effects of your Nitro enabled GPU efficiently.
Final Thoughts
The Sapphire Trixx is an excellent software to custom, manage, and overclock your graphics card. You can easily monitor and custom your GPU with the software.
The software helps you optimize your run time by changing parts of your GPU. It can also help you customize your GPU LED lights. It is useful software for the overall management of your GPU.
I have used the software, and the software benefited me a lot. I suggest any consumer of this software who is looking for good GPU managing software.
The boost options are a great way to have boosted resolution and performance from the software. It is an excellent app to test and achieve the full potential of your GPU efficiently.