So, you want to support your favorite Video star but don't know how?
The Star Codes make it easier to support; As Roblox is promoting its business and revenue growth of influencers in the Video Stars program.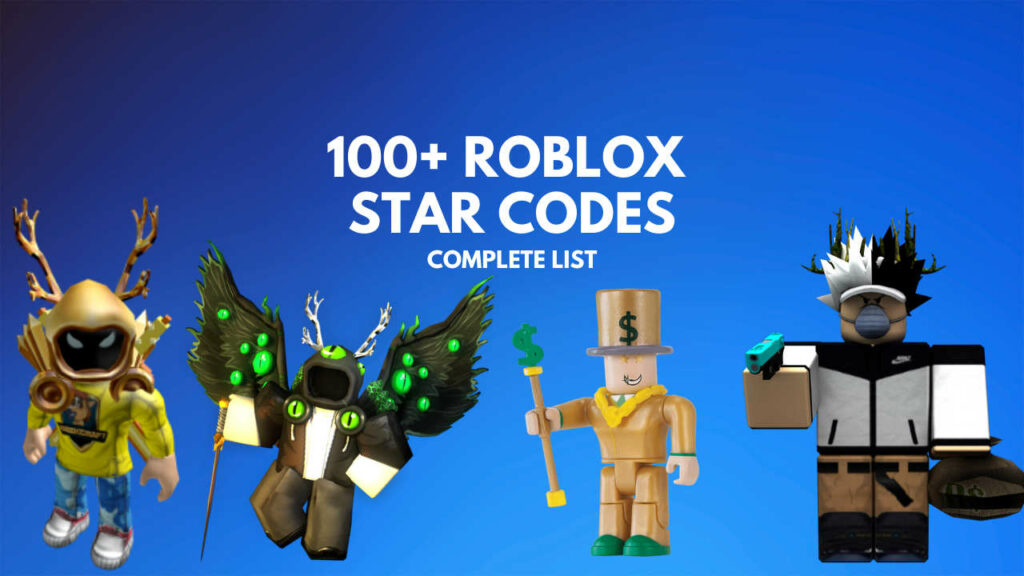 What is the Roblox Star Code?
The star code in Roblox is a unique code given by the Video Stars program members. The codes will help support your favorite Video Stars. Stars will automatically earn 5% of the Robux every time you purchase Robux from the Roblox website.
Keep reading because I am about to provide you with a complete list of star codes and show you how to redeem them.
Also, receive Roblox Toy codes for free.
Complete List of Star Codes
Each Star code in Roblox is unique and belongs only to its YouTuber or Star Program Member. 
TIP: Use the Roblox Website and Roblox App to use the Star Codes. You will still receive the full amount of Robux you paid for, with the bonus of knowing that you supported your favorite star.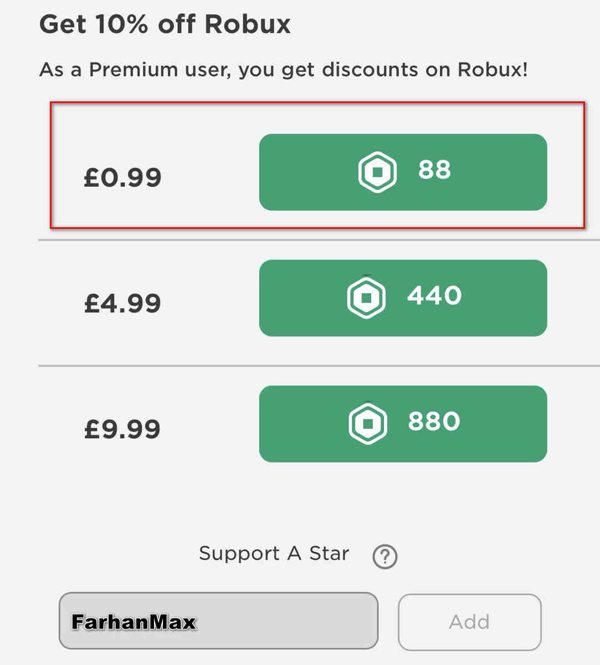 But before that, Redeem Roblox codes for amazing accessories before the time runs out!
Here is a complete list of star codes in Roblox:
AlvinBlox: AlvinBlox
Amberryyt: Amberry
Anyx: Anix
Annoying Orange Gaming: TootyFruit
Ant: Ant
Ashleyosity: Ashley
AshleyTheUnicorn: Unicorn
Bandites: Bandites
BereghostGames: TheFGNCrew
Betroner: BYN
Bigbst4tz2: bigb2
Buur: Buur
Captain Tate: Captain
Chrisandthemike: Christmas
Conor3D: Conor3D
CraftedRL: Crafted
DeeterPlays: DeeterPlays
DefildPlays: Defiled
Denis: Denis
DimerDillion: Dimer
DOLLASTIC PLAYS!: Dollastic
Flexer97yt: Otaku
Fnatic: iifnatik
FunkySquad413: Funky
Flexer97: Otaku
Fuzz: Fuzz
GallantGaming: Gallant
GamingMermaid: Mermaid
GamingWithKev: GWKFamily
GoingLimited: Going
Gravycatman: Gravy
heysant2018: HeySant
Hyper: Hyper
iamSanna: iamSanna
iBeMaine: IBeMaine
iGuzGames: iGuz
inquisitormaster: Alex
ItsFunneh: Funneh
Janet and Kate: TeamJK
Jayingee: Jake
Kavra: Kavra
Keiser: Keisyo
KreekCraft: RealKreek
KrystinPlays: Krystin
L0GinHDi: LOGinHDi
Landon – ARKH: Quack
Leah Ashe: LeahAshe
LegolazYoutube: Legolaz
Linkmon99: Linkmon99
Lonnie: Lonnie
Lynitaa: Lyna
MatrixPlaysRB: Matrix
MeganPlays: MeganPlays
MicroGuardian: Micro
MuneebParwazMP: Muneeb
MyUsernamesThis: Bacon
NapkinNate: Napkin
Night_foxx: NightFoxx
Noangy: BYN
Nicole_Kimmi : Kiwwis
ObliviousHD: Oblivious
okgamerman: Playonyx
PeetahBread: Peetah
Poke: Poke
PremiumSalad: Premium
PrestonMobile: Preston
Raconidas: Raconidas
Rainway: Rainway
RazorFishGaming: Razor
Realistic_Gamingmc95: Realistic
Realrosesarered: Realroses
Realsubzeroextabyte: Subzero
Remainings: Remainings
RenLeaf: PinkLeaf
Roblox Minigunner: Minigunner
ROBLOXMuff: ROBLOXMuff
RODNY_ROBLOX: RODNY
RussoPlays: Russo
ryguyrocky: Ryguyrocky
byRovi23: Rovi23
Sallygreengamer: Sallygreen
SeeDeng: See
Seniac: Seniac
SGC_Shane: ShanePlays
SharkBL0X: SharkBlox
skyleree: Sky
StronbolYT: Stronbol
Sub's Blox World: Sub
Sunsetsafari: Sunset
Teamjk: Jayingee
Jake: Jd
The Monkey: Monkey
Therealcybernova: Cybernova
TheRopo: roporoblox
TanqR: TanqR
TBNRwife: Brianna
Terabrite Games: Brite
Cybernova Games: Cybernova
TheRoPo: RopoRoblox
Thinknoodles: Noodles
ThnxCya: ThnxCya
Tofu: Tofu
ToyHeroesMolly: Toyheroes
TwiistedPandora: Twiisted
VeD_DeV: VeDDeV
xdarzethx: Gremlins
Z_Nac: Znac
Z00LD: Z00LDYT
ZacharyZaxor: Zach
ZephPlayz: ZephPlayz
TapWater: Tap
How to use the Roblox Star Codes
You can use codes while purchasing Robux. I have provided you with a complete list of codes in this post. Select the code from the list of your favorite star and follow the steps below.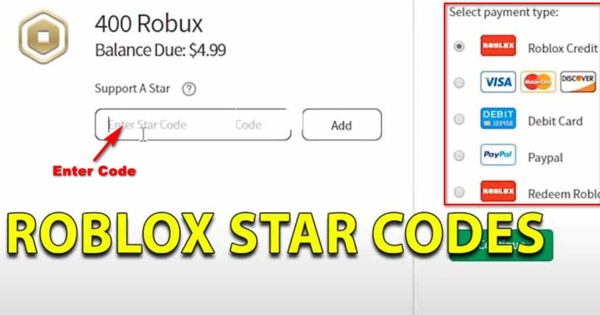 Here are the steps to use star codes on Roblox:
Login to your account and click on the Add Robux button.
Select the amount of Robux you want to buy.
Use the Star code on the Robux purchase page while completing a transaction.
Click on Continue after adding the code.
Note: Your favorite star receives 5% Robux from your purchase. And you will still receive the full amount of Robux you paid for, with the bonus of knowing that you supported your favorite star.
Check out how you can perform a successful Roblox Trade.
Why Need Star Codes on Roblox?
Star Codes are the codes used to support your favorite YouTuber. Using these codes in Roblox has no extra cost for you.
You can support your favorite YouTubers or Video Stars by giving them 5% of the purchase without extra cost. So why not help them? It is free.
Check how you can play Roblox on Ps4.
How do you get a Star Code in Roblox?
It is challenging to get a star code. You need to be a member of the Video Stars Program.
Here are the requirements to get a star promo code:
Ten million cumulative Roblox video views on your YouTube channel
25,000 views on each Roblox video
One hundred thousand followers/subscribers on your channel.
The requirements are indeed immense, which is why it's so difficult to get one of these codes.
Note: You won't get your money back for buying Robux. You are just supporting your favorite star as well as buying Robux at the same time.
Fix Roblox lag in seconds for faster and smoother gameplay. Also, increase the fps count using Roblox fps unlocker.
FAQ
Question: Can Roblox Star Codes give you Robux?
Answer: There aren't any ways to get ROBUX from your Video content creator unless they offer giveaways. The more giveaways they organize, the more vote they get from their fans.
Question: Is the star code a waste of money?
Answer: For some people, it is a waste of money. If you buy Robux, then you can also support your star. You just need a code to help them.
Final Thoughts
Star codes are challenging to get. Even for a Youtuber. Youtuber like ThinkNoodles and DanTDM worked hard to get a star code.
So, I recommend supporting your favorite channel and receive fun giveaways from them.