BetterDiscord is a well-known way to enhance the functionalities of the original Discord app. However, it's not recommended to use as because it is not legal. As per Discord ToS, BetterDiscord or something like this, which isn't official, is not used as a Discord client.
You might be using BetterDiscord to beautify the original Discord app. But as it's not legal, you may want to be on the safer side of the laws. Discord can even suspend your account permanently due to using a third-party client.
But uninstalling the BetterDiscord sometimes might feel difficult. I also faced difficulties while I tried the same. But don't worry, I've figured out how to uninstall safely and efficiently the BetterDiscord from your system.
Keep reading the article as I'll share multiple ways to remove the BetterDiscord. Try one after another if the previous one didn't work for you.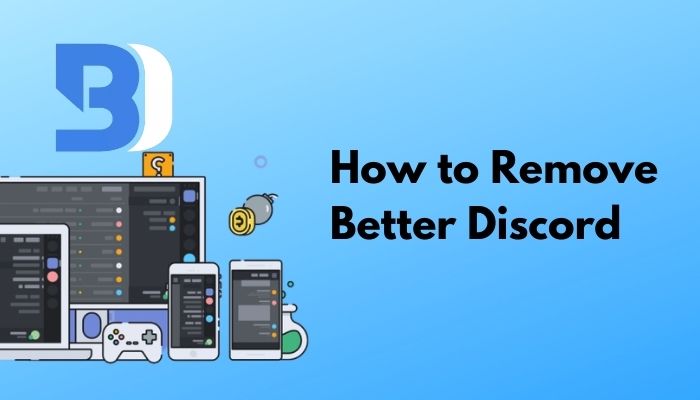 Check out the Best BetterDiscord Plugins: Discord
Why uninstall BetterDiscord?
As it is illegal to use any third-party handles to access Discord, the BetterDiscord is also illegal as per Discord ToS. But as the name suggests, BetterDiscord extends the power of the original Discord app and enhances the experience of using Discord.
You might have installed the illegal third-party app for Discord called BetterDiscord, hearing that it enhances the experience. But as the developers behind the BetterDiscord have stopped the developments of this app, you might be facing some issues and bugs with the app itself.
And as the development of BetterDiscrord has been stopped, you might be missing many new features the official Discord app has introduced.
You might get hacked because of third-party solutions like BetterDiscord because your data is being compromised and collected by some middle man between you and the official Discord app.
Discord can even ban it's users from using third-party solutions like BetterDiscord because it doesn't lie with the terms and conditions are made by the Discord officials.
Whatever the reason behind uninstalling the BetterDiscord, this article will be helpful to do so.
How to uninstall Better Discord with app uninstaller?
What have you done with the installation file after installing the BetterDiscord? Did you delete it or keep it as it is? If you have saved it safely, you'll get an easy way to uninstall the BetterDiscord from that installation file. You can apply this same method for Windows and macOS too.
Check out our separate post: Can You Get Banned For BetterDiscord
Here are the quick ways to uninstall the BetterDiscord with the installation file:
Search for the installation file, Open it
Click Next on the dialogue box
Here you'll get the option to select the currently installed version of BetterDiscord on your system.
Select the version
You'll get the Uninstall button at the bottom right; click on it
The uninstallation process will be completed in a few moments.
And you're done! Now you don't have any Banged or BetterDiscord on your system anymore. The app icon you see here at the start menu is the official handle from Discord.
Also read, How To Fix Better Discord Not Working
Uninstall removing app data files on Windows
Hopefully, that previous method worked. If not, then you can try the following. This can be applied to Windows and macOS.
Here are the simplest ways to uninstall the BetterDiscord removing the app data files on Windows:
Go to Windows Settings pressing Windows Key + I
Go to Apps and find Discord
Now hit Uninstall and let it happen.
Go to Start Menu > Run
Type %AppData% and hit Enter
Scroll to the BetterDiscord folder
Delete the folder
Now Reinstall Discord from their official site
Follow our guide to know Is BetterDiscord against ToS
Here are the steps to clear app data files and uninstall the BetterDiscord extension On MacOS:
Open Finder > Apps > Discord
Drag the Discord icon towards the trash bin
Now you have to clear the app data, Go to App Menu > Go > Go To Folder
Type ~/library in the search box, Hit Enter
Search and scroll towards the Discord folder, Select it, Delete it
Now reinstall the Discord official client from their official site
All done! You have successfully cleared the app data files of the BetterDiscord. Now enjoy official legal Discord app.
Check out our post if you want to know if your friends blocked you on discord.
Replace Discord
You have the Banged Discord or BetterDiscord on your system currently. Now simply install the official client from the Discord website. Many times it worked like the newer installation deleted older data. Actually, a new installation rewrites the data. It might work for you. Try it if previous methods haven't worked for you.
Reinstall BetterDiscord Completely
As you have uninstalled the BetterDiscord already. If you want really want it back, then no worries. You can do that too! I also did it once just out of curiosity.
Check out the easiest way to change your nickname one Discord.
Here are the steps to reinstall BetterDiscord:
Install the official Discord app from the original site.
Go to the Github page of BetterDiscord or their website.
Download the BetterDiscord client as per your OS supports.
Open the installation file, and follow the instructions.
Setup Done! You have successfully installed BetterDiscord again.
Now as you've learned the removing process of BetterDiscord, surely you'll be able to remove the third-party client from your system with ease.
Follow our guide to fixing Discord overlay not working.
FAQ
Is BetterDiscord against Discord ToS?
Yes, BetterDiscord is against the Discord ToS as their terms and conditions do not allow you to modify the client they have provided.
Is BetterDiscord a virus?
No, BetterDiscord is not a virus. It is just an app to extend the customization of the Discord app itself. But while downloading the BetterDiscord app from the third-party website, the file may contain viruses which is absolutely unpredictable.
Can I see deleted messages on Discord?
Yes, if you are using BetterDiscord and having the plugin called MessageLoggerV2, then if someone deletes any message you will be able to see them in a folder made by that plugin.
Should I use BetterDiscord?
Yes, as because the BetterDiscord app is safe to use, you can use it. But remember, your account can get banned for using a third-party client usage as because this kind of app is not official by Discord, and violates the Discord ToS too.
What happens if I violate Discord ToS?
Your account will be suspended. It can be a permanent suspension or could be a temporary one. But remember, any community guidelines are made to be respected. If you violate them, you get banned.
Can 12-year-olds be eligible to use Discord?
No, As per Discord ToS, you need to be at least 13 to use Discord. And there are some advanced features that need you to be 17+. If you don't meet the age criteria, and even though you opened an account somehow, you'll be banned sooner or later on.
Conclusion
BetterDiscord, as the name suggests, is really a useful and refreshing app to use. You may get bored with the same user interface of the official app from Discord. You might have dreamt about customizing the app as your preferences. And therefore you have installed the third-party solution.
But the Discord app offers only a minimal amount of customization as they want to keep their design signature alive. Every app has its own set of preferences and design languages. You may love it or hate it, but these are the things that differentiate an app from others. As you wanted to explore more and more, you made an experiment with the Discord app.
But as now you wanted to go back to the original app as it was intended to work, you needed to remove the BetterDiscord extension from your system.
I hope this article made you do so exactly the way you needed to. Leave your comments if you have any query or anything you want to tell us.