Creating brief and engaging short clips has become a trend since Tiktok. As more or less 1 billion people use Instagram as their day-to-day social media platform, Insta reels are now a natural alternative to Tiktok.
Honestly speaking, I like the concept of these short videos. You can make a variety of effects, music videos, and transitional videotapes to engage with your followers.
And the maximum length of the reels is 90 seconds. Apparently, viewers can enjoy your short videos and then move on to their work within minutes.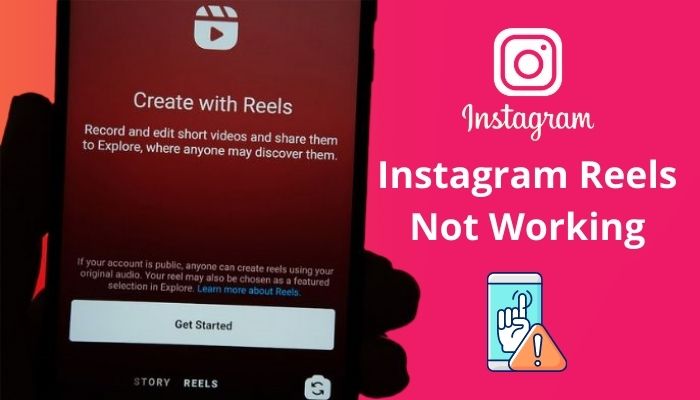 However, the problem starts when your reels don't appear on display or don't work at all.
Read this article till the end if you find a similar issue — reels not working on Instagram.
Here's a complete guide on how to Group Chat With Multiple Instagram Users
Why Reels Not Working On Instagram Account?
Not updating the Instagram application from time to time is the primary reason behind reels not working. Other than that, if you haven't cleared the application cache for a long time or using a poor internet connection, you might face reels not uploading on Instagram.
Furthermore, sometimes due to system glitches, you might get an error while uploading Insta reels — something went wrong. Please try again.
Also, if you're using VPN, there's more likely a message will pop up saying — Instagram reels not available in your country.
Now that you know about possible reasons behind your Instagram reels failing to upload, it's time to fix those issues. Read the following section and apply the solutions that I've included. Hopefully, you'll resolve the Insta reels not working on your mobile on your own.
Check out the easiest way to Fix Can't Change Instagram Username
How to Fix Instagram Reels not Working in 2022
Clearing the application cache will resolve the Reels not working on the Instagram problem in 2022. Go to your device's settings menu > Scroll down and locate Apps > Manage apps > Find Instagram in there > Clear data > Clear all data. This solution will solve your issue within minutes.
In case this solution couldn't help you with the Instagram reels issue, there are other methods you can apply. Remember, the solutions that I've added here both work for android and iOS. The workarounds are the same, but there might be a slight change in procedure.
Here are the methods to fix Reels not working on the Instagram account:
1. Update Instagram to the Latest Version
When you use an outdated application, some of the latest features don't work with earlier versions. Meta launched reels on Instagram in 2020. If you're using previous versions, you will notice there are no reels features on Instagram.
Update your Insta app to the latest if that's your case.
Here are the steps to update Instagram on android:
Launch Google Play Store from your mobile.
Search for Instagram on the play store's search menu.
Click on Update when the search result shows Instagram.
Note: If you're using an iOS device, open the app store > search for Instagram in the search menu > tap on the update button.
Restart your device after updating the application and log in with valid credentials. You'll find the reels option working on Instagram.
Check our new post, how to Fix Instagram Not Working on WiFi
2. Look for Reels in Different Section
Some of the users complained that they couldn't find the reels button on Instagram. And for that reason, they assumed the  Reels option is not working on Instagram. If you're having trouble locating the reels icon on Instagram, don't worry! It's normal.
Depending on the device you're using, Instagram changes the user interface. So, the reels button is not hidden… you have to look closely.
Here are the places where you can find the Instagram reels button:
Reels tab on Home Screen: You'll notice the reels tab on the bottom of the Instagram home screen. The reels icon looks like a video player and will be on the third/fourth from the right of your Home icon.
Reels icon on User Profile: You can look for the reels tab on someone's profile. Just explore any user's profile, and you'll find the reel icon in the second tab.
Reels on New Post: Click on the plus (十) sign to create a new post. You'll notice the REELS option next to post/story.

In case you don't find Instagram reels in the described places, then it's possible that Instagram reels are not available in your country. Try the following solutions if you find this issue.
3. Log out and Log in to Fix Reels Issues
This is one of the oldest tricks you can do when reels are not showing up on Instagram. And surprisingly, this trick works 100% when you're having trouble with Instagram reels.
Here's the procedure to log out and re-login to fix the Instagram reels issue:
Click on your Instagram profile icon Instagram.
Tap on the hamburger menu from the top of the display.
Tap on settings when a new popup menu appears.
Scroll down and click on log out.
Provide your account and password once you enter the login screen.
Check whether the reels issue has been fixed or not. Try the following method if not.
Check out the easiest way to what does an Instagram handle mean.
4. Update Your Device
In case the reels on your Instagram are not working because of an outdated operating system, this solution will help you with that. Sometimes, bugs in your system's firmware stop an application from functioning properly.
Update the device's operating system to resolve such issues.
Here are the steps to update your android device to the latest version:
Scroll down the notification bar on your system and click on settings.
Locate the About phone option in settings.
Tap on System update from that menu.
Click on Check for updates.
Note: To update the iOS operating system, go to settings > tap on General > Software update > Check for updates.
After updating, restart your mobile and check whether the reels issue exists or not.
These are the most workable solutions you can implement when reels not functioning properly on Instagram. However, if you have further issues, such as reels getting stuck while editing or the reels option is missing from Instagram, read the following passage and work accordingly.
Also, check out our separate post on fix the problem of Facebook feed not loading.
Fix Instagram Reels Option not Showing in iOS/Android
As explained earlier, if the reels feature isn't available in your country, you won't find the reels button.
Fortunately, I've solved this problem with some unique workarounds. Read further if you are eager to implement those methods on your iOS/android device.
Here are the methods to fix Instagram reels not showing:
1. Offload Instagram Application
When you offload an app from your iOS device, its data gets deleted from your mobile…. and the app icon greys out. But not permanently. Whenever you reinstall the application, all data that were saved locally reinstates themselves.
This little tweak will surely help you if reels are not working on your iOS devices.
Here are the steps to offload Instagram on iOS:
Go to the Home screen of your mobile and select Settings.
Tap on General from settings.
Navigate to iPhone Storage > Instagram.
Tap on Offload App after clicking Instagram.
Follow the on-screen manual to complete the process.
After offloading Instagram, restart your mobile. Then install Instagram from the app store. You're all set. Instagram reels will now work properly on your device.
Here's a complete guide on how to fix something went wrong Facebook login error.
2. Reinstall Instagram
If the offloading method can't help you, reinstalling the application will resolve all the associated bugs and glitches.
Here are the steps to uninstall and reinstall Instagram:
Long press on the Instagram icon of your mobile.
Select Uninstall/remove from the top of the display.
Follow on-screen instructions to uninstall the program completely.
Search for Instagram on the app store after uninstalling.
Click on the Install button > wait for a while to install on your mobile.
Note: Though reinstalling Instagram is the fail-safe method to fix reels issue, I wouldn't recommend this until and unless you tried the previous solutions carefully. Uninstalling the app may cause you to lose important data.
Check our exclusive tutorial on how to fix the problem of Facebook Feed not loading in 3 mint.
3. Report Issue to Instagram Support
In case all the techniques mentioned above can't fix the Insta reels not working issue, consider this one as a last resort. Follow further instructions to report problems to the Instagram support team.
Here's the procedure to report Issues to Instagram support:
Open the Instagram account and log in to your account.
Click on your profile icon.
Tap the hamburger icon from the top right.
Navigate to Settings > Help > Report a problem.
Select Report a problem from the popup menu.
Write down the reel issue you're currently facing.
After that, wait for the officials to contact you. They will find out why this problem is still happening and provide a reasonable solution. Make sure you include the solutions you tried from the above.
These are the solutions you need to implement when reels do not show up on Instagram. Also, If the reels feature isn't available, wait for Instagram Reel to be Available in Your Country.
However, there's an alternative approach to resolve Instagram reels not responding. If you're up for a new adventure, check out the following.
Alternative Solution to Fix Instagram Reels
The Beta version consists of advanced features. Every unreleased update comes first to the beta users for testing whether there are issues with the application.
Hence, there's one little drawback you have to face if you join the beta program. You'll encounter every major and minor bug and minor bug. If you're up for the challenge, then I'd recommend joining the beta program.
Here are the steps to join the Instagram Beta program to fix reels not working:
Open the play store/ app store from your mobile.
Search for Instagram and tap on the result.
Scroll down and locate an option named Join the Beta.
Click on Join from the menu.
After joining the beta version, you'll get earlier features than regular users.
Note: Beta version is the testing period of Instagram. So, technically your installed version will be buggy, and glitches might show up frequently.
Frequently Asked Questions
Why are Reels not showing on Instagram?
Most probably, you're using the outdated version of Instagram. Update the application to make the latest features visible.
How to Fix Instagram Reels not Loading?
Check your Internet connection > Update Instagram > Uninstall and reinstall Instagram to fix reels not loading.
How Do I Fix "Something Went Wrong. Please try Again" When I Use Instagram Reels?
This happens because of technical issues. Tap and hold the Instagram icon on your mobile and click app info > Force stop Instagram > Restart your device > Launch Instagram.
The Bottom Line
The last thing I would like to add is that after implementing the solutions I've enlisted here, any issues related to Instagram reels will no longer show up on your mobile.
So, make sure you apply all the solutions mentioned above carefully. And, if you find any difficulties while executing these methods, I'm just a comment away.
Don't forget to comment on which technique resolved your Instagram reels.