Being one of the most accessible social media platforms, Instagram became some sort of media house of internet influencers. People love to reach out to their audience using Insta.
But, one big drawback of this platform is frequent error messages. Since the application launched, it's developers couldn't seem to find a way to make this application error-free. Even in 2022, thousands of people complained about getting Oops,an error occurred while logging in.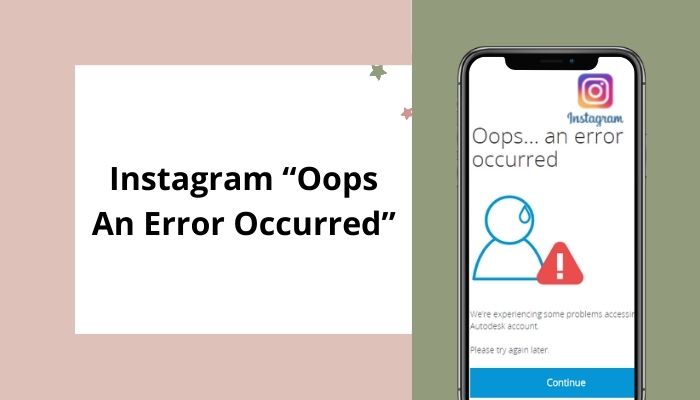 But the exact solution is nowhere to be found. Apparently, I faced this issue a while back and found the precise methods to resolve this error.
Since you're here, keep reading this article to figure out why and how you can quickly fix the error.
Related guide on how to Group Chat With Multiple Instagram Users
Why is Instagram Showing "Oops an error occurred"?
Poor internet connection is the prime reason you get an error message while logging into Instagram. Additionally, application bugs and outdated versions of Insta cause this issue. However, corrupted Insta app cookies and using an unauthorized app to log in can also trigger this error message.
Hold on! These are not the only reasons behind the Instagram error message. There are other significant scenarios behind an error occurring on Insta. Knowing them would help you resolve the issue even faster.
Here are the reasons behind Oops, an error occurred on Instagram:
Sometimes Instagram fails to log you in because of a server outage. When the developers try to fix errors and glitches on the Insta server, you won't be able to sign in meanwhile.
If you fail to install the application correctly, you will likely face an error message while signing in.
You might get banned if you install third-party/unauthorized Insta applications to download photos and videos from Instagram. Hence, Oops, an error occurred 2022 appears on your screen.
In case your Instagram account is reported for unusual activities, you could also get the error message.
Moreover, these are the reasons behind you getting an unfortunate error message when logging in/ signing in with a new account.
Read the following chapter to fix the error that occurred on your Instagram account.
Check our new post how to Fix Can't Change Instagram Username
How to Fix Oops an Error Occurred on Instagram
First off, try restarting your device. Sometimes, minor bugs in your system prevent Insta from loading properly. Rebooting your device might help in that case. After that, check your internet connection. It's possible that insufficient internet speed is causing you trouble.
Plug out the router's power source. Wait for a while, then plug in again. After connecting your mobile to a WiFi connection, check whether the error message is still appearing or not.
If the above solutions couldn't help you with fixing the smartphone block of Instagram, check out the following section. I can guarantee after reading and implementing the rest of the solutions. You'll be able to upload the daily Insta-reels.
Here are the methods to solve Oops, an error occurred on Instagram:
1. Check for Instagram Server Outrage
As mentioned earlier, server outrage can be a valid reason behind Instagram's error. Every service requires maintenance. Especially social media, because of continuing quality support to the users.
And due to this maintenance, sometimes you fail to log in to Instagram. Or, worst case scenario, fail to upload photos/videos.
When that happens, just check if the issue is occurring because of any server issues. Wait for a while for the server being stable again. Then try logging in.
Read more on how to Fix Instagram Not Working on WiFi
2. Use Facebook to Solve this Smartphone Block
Since Facebook and Instagram are under a big name – Meta, and you can interlink those platforms, you can use your Facebook account to resolve the error.
Confused? Just apply the following steps, and you'll be relieved from Instagram errors.
Here are the steps to use Facebook for solving Oops, an error occurred 2022:
Launch the Facebook application from your device and log in.
Go to Settings & Privacy.
Scroll down and locate permissions. Under permissions, tap on Apps and websites.
Select Instagram > Remove. Also, tap on remove when the prompt menu appears.
This would unlink your Instagram account from Facebook. Try logging in your Insta ID after the unlinking. Hopefully, your Instagram account will start to work again. And this time without any error messages.
3. Update Instagram
Sometimes, an outdated version of the application can lead you to an Instagram error occurred. Updating the application can get you out of this problem.
Here's the process of updating Instagram on Android:
Open Google Play Store from your mobile.
Search for Instagram on the search menu.
Click on Update when the search result appears.
Note: If you're an iOS user, open the app store > search for Instagram in the search menu > tap on the update button.
After updating, try signing in to Instagram. Check whether the error message still appears. Try the following method if the error isn't resolved.
4. Clear Application Cache
Cached data is used for quickly gathering data about how you used the application. While this process is beneficial but sometimes it can cause you trouble, including the error messages that appear while signing in.
Deleting the stored cache might be a useful solution when it's causing your Instagram error.
Here are the steps to clear the Instagram cache to solve an error occurred:
Click on the Settings icon of your device.
Scroll down and tap on Apps.
Click on the Manage Apps option from the list.
Locate the Instagram app there and tap on it.
Tap on Clear Data > Clear all data.
Note: This procedure will clear all the data you saved while using Instagram. Including your personal information and the photos you saved on your mobile. Make sure you store valuable information even before applying this solution.
Related contents, you can read what does an Instagram handle mean.
5. Switch Network Connection
It is always a good idea to change your network connection type. For instance, if you are using Instagram with a WiFi network and getting error messages, change the connection type to Mobile data.
Sometimes, the Insta error can happen because of a low-speed internet connection. Switch the connectivity to the Mobile network. That will resolve Oops, an Instagram error occurred.
Also, you can switch your internet browser when facing this error. At least try the incognito mode of the browser if you don't have any other browser installed.
6. Reset Instagram Password
Instagram might be having a server-side glitch when you're attempting to sign in. As the application is failing to retrieve personal data from the web, performing a password recovery might help you with the issue.
Here are the steps to reset your Instagram password:
Launch the Instagram application from your mobile.
Click on Get help logging in.
Provide the email account to sign in. Instagram will send a recovery password to the email account.
Follow the on-screen instructions to reset the password.
Note: If you are a PC user, go to the Insta login website > click on Forget password > follow the on-screen manual to reset the password.
After resetting the password, you'll find no error appearing on your screen.
Also related how Instagram Clear Search History Not Working
7. Reinstall Instagram
Sometimes the best way to fix an application error is just reinstalling it. When you uninstall and install a program, it will delete the flaws of a corrupted installation. Also, reinstate the user data as they were earlier.
So, reinstalling the Instagram app worth a try if the previous solutions didn't work out.
Here are the steps to fix an Instagram error that occurred by reinstalling the app:
Long press on the Instagram icon of your mobile.
Select Uninstall from the top of the display. You can drag the Insta icon to the trash icon, alternatively.
Follow on-screen instructions to uninstall the program completely.
Search for Instagram on the Play store/app store after uninstalling.
Tap on the Install button and wait for a while to install on your mobile.
After installing the application, provide valid credentials to log in. Hopefully, this time you won't get an error message.
8. Try Signing in Using Another Device
Are you trying a new device to log in? Sometimes, Instagram declines to sign you in if you're not utilizing the device you used to log in.
Instagram recognizes the new device as suspicious and blocks your account. Just log in with the previous device that you used.
9. Contact Instagram Support
If you couldn't resolve the issue even after applying the solutions mentioned above, it's time to contact the officials.
Contact Instagram support, and explain the issues you're facing. They will determine why you have the error and how to fix it. You may need to wait for 14 days for the issue to be resolved.
All in all, these are the solutions to apply when you encounter Oops, an error occurred on the Instagram login screen. If you have further queries regarding the error, check out the following section.
Frequently Asked Questions
Why does my Instagram say oops, an error occurred?
A slow internet connection might be the reason behind this Instagram error. Also, unauthorized Instagram applications might also create this issue.
Can I solve Oops, an error occurred in 2022?
Though this glitch has been happening since Instagram launched, it is still solvable in 2022.
Why am I getting an unknown error that has occurred while logging in?
Most probably, the Instagram app's corrupted installation is causing trouble. Re-install the application to solve the error.
Wrapping Up
Throughout the article, I've tried explaining why you're failing to log in to Instagram and how you can eliminate the issues.
Start with a simple rebooting of your device, then update the application. In case the issue isn't resolved, uninstall and reinstall Instagram. That will fix the Oops, an Instagram error occurred.
However, if any of the solutions seem challenging to perform, feel free to comment below. I'll explain the method in a way that suits you the best.