The Corsair ICue is the best software for controlling your PC and its components. You can check and customize the various aspects of your PC very efficiently with it.
As a PC gamer, I prioritize the performance of the PC for a smooth game-play. ICue comes in handy for the overall control and monitoring of the execution in-game and customizing other parts.
Keep reading, As I will guide you to learn everything about the ICue software and provide you a 100% working download link.
Download Corsair Link to monitor your PC fan speed, temperature, and cooling system of your Corsair PC.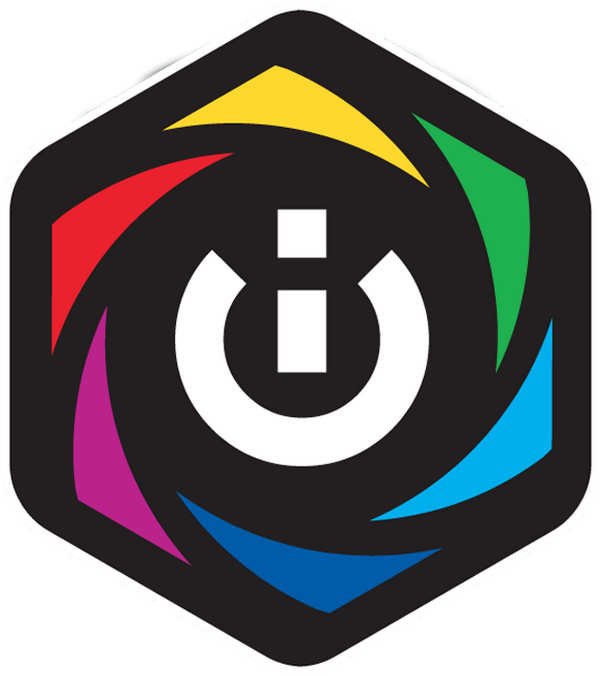 Corsair ICue for Windows – Version Info
Corsair ICue is software for you to control and monitor every detail and part of your Pc. You can custom and check your PC stats very efficiently with the software. It helps you to change and select RGB lighting and helps you have a good gaming experience.
Corsair ICue software, also known as Corsair Utility Engine, is compatible with Windows. The latest version of the software is faster and improved.  The ICue software runs quite smoothly with Windows 7/8/10. Download AMD Catalyst to enable your 3D settings and color adjustment options of your computer.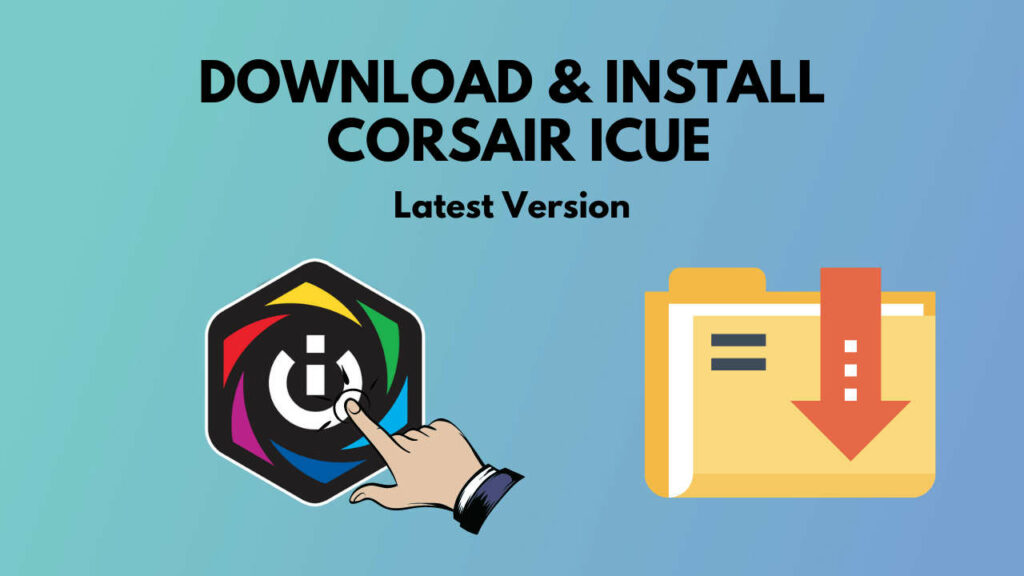 The Corsair ICue software helps you with the total control of your PC with an easy interface. The software helps you with the PC lighting and allows you to monitor your processes fully. You can change and monitor your Fan speed to have a smooth run time. Also, check out our separate post if your Corsair iCUE is not working.
Download CORSAIR iCUE v4.11.274 ➜➜
Download CORSAIR iCUE v3.38.61 ➜➜
All the file/s mentioned above are hosted on CORSAIR'S server. We don't host or modify any file whatsoever. iCUE is the proprietary software of Corsair.
| Name | Corsair ICue |
| --- | --- |
| Developer | Corsair |
| Latest Version | 4.11.274 |
| Price | free |
| Compatibility | Windows 7/8/10 |
| Ratings | 4/5 |
Corsair ICue for system monitoring
The ICue software is excellent software to monitor and manage your PC processes. It helps you monitor your system usage and performance by showcasing a window.
The window of the software displays your overall CPU and GPU usage. You can see the usage percentage of the CPU and GPU from the window.
You can get updated information on your battery usage, Fan speed, clock time, and temperatures with the software help. Download TT RGB Plus Software to manage the lighting modes, track CPU temperature, & sync lights with in-game actions.
You can monitor and optimize your processes by going through the settings for enhanced computer performance.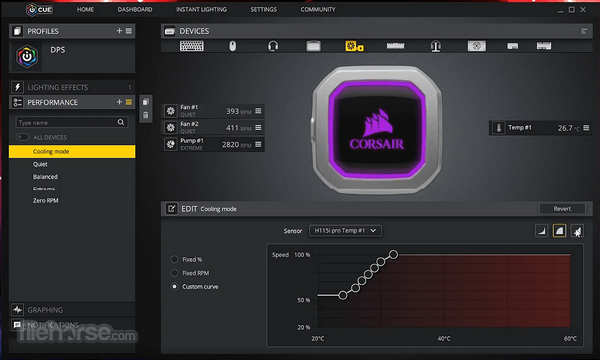 Some features of the ICue software are-
Monitor CPU/ GPU temperature
Current FPS
Time played
Monitor CPU/GPU load
Check Battery level
Custom cooling curves
Customize RGB
In-game monitoring
How to install ICue Software by Corsair
The Corsair ICue is free software from the company itself. It is quite simple to install. ICue is an efficient app to use, and it has minimal setbacks. Download MSI Gaming App to easily change your system setting and have all of your PC performance for your gaming.
Here are the steps to install the ICue app:
Click on the download link.
Download and extract the file.
Install the downloaded setup file.
Move the file to the desired location.
Run the software as an administrator.
How to Use Corsair ICue
ICue software is an efficient and smooth app to use. It has an easy user interface for you to have a good user experience. If you are looking for the most popular GPU overclocking, tuning, hardware monitoring, and customizing utility software, then download MSI Afterburner.
You can easily track and custom the lighting, processes, and other peripherals of your PC with the help of the software. Using the software correctly will help you achieve the best performance of your PC.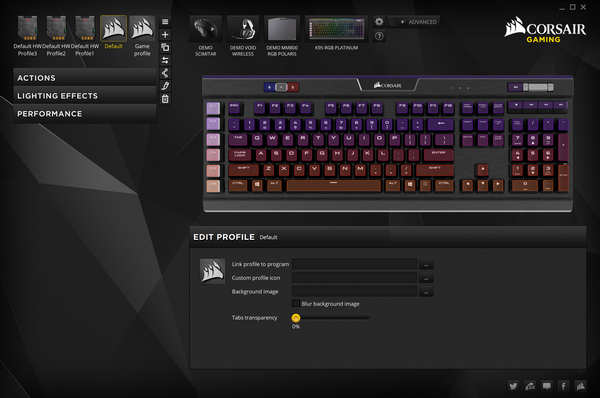 Here are the steps to use the ICue software:
Open the software, and you will see the homepage. You can select the lighting of your devices by clicking on the lighting channel. You can choose individual lights of various devices by choosing the part situated under the homepage.
Click the devices and change the colors of the parts. You can save your custom colors via profiles for quickly changing lights.
Click on the dashboard to get the stats of your PC. you can monitor the performance of your GPU and CPU execution and fan speed, temperature, memory, and voltage.
Click on the instant lighting tab to select various color modes and presets for changing the color themes of your PC and peripherals.
Click on the keyboard and mouse tile and then select the action button to create a macro. Then, hit on the record button and set an action using the macro, and click enter. After you have decided on the macro use, then stop recording and test out the macro story.
What is ICue compatible with?
The Corsair ICue software is compatible with almost any of the devices out there. You can easily connect your software with hardware, which is different brands. Also, Download RGB Fusion to customize your PC's motherboards, graphics card, LED strips, casings, and other peripherals in one click.
Here is a shortlist of the compatible devices which run with the ICue software-
K55 keyboard
K63 Keyboard
K65 keyboard
K70 RGB keyboard
K95 keyboard
K70rapid-firee keyboard
Darkcore mouse
Harpoon Mouse
M65 mouse
Sabre RGB mouse
H100i coolers
H115i coolers
Corsair RGB fans and coolers
Is ICue Compatible with Aura sync?
Yes, ICue software can run with Asus Aura sync-enabled motherboards. The Aura sync and ICue were not compatible to run side by side before, but now they can run together.
Check out if you want to download Aura Sync in one click.
You can easily use the ICue with Asus motherboards while having the Aura Sync still open in the background. You can efficiently use the latest ICue app with aura sync.
What graphics card is ICue compatible with?
The ICue software can run with many graphics cards. The list of compatible GPUs is massive. So, here are a shortlist of GPU Compatible with iCue software:
Asus RTX 2080ti and GTX 1070ti, 1080ti graphics cards.
Gigabyte 2080ti and GTX 1070ti,1080ti graphics cards.
MSi 2080ti and GTX 1070ti,1080ti graphics cards.
Geforce 2080ti, 2070 ,and GTX 1080ti graphics cards.
Radeon RX5700
Radeon vega frontier
MSI Radeon 5600Xt
Does ICue work with other brands?
Yes, ICue software runs with other brands. The software can efficiently run with other brands' products. If you have parts of your PC from various brands, you can efficiently run ICue with those.
Download Ai Suite to integrate several ASUS utilities together.
Here some of the compatible products you can run with the ICue software:
Asus motherboard and products
Asrock motherboard and products
MSI motherboard and products
Gigabyte motherboards and peripherals
You can also use many other peripherals with your ICue software. The range of products to use with the ICue app is a lot. If you have a product from another brand, then the chances are it will work with ICue.
Is the ICue app safe to use?
The Corsair ICue software does not need any information about your PC, making it very secure to use and download. It has no issues with malware-related problems.
Download Ryzen Master to tweak your processor to the full extent.
I have tested the software with ten antivirus software, and I have found no malware problems. There is no problem with viruses. Your computer data also remains risk-free.
It does not hamper any of your PC processes nor put your parts at risk by overclocking. It works properly without any problems.
There will be no data loss or violation of privacy from the software. It is 100% safe to use the ICue software.
Is the Corsair ICue worth it?
The Corsair ICue app lets you optimize and enhance the performance of your computer. It is very efficient in expanding the in-game experience for you.
The software lets you manage the processes of your computer that can help you optimize your computer. You can select which function you want to use while gaming. That helps with the initial boosting of your game.
The ICue helps you boost your frame rate to give you perfect satisfaction while gaming. You can increase your fps count very quickly with the app. Furthermore, you can showcase your FPS count to keep updated about the frame rate.
Download Fan Xpert 4 to customize and monitor the aspects of your fans very smoothly.
Also, light management settings are fantastic. You can set various colors for your PC parts and set presets to fill your aesthetics. The software helps you set up profiles to help you save your lighting customization.
Malware and privacy issues are a significant concern for consumers. The Corsair ICue has no problems with malware and never puts your data at risk.
It is a very efficient app to custom and tracks your computer's custom parts.  For gamers, it is a useful app to have quality game time.
FAQ
Question: Can you monitor systems with Corsair ICue?
Answer: You can easily monitor your device processes and systems with the ICue software. It showcases a window to update you about the CPU and GPU usage, Temperature, Fan speed, Etc.
Question: Is the Corsair ICue app right for gaming?
Answer: The ICue app is excellent for gaming. It has a gaming mode for you to have the best game time. It disables unwanted processes and gives you reasonable frame rates and clock time.
Question: Is ICue Compatible with Mystic light?
Answer: Yes, ICue is compatible with MSI Mystic Light. ICue and mystics light can run on the same devices, which helps you run these two together.
Final Thoughts
The Corsair ICUe software is excellent software to use. You can manage and monitor your PC processes and system settings efficiently.
You can customize your RGB and other components to your needs. The settings for customizing every aspect are straightforward. So, there is never an issue of having errors.
The software is safe to use and has no privacy issues. You can easily download the software and use it to your needs.
I have used the software, and I have found it very useful and efficient. This software is a must-try for all the gamers out there.