On August 02, 2016, Insta-authorities introduced Instagram Stories, a feature where you share moments of the day. With the help of text and drawing tools, you can unleash your creativity and bring your photo to life.
Instagram Stories has now become one of the best features, with over 500 million daily users.
Honestly speaking, Instagram Stories have always been a place to share my moments to remember. I enjoy seeing the slideshow of life rather than scrolling down to my Instagram Feed.
But things go sideways when Instagram stories are not working, and you only see the spinning circle.
Frustrating, right?
Well, after tremendous research and experiment, I've included the best 13 solutions for Instagram stories not working issues in this article.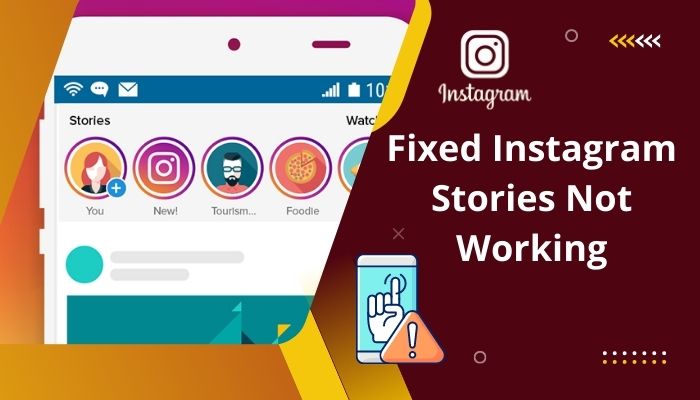 So read this troubleshooting guide to get your Insta Stories back up and running again.
Follow our guide to know how to Group Chat With Multiple Instagram Users
Why aren't your stories on Instagram working?
Generally, Instagram stories stop working for some server issue or bugs in the app update. But your phone can be responsible for this issue as well. Low RAM, unstable internet connection, unsupported file format, mismatched date and time, or outdated apps can cause stories not to work at your end.
Issues within Instagram stories aren't anything new.  However, in the past month, this stories not working issue has occurred so frequently that users put in a record number of complaints. As a result, the Instagram authorities had to give a press statement in The Verge magazine.
Meta representative Christine Pai said that the company is aware that some people are having trouble accessing Instagram Stories and added that they are working to get things back to normal as quickly as possible.
Here are some common reasons behind Instagram stories not working:
You have a slow and unstable internet connection. So that the stories can't load properly.
Instagram app isn't up to date.
Heavy cache files or cache corruptions are preventing insta stories from loading.
Your device's date and time or the time zone don't match the original.
Instagram blocks you for some community guidance violation.
The Instagram server is down or getting the version updated.
The files you're trying to upload are unsupported.
As you can see above, your stories on Instagram can stop working for both parties' problems. You can do nothing if the problems happen at Instagram's end. As for the remaining reason, apply the
13 best fixes below.
Check out the easiest way to Fix Can't Change Instagram Username
13 solutions for Instagram stories not working
Instagram stories have a tellable fanbase. But sometimes, the story feature can stop working for some technical difficulties. But you can solve this issue by applying some quick fixes.
Here are the fixes for Instagram Stories Not Working:
1. Ensure a stable net connection
Instagram needs an internet connection to load stories, reels, and feed. An unstable internet connection won't be able to load your feed properly. So you need to make sure that you have a stable net connection by trying other apps like youtube, google chrome, etc.
2. Restart your phone
When you use your device for an extended period, Your device gets bottlenecked and won't work properly. That time you may face problems loading Instagram stories.
You need to restart your phone to solve this problem.
In Your android phone, Long press the power button > Select Restart to restart your phone.
For the iPhone, press the power button 10+ times, then slide to power off. After that, press the power button to open the device again.
Also, check out our separate post on Fix Instagram Not Working on WiFi
3. Check for any glitch on the internet
When restarting the device doesn't solve the issue, and you have a stable internet connection, you should check about any ongoing trouble with Instagram.
Tweeter is a great place to know about any ongoing issues with Instagram. Check for any post with #instagramdown hashtags. You can also search on forums to learn if any problems bother people.
4. Force stop and restart your application
Force stop Instagram, and then opening it again gives your applications a fresh start. After a fresh start, the application reloads the data from the server. In this way, your story on Instagram starts loading again.
Here are the steps to restart Instagram:
Open Settings.
Hit the apps & notifications menu.
Tap Instagram from the list.
Touch force stop.
Press OK.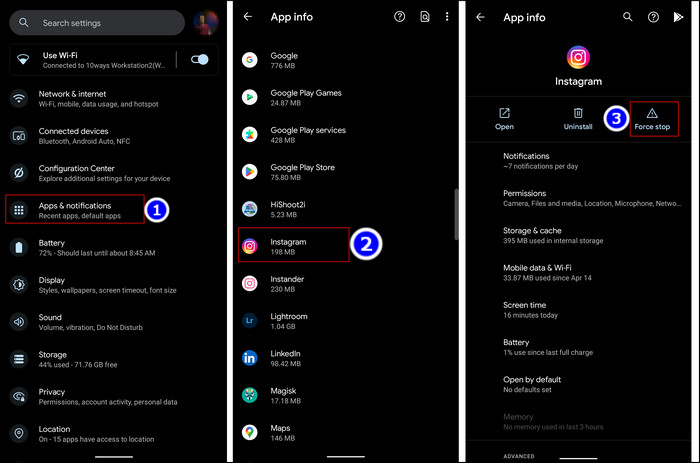 After completing these steps, it's better to restart the device before starting the application. Restarts ensure the proper closing of Instagram.
Here's a complete guide on what does an Instagram handle mean.
5. Re-log into Instagram
Due to some scripts in the application, your stories on Instagram can stop showing.  As you re-login into the account, those scripts reset, and your problem is solved.
Here are the steps to logging out and then logging in again on Instagram:
Go to Instagram Application.
Select the Profile.
Tap Settings > Log out.
Close the
Open Instagram again.
Enter account info again and log in.
After completing the steps, check whether the problem is solved or not. If not, apply the next solution.
6. Clear Instagram cache
Cached data of Instagram used for gathering information quickly from Insta server every time you revisit. But this fills your RAM and makes your application slow. For this reason, you need to clear the cache file regularly.
Here are the steps to clear the Instagram cache file:
For Android:
Navigate to phone Settings.
Tap Apps & Notifications.
Select See all apps > Click Instagram.
Hit storage and cache.
Click clear cache.
For iPhone:
Go to Settings > General > iPhone storage.
Touch Instagram from the list.
Tap Offload App.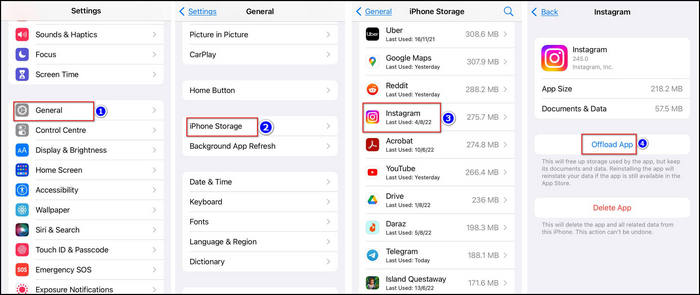 This way, your app's cache will be cleared, and the system will get some breathable areas.
Also, check out our separate post on Instagram Clear Search History Not Working
You can share stories directly from your gallery when the Instagram application is unresponsive. After reloading, you will see your stories posted as you follow the steps.
Here are the steps to share your stories from the gallery:
Open Gallery/Photos.
Tap the photo you want to upload as Insta stories.
Touch the share button.
Look for the Instagram Icon captioned Stories and click it.
And you will see your story being posted and getting views.
8. Fix date and time
When your device's date and time don't match the server Instagram, encounter a conflict of interest. That time it can't refresh the stories uploaded by people. So it's better to enable automatic date and time.
Here are the steps to automatically update the date and time:
Go to Settings.
Move to Date & Time in the Search Bar.
Toggle on Use network-provide time and Use network-provided time zone.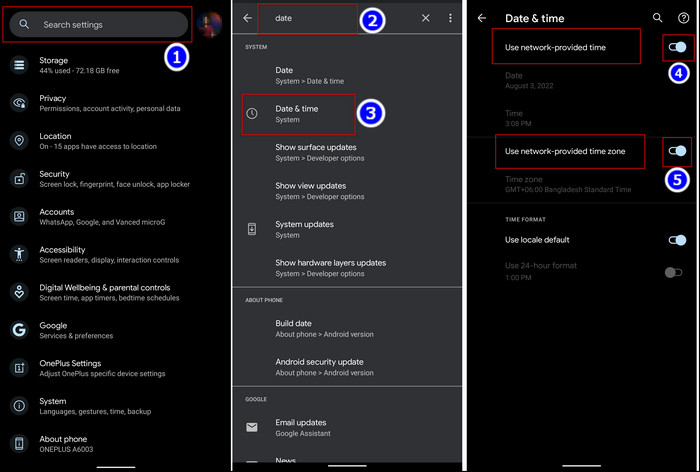 After completing these steps, your problem will disappear, and your story will start loading again.
9. Update Instagram app
Instagram releases updates to fix bugs. Some bugs from the old version of the application can stop your story from loading. So keep your app updated all the time.
Here are the steps to update Instagram:
For Android:
Go to the Play Store.
Enter Instagram in the search bar. A green button named Update will appear in the Right corner.
Touch that green button.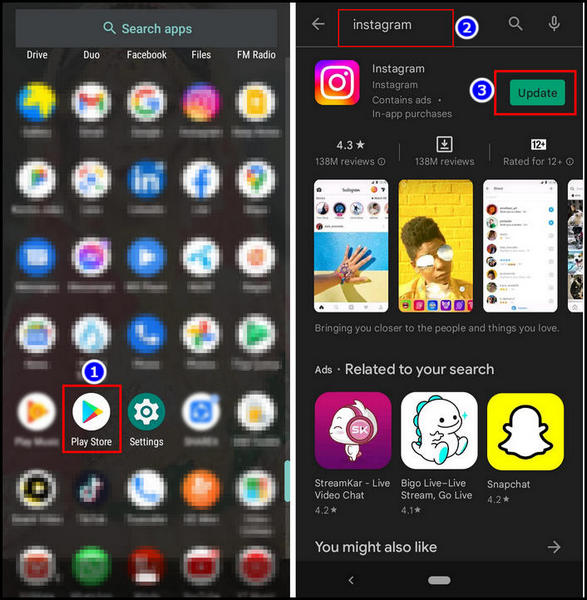 For iOS:
Select App Store.
Tap the Profile icon.
Scroll Down to see Pending updates and release notes.
Touch Update next to Instagram.
Instagram will start updating as you complete the steps. And after the update, you will see insta stories without any hassle.
10. Check for any violation
If anyone reports your account or uploaded content, Instagram authorities can block you temporarily. And for the temporary block, you won't be able to see other people. You can check whether you violated guidelines or not from the app settings.
Here are the steps to check for any violated guidelines:
Start Instagram > Tap Profile.
Touch the three-line icon.
Select Insights.
In Insights, Instagram will tell you what guidelines you violated.
11. Turn off data saver
Low data can cause problems loading stories on Instagram. So you should disable the data saver mode to ensure the proper flow of data to see stories without any issue.
Here are the steps to turn off the data saver in the Instagram application:
Click Instagram.
Navigate to Profile > Settings > Account > Cellular Data Usage.
Toggle Off the Data saver.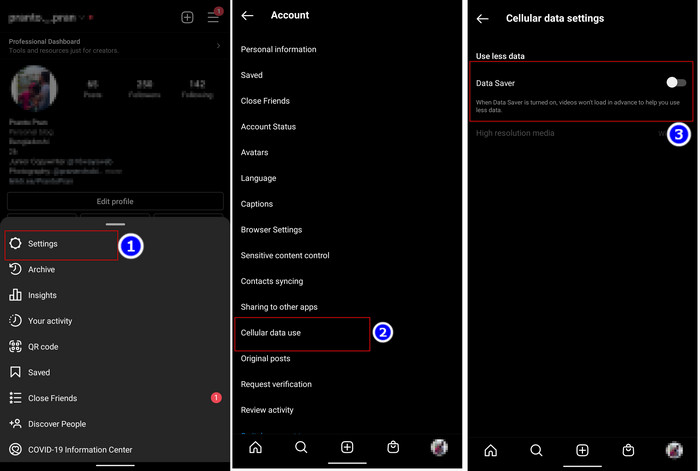 You should restart your device and open Instagram again to let it gather the necessary scripts to load full-sized images.
12. Upload supported File
Images have different types of formats. Jpeg, GIF, and PNG are the most common image formats worldwide. But Instagram doesn't support all the image formats available.
Here are the Media Requirements for Instagram:
Photos
 Videos
Maximum size: 8MB

Supported Image types: JPEG, PNG, & BMP

Aspect ratio: 1.91:1 to 4:5

Minimum resolution: 150 x150

Maximum resolution: 1920 x1080

Image color profile: SRGB

 
Duration: 3 seconds - 60-seconds

Aspect ratio: between 1.91:1 and 4:5

 
So you need to select the supported image format while uploading stories on Instagram.
13. Contact Instagram support
After applying all the solutions if your issue isn't fixed, You should contact support to get a direct answer.
Here are the steps to contact the Instagram help center:
Open Instagram > Go to your profile page.
Tap the 3-line icon.
Choose Settings > Help.
Tap Report a problem menu.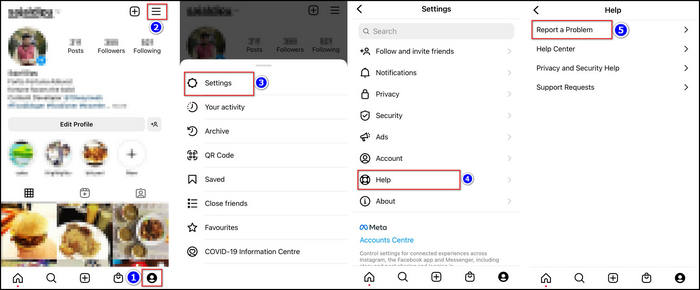 Here, you can include screenshots or simply describe your problem. After that, send it, and the authorities will get back to you.
FAQs
Why Are Instagram Story Likes Not Working?
In February 2022, Instagram authorities disabled the likes feature. That's why you can't see the like button.
Why Are My Hashtags Not Working On Instagram Stories?
If you use the same hashtags repeatedly, Your hashtags will stop working on stories. Also, check the limit of hashtags before inserting them into your story.
Why Does My Instagram Story Look Weird?
Your story can look weird on slow internet. Change the connection and reload the story.
Conclusion
In summary, the Instagram story problem isn't anything new. Your stories on Instagram can stop working for problems like unstable internet connection, heavy cache files, outdated applications, issues in the server, etc. To solve this issue apply the above fixes, and you are good to go.
I'm sure after applying the above fixes, your Instagram Stories not working problem is solved, and you are now viewing the updates of your influencers at ease.
Which of the following 13 fixes solved your problem? Comment below.
And for everything else, stick with 10scopes.