Instagram Feeds a place to connect with more people, shape your influence, and explore compelling content. Besides seeing content from people and hashtags you follow, Instagram also suggests new accounts relevant to your interests in its Feed.
Instagram feed is the only place to get updates from your friends, families, and your favorite influencer. But it can be so irritating when you can't refresh your feed on Instagram.
Many Instagram users have faced could not refresh feed error at least once in the last 2 to 3 months. That's why I did a comprehensive investigation on Instagram couldn't refresh feed issue and how to resolve it.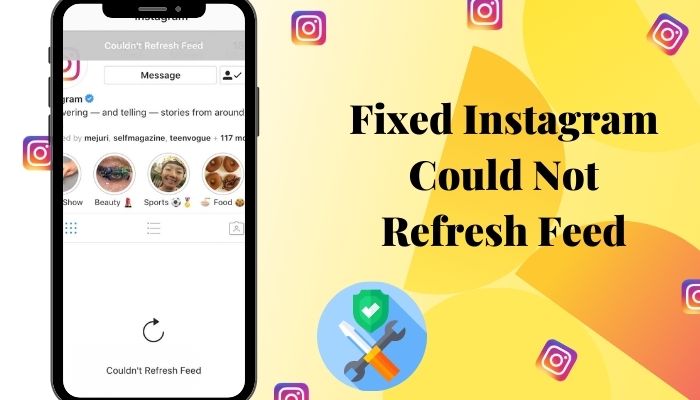 Read this article to know the easiest way to refresh your feed on Instagram.
Follow our guide how to Group Chat With Multiple Instagram Users
Why Couldn't Refresh Feed Issue Happen On Instagram?
On Instagram feed, you can express yourself in new ways with photos, videos, or reels and grow your brand with their diverse, global community.
But sometimes, you can face Instagram couldn't refresh feed massage while browsing. Several reasons can be responsible for this issue.
Here are the main reasons behind couldn't refresh feed issue on Instagram:
Your internet connection is slow, so the feed data couldn't properly.
You are using an old version of the Instagram app.
Instagram Cace file on your device is corrupted.
Your device's date and time or the time zone aren't correct.
You have violated the community guidelines or other policies of Instagram.
Instagram server is down or getting updated.
Among the reasons above, unstable internet connection, outdated app, and server issues are mainly responsible for Instagram could not refresh feed error.
Check out the easiest way to Fix Can't Change Instagram Username
How To Fix The Error And Refresh Your Instagram Feed
If the server error causes this couldn't refresh issue, it's out of your hand. Just wait and let Instagram authority fix the server. But you can apply the fixes when the problem is caused by other reasons and refresh your feed.
Here are the fixes for Instagram could not load the feed error:
1. Check Internet Connection
One main reason for not loading the feed on Instagram is an unstable internet connection. You can check the connection status by doing some online browsing.
When your internet connection isn't stable enough, switch the network you are using. If you use a WiFi connection, switch to Mobile Networks and contact your ISP to check the issue.
You can visit Speedtest to check your internet speed.
Also related Fix Instagram Not Working on WiFi
2. Set Date And Time Automatically
Instagram encounters conflicting values when your device's date and time don't match the server. That time Instagram will face problems refreshing the feed and show you Instagram could not refresh feed error message. So set your date and time to automatic.
Here are the steps to set the date and time automatically:
Tap Settings.
Type Date & Time in the Search Bar.
Turn on Use network-provide time and Use network-provided time zone.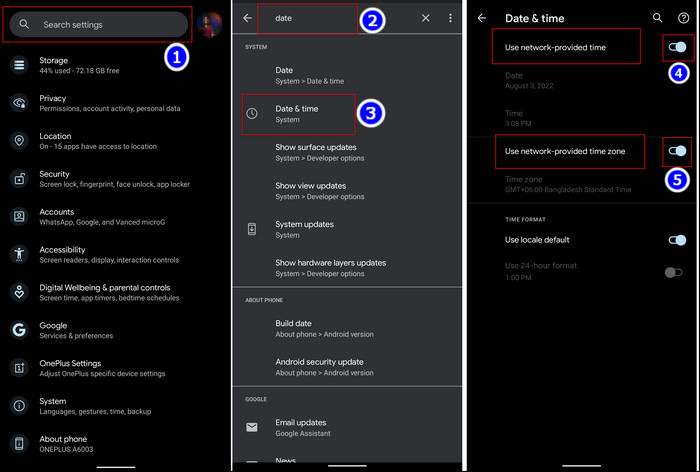 You should use the related timezone, as well as the network-based time to avoid, could not refresh the feed error message entirely.
Check out the easiest way to what does an Instagram handle mean.
3. Re-Log Into Instagram
You can use logging out and then log-in again in the Instagram application to resolve the Couldn't refresh feed error. Doing this will reset some scripts of Instagram application that blocked your feed from refreshing.
Here are the steps to logging out the log-in again on Instagram:
Open Instagram app.
Touch on the Profile icon.
Press Settings > Log out.
Exit the Application, then open Instagram again.
Input Your account info again to log in.
After executing the steps, check if the problem is resolved or not.
Also, check out our separate post on Instagram Clear Search History Not Working
4. Clear Cache
Cache file fills up your RAM and storage. And this way, Instagram won't get enough memory to refresh your feed. So you need to clear the cache file frequently.
Here are the steps to clear Instagram cache and cookies:
Navigate to phone Settings.
Tap Apps & Notifications.
Select See all apps > Click Instagram.
Hit storage and cache.
Click clear cache.
After that, reboot your phone, open the Instagram application, and refresh the feed again.
5. Update InstagramApplication
Outdated application has more bugs than the updated version. These bugs can stop your feed from updating. For this reason, keep your Instagram application updated all time.
Here are the steps to update Instagram app on your phone:
Hit the Play Store.
Enter Instagram in the search bar. A green button named Update will appear in the right corner.
Touch the green button.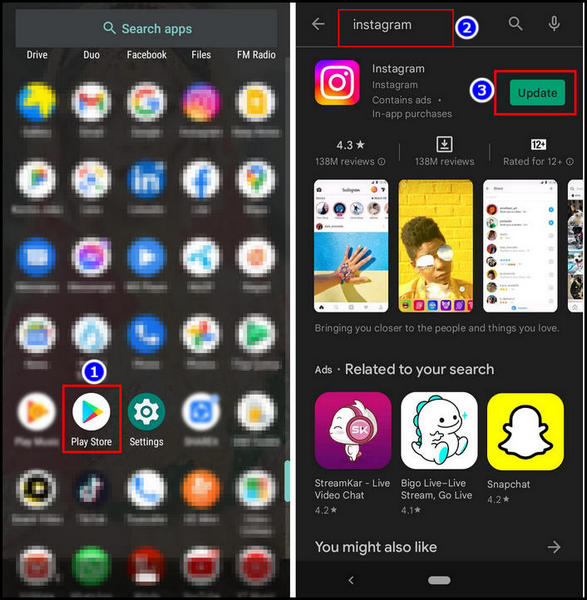 Your app will start updating after completing the steps. Wait for the update to complete, then restart your phone. After that, start using the Instagram application.
6. Re-install Instagram App
When you have tried updating Instagram from the play store but couldn't refresh the feed, the only way to fix the issue is by reinstalling the application.
Here are the steps to re-install Instagram app on your phone:
Long press Instagram.
Hit the "i" button from the menu.
Select Uninstall > Ok.
Press and hold your power button > Choose Restart.
Open Play store after restarting.
Enter Instagram in the search bar.
Tap Install.
Reinstalling will remove the unnecessary app scripts which aren't deleted with the cache file. After reinstalling Instagram, incompatibility issues go away, and your feed will start refreshing again.
7. Check For Any Violated Guidelines In InstagramInsights
When someone reports your account or comment, you will see Instagram couldn't refresh the feed error message. There is a way to check whether you violated guidelines or not from the app settings.
Here are the steps to check for any violated guidelines:
Open Instagram > Go go to Profile.
Tap the three-line icon.
Click Insights.
In Insights, the app will tell you what guidelines you have violated. Tap Ok in the popup menu, and the feed will be refreshed.
8. Change Instagram's data limits
When you have the data saver on the Instagram app, the feed will face some refreshing problems. So you need to turn off the data saver.
Here are the steps to turn off the data saver in the Instagram application:
Open Instagram.
Go to your Profile > Settings > Account > Cellular Data Usage.
Turn Off the Data saver.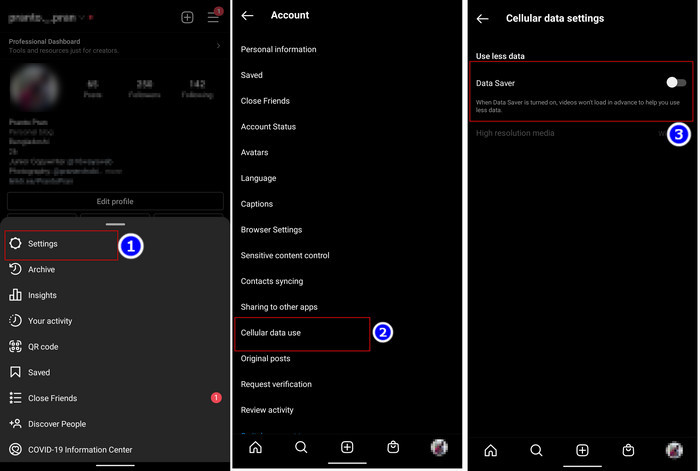 After that, close the application and reopen it again. You will see you can refresh your feed without any issue.
FAQs
What is the optimal Instagram post size in the Feed?
The ideal size of a post in the Instagram feed is given below,
Square posts: 1080px X 1080px,
landscape posts: 1080px X 566px,
Vertical posts: 1080px X 1350px.
Why Doesn't Instagram Let Me Post Multiple Photos/Videos?
Because Instagram authorities could block your account temporarily for uploading multiple photos and videos frequently, this could happen under the guidelines of spamming issues.
Why am I seeing an older post in my Instagram feed?
You can see older posts in your Instagram feed for its algorithm. The algorithm ensures you don't miss any updates from someone you follow.
Conclusion
To sum up, Instagram could not refresh its feed mainly due to an unstable internet connection, outdated app, and server issues. Also, in some rare cases, different time zones or un-updated times and some guideline violations can prevent the feed from updating.
When the Instagram server causes the issue, you need to wait. But for other reasons, apply the fixes discussed above.
After applying the fixes, I'm sure you now enjoy the refreshed feed on Instagram. Which of the fixes solved your issue? Comment below.
And for everything else, stick with 10scops.