As of 2020, 40 million people used Skype daily. But during the covid 19, Skype lost its enormous market share to Zoom.
As a result, Microsoft took a downfall in the communication market. To move Microsoft's fame to its peak again, they implemented countless expansions and aptitudes in Skype. But several users face credentials asking troubles on Skype now and then.
In the late summer, this problem happened with my account out of nowhere. So I researched this credentials problem and came up with some fascinating fixes.
Don't skip anything if you want to know about those functioning fixes.
Without further ado, let's start!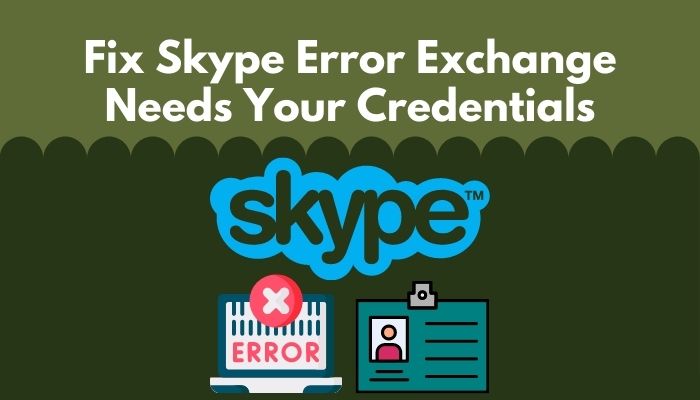 Also, check out our separate post on fix Skype share system sound not working.
Why Does Skype for Business Keep Asking for Credentials?
Skype for Business can keep asking for credentials when the Exchange server is not configured correctly. Credentials asking can also happen when you use an outdated version of Skype; your internet connection is not strong enough, bugs and glitches confront your PC regularly, etc.
Here are the reasons that cause credentials problems on Skype:
Exchange Server Problem
When your Exchange server is not configured suitably, the continuous asking for credentials can appear on your screen.
Outdated Skype
Always use the up-to-date Skype version; otherwise, some credential issues can arise, which can seize valuable time from your everyday life.
Faulty Internet connection
A Faulty internet connection can hamper the connectivity process; as a result, the asking for credentials can formulate.
Bugs and Glitches
There are always some bugs and glitches on your PC. If you don't remove them properly, they can affect your apps, such as Skype.
Follow our guide to fix Skype does not ring on incoming calls.
How to Fix Skype Keeps Asking for Credentials
Though you have been entering your credential for some time, Skype says to fill them again repeatedly. This credentials issue can annoy you to some extent that you want to quit the program.
There is no need to do that; just follow my lead as I am giving you some ways to fix your problem.
Here are the steps to fix Skype keeps asking for credentials:
1. Enable ADAL Authentication
Azure's Active Directory Authentication Library (ADAL) can cure your issue as several users claimed that this fix works for them like a charm. You must follow the procedures below to authenticate your Azure's Active Directory.
Here are the steps to Enable ADAL authentication: 
Go to the search bar and type cmd.
Right-click on the Command Prompt app.
Select the Run as administrator option.
Type reg add HKEY_CURRENT_USER\Software\Policies\Microsoft\Office\16.0\Lync /f /v AllowAdalForNonLyncIndependentOfLync /t REG_DWORD /d 1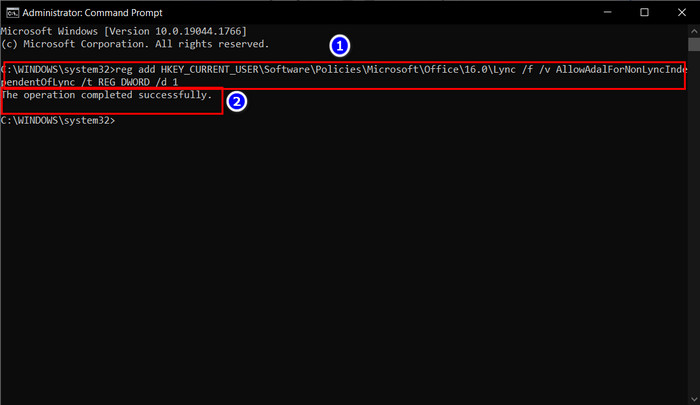 Hit the Enter key.
Relaunch the Skype app.
Check whether your problem is gone or not.
But before that, go through our epic guide on Is Discord Better than Skype.
2. Clear Your Credentials
Sometimes your saved credentials can cause a log-in problem. So ensure your credentials are all in the right place. But if you want to clear them, pursue the instructions underneath.
Here are the ways to clear your credentials: 
Move to the search bar.
Type Credential Manager and select it.
Navigate to the Windows Credentials option.
Remove the Skype and Office credentials option under the Generic credentials
Launch the Skype app and log in.
See if the problem vanishes; if not, clear all the Microsoft-related credentials and try again.
Check out the easiest way to fix Skype keeps signing me out.
3. Flush DNS
Multiple users affirmed that their problem disappeared when they flushed their DNS. You need to follow the command given below to Flush your DNS.
Here are the actions to flush your DNS:
Sign out from the Skype app.
Move to the search bar.
Type cmd and Right-click on the Command Prompt app.
Choose the Run as administrator option.
Input ipconfig /flushdns to remove the DNS cache.
Enter gpupdate /force to update the group policy.
This command will fixate your issue completely; now, sign in to your Skype for the check.
Follow our guide to Fix Your Webcam From Flickering In Skype On Windows.
4. Apply the Proper Proxy Settings
Enabling the Automatically Detect Settings from the LAN settings can cure your issue. Below, the process is given accordingly, so track it.
Here are the steps to set a proper proxy: 
Close the Skype app.
Open the Windows Search bar and type Internet options.
Select the Connections tab.
Click the LAN settings option.
Enable the Automatically detect settings option.
Sign in to the Skype app and test whether your credential problem is gone or not.
Here's a complete guide on how to retrieve old conversations on Skype.
5. Change Your Appdata Folder
You can rename your Skype from the AppData folder. It's a foxy process, but diverse users stated it worked for them, so you should try it.
Here are the procedures to change your AppData on skype:
Shut down the Skype app.
Type the Ctrl+Shift+Esc key and open the task manager.
Go to the Details tab.
End task for all Skype-related programs.
Type Win+R and extend the run program.
Input %appdata% and hit the Enter button.
Select the Skype folder and rename it as you like.
After doing all that, restart your PC and log in to your Skype account to see if it's functioning.
Have some time to spare? Check out our latest fix for Skype Won't Send Or Receive Messages.
6. Clear Local Appdata
Local AppData folder stores all the cache and temporary files from the Skype app. Trace my procedures given under to Cleanse those temporary files.
Here are the steps to clear local AppData:
Open the Run program.
Type %appdata% and press Enter.
Click on the little arrow beside AppData.
Select the Local folder.
Find the Skype folder and delete it.
Launch your Skype to check whether the credential problem is still rising.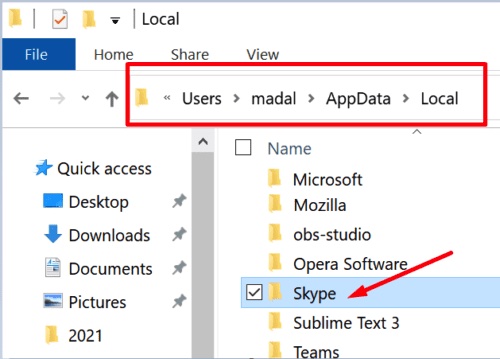 Also, check out our separate post on Skype can't find a camera attached to your device.
7. Erase the Domain Folder
Occasionally erasing the Domain folder can heal your credential complication, so follow on to know in detail.
Here are the ways to erase the domain folder:
Shut the Skype program.
Open the Run program and type %appdata%, and hit Enter.
Click on the arrow option from the AppData folder and Navigate to the Local folder.
Follow the AppData\Local\Microsoft\Office\15.0\Lync folder.
Find the folder that starts with Sip_user@domain.com and remove it.
Wait for sometimes then log in to your Skype account.

FAQs
Why does Skype for Business keep asking for exchange credentials?
When the firewall of Windows blocks the proxy for Skype, this credential problem appears.
What are Skype credentials?
Your login info saved to the Skype server is known as credentials.
Is the Skype password the same as the Microsoft account? 
If you merged your account, the password is the same, but if you don't combine it, they are not the same.
Bottom Line
Some common fixes for Skype credentials problems are login and logging out entirely, updating your Skype for business, configuring your Skype, etc. These simple tricks can sometimes do wonders for you.
When I faced this problem, my thought refinement ability diminished, but I expanded it through the process given above. So if you follow the steps adequately, you can settle your Skype credential dispute on your own.
Let me know what you are thinking in the comment below.
Peace!