Video games bring people together from all around the world. It is incredible how video games can give many memorable experiences to people of different ethnicities and races.
Many users create scripts for their Roblox games by writing code in Lua. Lua is the programming language used for Roblox scripts.
Having mistakes in the code will result in issues arising when running the scripts.
Why is a script error occurring on Roblox?
One of the main reasons that this error occurs is because of a mistake or mistakes in the script code. Another reason is that the script file or files got corrupted. Roblox studio files can also get corrupted for which this error can occur.
It is annoying when you just want to play a game on Roblox but you are faced with an annoying issue.
I can relate to your situation and that is why I have extensively researched, tested and written the best methods that you can follow to fix the Roblox studio script error.
Read the post for full details.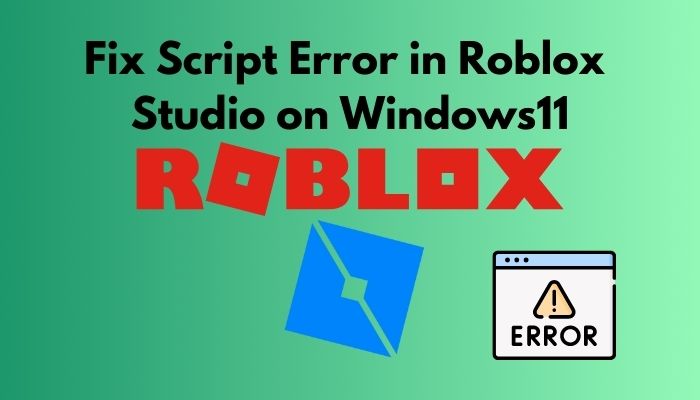 You can check our separate post to Increase your avatar speed using Roblox speed scripts.
How to Fix script error in Roblox studio on Windows 11
You will find the best and simplest methods that you can follow to fix the Roblox script error on Windows 11 given below.
The steps for each of the procedures are simple, so there is no reason to be nervous. If one method does not work, follow the other ones. I wish I could tell you that this is a one-size-fits-all situation, but sadly that is not the case.
Here are the methods to fix the Roblox studio script error on Windows 11:
1. Debug your code
If you made a script for your game and that is not running correctly, I can guarantee you that there is an error or error in your code. I am a programmer and I know how painful debugging your code can be.
You can use the Script Analysis tool before you start coding the next time. It will show the mistakes you are making when coding. Just go to View at the top and turn on Script Analysis Tool.
It is always best to test small portions of code before running all of them together. This is a great habit that every programmer or person that codes should know. I would suggest taking small potions of the code and running them individually.
For example, there is a portion of code that is responsible for measuring the total damage taken for a character. Take that code and run it separately. If it works, then that is great and if it does not, then try to find the mistakes within it. Do the same thing with other pieces of code.
Check out the basic Roblox controls for all games.
There is a terminal below that shows why and where the error is occurring. You can also right-click on an empty space in the code section and click on Go to script error. Doing this will show you where the error or errors are in the script.
Anytime you get an error notification in the terminal at the bottom of the script editor in Roblox studio, check what type of error it is. If you do not know the type of error you are seeing, please go to your browser and search for what the error actually is.
You can also find countless Youtube videos telling you how to fix different types of errors found in scripts on Roblox studio.
If you have already done what was mentioned above, then please go through the other methods given below.
Also, check our guide if your PC won't go into Sleep mode in Windows 11.
2. Disable Script debugging from Internet Options
Another fix that I found was disabling two options from the Internet options menu. This process is easier than the last one. It is so easy that even a child can do it.
So there is no reason for you to be nervous.
Keep calm and go through the simple steps given below.
Here are the steps to disable script debugging to fix script errors in Roblox on Windows 11:
Go to the search button and click on it.
Search for Internet Options and enter it.
Go to the Advanced
Go to the Browsing
Turn on the Disable script debugging(Other)
Click on Apply and then OK. Close the box.
Go to Roblox studio and check whether the problem persists or not.
If this procedure did not fix the Roblox Studio script error issue, please follow the method given below.
You may check out our separate post on how to delete Roblox account permanently.
3. Use the Script Analysis Tool and check for the errors
The Script Analysis Tool is provided in Roblox Studio by default. You can use it to find errors in your code.
The steps to use the Script Analysis tool are given below.
Here are the steps to use the Script analysis tool to fix script errors in Roblox studio on Windows 11:
Open Roblox Studio.
Go to the View tab at the top.
Click on Script Analysis Tool. The analyzer will report the warnings if you make mistakes during coding, so turn it on the next time you start coding.
If this method did not help, please go through the other methods given in this post.
4. Reinstall Roblox Studio
If the previous methods did not work, you have to reinstall Roobllos studio on your Windows 11 device. I advise you to go through your code again before reinstalling Roblox Studio. Who knows, you might find an error that was causing this issue.
You can try discarding any script with error or errors and recode again. You can make lesser mistakes the second time around.
The steps to reinstall Roblox studio are very simple, so keep calm and go through them.
Also read, Show Folder Size in Windows 11.
Here are the steps to Reinstall Roblox studio on Windows 11 to fix the script error issue:
Go to the search button and click on it.
Search for Control Panel and click on it.
Click on Uninstall a program in the Programs
Right-click on Roblox Studio from the list and select Uninstall.
Go to your browser, download and install Roblox studio.
Check our exclusive tutorial on How to Fix Blue Screen on Windows 11.
5. Check for the following errors
Before you go through the steps for this procedure, please make sure you turned on the Script Analysis Tool. It is the third method given in this post.
This is a list of some common errors and their codes:
W001: Unknown global 'name'
W002: Global 'old' is deprecated, use 'new' instead
W003: Global 'name' is only used in the enclosing function; consider changing it to local
W006: Statement spans multiple lines; use indentation to silence
W010: Built-in global 'name' is overwritten here; consider using a local or changing the name
W011: Placeholder value '_' is read here; consider using a named variable
W012: Unreachable code
W013: Unknown type 'name'
W014: For loop should iterate backwards; did you forget to specify -1 as step?
W015: Assigning [num] values to [num] variables
Check out our expert-recommended to fix Stop Apps Running in Background Windows 11.
Conclusion
I know how frustrating it can be to face problems due to errors in code. I hope you never face problems like these again.
Hopefully you have learned something new by reading this post and you can use this knowledge in the future when creating new scripts in Roblox studio.
I wish you luck in whatever you do in the future.
Take care and stay safe!