Imagine you fixed a time for your child so that he/she can play Jailbreak, Murder Mystery 2, or other games with their friends in Roblox. But suddenly, he/she keeps complaining to you, saying that the Roblox isn't launching. You tried several times with doing this and that and found no improvements.
Apart from being a tech guy, I'm also a father, and I know exactly how it feels when this type of thing happens in our busy lives. No matter what, I'm telling you just read till the end.
If you are a gamer of random age but on the same boat, don't waste your time; hop in.
So, why is Roblox not launching?
Roblox is not working for several reasons; for instance, there might be broken or missing installation files, slow network connection, faulty system configuration, the game launcher may not have the admin privilege, servers are offline, outdated graphics card or Windows OS, and so on.
I will give you all the solutions you can get on this. So, keep reading and try to fix your problems.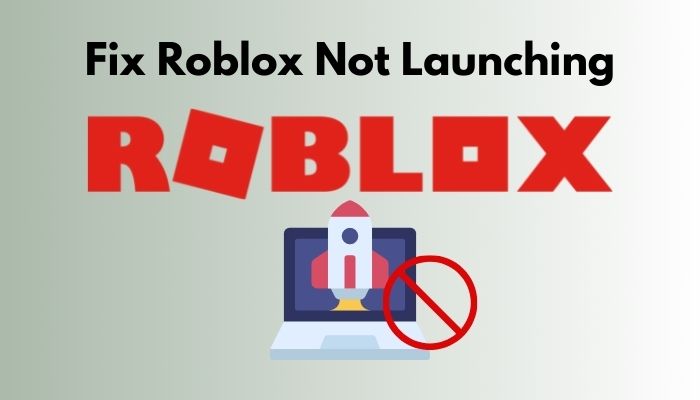 So, let's get started by getting the latest Roblox download.
How to Fix Roblox not Launching in Windows
People can play hundreds of thousands of games in Roblox. But it can be frustrating when Roblox isn't working. This issue prevents you from accessing Roblox applications on their devices for some reason.
As I have mentioned those reasons, I will also mention what to do if you fall in the same situation. But before going anywhere else, doing anything, make sure to restart your computer. Sometimes glitches problems can be resolved through this.
Follow the methods and fix all of your problems, including the Roblox launcher not launching, Roblox player not launching, and Roblox Studio is not launching.
Check out the easiest way to make a Roblox hair.
1. Run the Program as an Administrator
Ensure to run the game file as an administrator on your Windows because running the program as an Administrator enables the Roblox .exe file proper access. So, to do this:
Click on the file manager on the bottom panel and search exe. When you find the game.exe file, right-click on it and go to Properties.
Click on the compatibility
Select Run this program as an administrator below on that window.
Click on Apply and then OK.
Open the Roblox game again and check if your problem resolves.
Check my latest post If you are facing problems with Roblox Error code 267.
2. Update your Browser
If you play games on Roblox in your browser, make sure your browser is updated. You might be wondering thinking "Why?"
The previous update might carry some bad requests that can be patched with a new update. So, ensure the update of your browser. To do so:
Open your browser. Click on the horizontal or vertical three dots on the top right corner of your browser and go to Settings.
Click on the search option, type Update, and hit Enter.
Update your browser if an update is available. Else, your browser is updated. Anyways, you can find a Safety check instead of getting an Update. Click on that.
Close your browser.
Try to open the Roblox again and see if your Roblox player not launching and Roblox Studio not launching problem solves.
Quickly check what to do when the Roblox account is hacked.
3. Uninstall the Roblox
Sometimes reinstalling an application can solve a lot of problems. Keeping that in mind,  uninstall Roblox from your PC right now.
If you are uninstalling Roblox from Windows 10, you have to:
Press Windows key+S.
Type Apps and features in the search box and right-click to it.
Scroll down until you see Roblox.
Click on Roblox and then uninstall
Fix Roblox lag in seconds for faster and smoother gameplay. Also, increase the fps count using Roblox fps unlocker.
For uninstalling Roblox from Windows 7, 8, or 8.1,  you have to:
Go to the Start menu and type Programs and features.
Click on Programs and features if you find it right. Otherwise, you may find Apps and features So, click on that.
Scroll down until you find Roblox. Tap into it and click on uninstall.
Open your browser, type www.roblox.com/install to Download and reinstall Roblox again.
Also, learn how to reset Roblox password.
4. Disable your Antivirus
I will be discussing disabling your PC's antivirus. What if you are a Windows 10 user with no additional antivirus?
Well, as the Windows Defender is automatically enabled, you have to:
Press the Windows key+I and go to Update and Security.
Click on Windows Security and then tap into Virus & threat protection.
Choose Manage Settings under Virus & threat protection settings and scroll to You'll find Add or Remove exclusions. Tap into that.
Click on Add an exclusion. Choose on File and then Roblox.
If you are a beginner then you should definitely go through our guide on how to add friends on Roblox and make a Roblox group.
But if you have a third-party antivirus program running on your computer, to disable it, you have to:
Open the system tray from the bottom right corner of your PC. Right-click to select shields control. If you don't find this exact option, you will find a close enough option like this.
Choose Disable until computer is restarted and close the program.
Check out our epic guide if you don't know how to make clothes on Roblox.
5. Delete all the Roblox files
If you are still struggling to solve your issue, I think this one might help you directly. Here's how you can do that:
Click on the Windows key. Type Apps and Features and hit Enter.
Scroll down to find Roblox. You'll find two folders named after Roblox; Roblox Player Roblox Studio. Uninstall them both and close the
Go to the Search Type File Explorer Options and hit Enter.
Go to the View Check on the Show hidden files, folders, and drivers. Hit Apply and then OK afterward. Close the window.
Click on the File Explorer folder and double-click on your HDD that is labeled with a Windows logo. The transparent folders are the hidden files.
Go to Users, then your computer name. Click on the Appdata and then Local.
Scroll down until you find the Roblox Delete it. Close the program and empty your recycle bin.
Right-click on the Windows key and choose Run. Type regedit in the Open section and hit enter. It'll need a confirmation; click Yes.
Navigate to HKEY_CURRENT_USER and then Software.
Find the Roblox. Right-click to it and press delete.
Do the same for the Roblox Corporation folder and Close the window.
Open your browser, type roblox.com/install, and hit Enter.
Download Roblox and install it.
Open the Roblox to find out if the problem resolves or not.
Have some time to spare? Quickly check out our epic guide on how to fix Roblox studio not working/responding.
6. Disable Background Running Programs
Check how many programs are running in the background on your PC. Close or disable some programs that are not doing so much or nothing at all. To do this, you need to:
Click on the Windows key. Type Task Manager, and hit Enter.
Right-click on the program you want to turn off. Click End task. Do the same for the other programs you want to close.
End the tasks one by one and close the Window.
Check out some amazing Roblox facts you may not knew.
7. Update the Windows
Updating Windows can help you to solve system glitches so that you can launch the Roblox next time. You should check if there is an update available for your computer. To do so:
Click on the Windows key, type Settings, and hit Enter. It'll open up the Windows Settings
Click on the Update and Security. In the Windows Update section, you'll find Check for updates; select that.
Select Download if you find a feature update available.
Restart your PC after completing the update and install the update.
If you don't find an update option, don't worry, your system is updated already.
Here's a complete guide on how to fix Roblox graphics drivers too old error.
8. Check your Web Browser's Add-ons
If you are a browser Roblox user, sometimes it might occur that your Roblox is not launching. So you need to:
Open your browser and click the three vertical or horizontal dots on the top right corner of your browser. If your browser doesn't have that, open the menu of your browser.
Go to More tools>Extentions. If you find Extensions directly on the menu, click on it.
Remove one by one of your extensions.
Check if your problem solves. If it does, you should add your extensions one at a time. That's how you'll know which extension is creating the problem on launching.
Also, receive Roblox Toy codes for free.
9. Update Graphics Drivers
If your problem still exists, try updating your graphics drivers. As the graphic card driver manufacturers release the latest driver updates every now and then, you have to:
Go to your browser and visit your manufacturer's website.
Find the file you need and then double-click on it to download
Install it by following the on-screen instructions.
If you do this, you'll find a significant improvement in your game. Besides, have a look if it solves your not launching problem.
10. Check the Date and Time
Check the date and time from the below right corner of your computer.
Right-click on the time and date.
Look for an Adjust date/time option and click on it.
Check Set time automatically and Set time zone automatically and close the window.
11. Run System File Checker
Click on Start, type CMD and open it, clicking to Run as Administrator.
Click Yes if there appears a confirmation.
Type sfc /scannow band hit enter. It'll take some time to fix.
Check if you have resolved your problem or not.
Thus you can follow and apply all the options mentioned above in your Windows and fix your issues.
How to Fix Roblox Not Launching in macOS/MacBook/iMac
Windows users face this pathetic problem a lot, but Mac users do too. As you are reading this, I'm considering you as a Mac user.
So why is Roblox not launching in my macOS/MacBook/iMac?
Roblox is not launching in your macOS, MacBook, or iMac because the cache file storage in your device is full. For Windows OS, there are many reasons behind not launching Roblox, whereas, in macOS, MacBook, or iMac, there is this specific reason for happening so.
There is a precise reason for causing the problem, so there are definite methods to act against it; to solve it, I mean. So, follow the procedures and act accordingly.
1. Reinstall the Roblox
You need to uninstall the Roblox first. Then consider it installing again. To do that:
Press Command+Option+Esc. If you find Roblox Player or Roblox Studio, select it and click on Force Quit.
Go to Finder and Application
Drag the Roblox icon into the trash and close the window.
Open Finder and click on Go. You'll see Go to the folder: where you'll type ~/Library and click Go.
Go to Library>Caches. Find all the flies of Roblox and Roblox Studio and delete them.
Go to Library>Logs>Roblox. Delete the Roblox files.
Go to Library>Preferences. Delete all the Roblox files.
Go to Library>Roblox. Delete the Roblox files you find.
Go to Library>Saved Application State and then delete the Roblox files.
Close the Window and empty the Trash bin by pressing Command+Shift+Delete.
Click on Empty Trash when you see a warning.
Open Safari and type Roblox in the search bar.
Install the application.
And you are good to go. Open Roblox and see if the problem resolves. If not, follow the next one.
2. Clear Cache
Some caches are used to let you access your file faster. But if there are some glitches, they can occur problems.  To solve this:
Go to Finder and click on Go.
Click on Library.
Search Cache. You'll see a cache folder. Click on it, select All and delete it.
Restart your computer.
3. Try an Alternative Browser
If you are playing Roblox games in a web browser, I highly suggest you try using an alternative browser. Sometimes, your browser may not be compatible enough to run Roblox. So, download an updated browser both support macOS and run Roblox swiftly.
How to Fix Roblox Not Launching in Android/iOS/iPad
Not all users of Roblox face this irritating problem on their devices. Yet some Android and iOS users face this Roblox not launching issue on their devices. To solve this problem, you might consider following the methods given below.
But before you do anything, make sure you hold down the power button for 10-12 seconds and power it on after a minute. If the problem still exists, well, keep reading!
1. Update your Roblox
Make sure you have the latest update enabled on your device. But you should check if the update of the Roblox app is available on your device.
If you are an Android user, you have to:
Open the Google Play Store
Search for Roblox and click on the app.
Click on the Update if an update is available. But if you can't see an Update, the latest version is already installed on your device.
Restart your device and launch Roblox.
And if you are an iPhone or iPad user, the process is pretty similar. So, you need to:
Open your App Store.
Search Roblox and tap into the app when it appears.
Choose Update if you see this option on your screen.
Restart your phone and try launching your Roblox application.
Following this process, you can update Roblox on both Android and iOS.
2. Reinstall your Roblox App
Sometimes reinstalling an app can prevent your device from facing constant launching problems. To reinstall the app:
Hold down to the Roblox icon and tap into uninstall/ the cross sign/(–) sign when it appears on the screen.
Confirm you want to uninstall it and then wait for a minute.
Open the App Store, type Roblox in the search option, hit enter. Install the Roblox app again.
Open the App and check if the problem is solved.
That's how you can solve your problem on both Android and iOS.
Conclusion
I covered every way of fixing Roblox launcher not launching, Roblox not launching in the browser, Roblox player not launching, and Roblox Studio not launching problems. So, try fixing the way I mentioned here. I hope all of your Roblox problems are resolved by now.
Yet, if you are facing further problems or have any inquiries, comment below.