Are you annoyed of the ROBLOX Error Message that says, There was a connection problem receiving data please Reconnect?
Don't worry, I am here for you folks!
After hours of tedious research, I found the exact solution to your problem.
What is Error Code 260 in Roblox?
ROBLOX Error 260, also known as the connection error code, is a fault that occurs when the ROBLOX servers are receiving no data. As it is a problem from Roblox's end, the Roblox servers might be currently down. Millions of players faced error 260 on Roblox recently on October 6, 2020.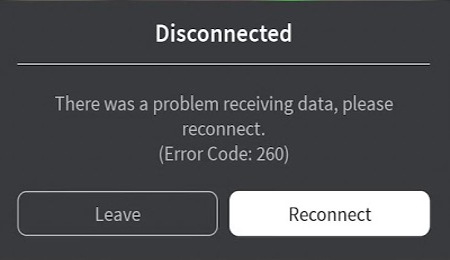 Keep Reading. As I am about to show you the quickest fix to Roblox Connection Error codes on your Computer, Laptop, and mobile devices.
Quickly check whether Roblox is down today or not.
Why Am I Seeing Error Code 260 on Roblox?
The main reason behind the Error Code 260 on Roblox is that the ROBLOX servers are temporarily busy or unavailable. Either the server is under maintenance or facing an internal Connection Problem with your IP Address and ROBLOX server.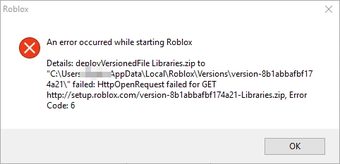 You may have also noticed a similar type of ROBLOX error where the message says, There was a problem in sending data, please reconnect. This error code is called ROBLOX error code 262, which is a similar connection problem of ROBLOX.
Not being able to play any games in Roblox? Quickly Fix the Roblox Error Code 524.
What happens is that:
When ROBLOX servers fail to send the network data from your IP Address, they show you a random hour of code. But, when the servers fail to receive the packet of data from your PC, you are most likely to face error code 260.
As I have mentioned earlier:
Both error code 260 and error code 262 are similar connection problems and are interlocked with each other.
There are other reasons too.
ROBLOX faces trouble loading online games and as a result, the player receives an error message. This error message can be error code 260, ROBLOX error code 262 or ROBLOX error code 279, id= 17.
When you start any ROBLOX game, the loading screen on the website takes a long time. This is because of the network proxy issues or you have a slow internet.
Games randomly displays that they have shut down and tells you to reconnect. This can be caused when the ROBLOX game servers are fixing their games or an update is coming.
The game that you are playing is corrupted or empty.
Firewall has blocked Roblox Network Port, VPN turned on, Account Banned, Login Glitch.
If neither of these reasons are responsible for error code 260, then be sure that the ROBLOX player you are using is not currently up to date.
So, be sure to get the latest roblox download.
One thing to keep in mind is that:
Not having internet connection is not the reason behind error code 260. Besides, if you don't have internet, you won't be able to open the ROBLOX player. And even the page will be shut down.
Seems logical?
Here's our exclusive roblox admin commands list.
How to Fix Error Code 260 in Roblox
So now, I will help you elaborate the steps so that you don't face any difficulties. I know it's really frustrating when you face ROBLOX errors.
But trust me, you can fix these Connection Errors very swiftly once you get the hang of it. Don't forget to check out the general Roblox controls for your Console.
Here are the ways to fix Roblox Error Code 260:
1. Update the Default Browser
Updating Google Chrome (suggested Browser) is the best way to fix ROBLOX errors.
If you trust Google Chrome then you should always keep that Browser Up to date.
One of the best things I love about Google Chrome is that Google Chrome is the reliable browser for playing ROBLOX.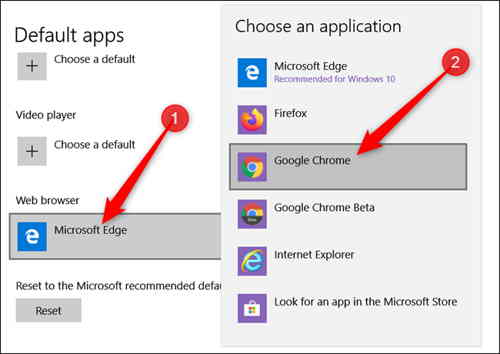 Also check out a similar issue which is roblox error code 277.
2. Use Windows Compatibility Troubleshooter
If you are using an older version of Windows then this step might not work for you.
It is because ROBLOX Player was created for the new Windows operating System like 7/8/10. That is why, the older versions of Windows like XP, Vista will face issues while running ROBLOX.
Open the RUN Dialog Box.
Run the compatibility troubleshooting process and locate the potential compatibility issues with your installed apps.
Navigate to see ROBLOX in the analytic list, then run the recommended troubleshooting option and restart your PC to apply the changes.
Here's a quick fix for roblox error code 279.
3. Turn off Windows Firewall
Turning off Windows Firewall is very important if you are playing ROBLOX for a long time.
If you are an old ROBLOX player then you might have noticed that the Windows Firewall causes ROBLOX errors. So it is better to turn off the Windows Firewall.
Here are the steps to turn off Windows Firewall on Windows 10:
Search for Windows Defender Firewall on the Search Box.
On the left side of the panel, you will see the settings for turning on or off the Windows Firewall.
Now Turn off Windows Defender Firewall for both Public and Private sectors by check marking the boxes and click OK.
4. Disable Google Chrome Extension
If you are using Google Chrome Extensions like AdBlocker plus or something like that then quickly disable it before playing ROBLOX.
ROBLOX is a gaming platform. So to run such a big gaming platform, Ads are necessary.
If you block Ads with the extensions then ROBLOX won't let you play the games you desired to play.
You can try VPN modes to check if anything is wrong with your Server or not. But I would recommend not to use Adblockers. Otherwise ROBLOX will crash and you will face ROBLOX Error Codes.
If none of the steps worked for you then be patient because the fault will be in the ROBLOX Servers and definitely they will try to fix the error.
Also learn how to fix roblox error code 610.
5. Try Port Forwarding
A certain port address is required for Roblox servers to receive the packet of data from your Internet. For this, you have to add Roblox port to the Firewall.
Here are the steps to allow Roblox port to Windows Firewall:
Search for Firewall from the Windows Search bar.
Click on Windows Defender Firewall with Advanced Security.
Click on Outbound Rules and select New Rule for the right panel.
Select the Port Tab that controls connections for a TCP or UDP port.
Click on Protocol and Ports.
Select UDP and Enter the value 49152-65535 inside the Specific Remote ports box.
Click Next and select Allow this connection for Domain, Public, and Private.
Press the Finish Button.
6. Disable VPN Software
Fixing the error code 260 won't be a big deal for you if you clearly understand and follow the steps properly. There are a few methods by which you can fix Error Code 260 on ROBLOX.
As I said it earlier:
You can fix the similar error codes related to ROBLOX Error 260. More specifically, you can fix ROBLOX error code 262, ROBLOX Error Code 277 and also sometimes ROBLOX error Code 279.
Once, I have accidentally turned on my VPN and launched Roblox. Luckily I didn't face this error but faced Roblox Error Code 267. Since then, I am recommending to turn off your VPN and launch Roblox for an error less gameplay.
7. Check Packet Losses
Unstable or Slow Internet is never accepted while playing Roblox. Check your internet connection if some loss of packets is taking place or not. You can perform a speed test through any website.
Go to https://www.speedtest.net/ and check our upload and download speed. Immediately contact your ISP if your internet connection drops frequently.
8. Reinstall ROBLOX
Consider a fresh start by adding Roblox to your PC once again. Go to Control panel > Uninstall a Program > Roblox Player > Uninstall.
Download Roblox from the official site and Install the software as per the directions.
And, Please try to play Roblox using the Roblox account you used at first to signup for Online games.
Final Thoughts
Fixing ROBLOX error 260 is very easy once you get the hang of it. In other websites you won't find the correct solution.
But if you try the fixes mentioned in this post then you can fix ROBLOX error 260 in no time.
Also you can fix similar connection error codes with this fixes too.