If you are experiencing Minecraft not loading on startup or Minecraft not launching, or Minecraft Java not responding. But do not worry, this is a well-known problem.
As a Minecraft expert, I researched and tested some solutions to solve Minecraft's problems.
This post will show you some practical solutions to fix all kinds of Minecraft responding problems. So, you can try these solutions to solve your problem.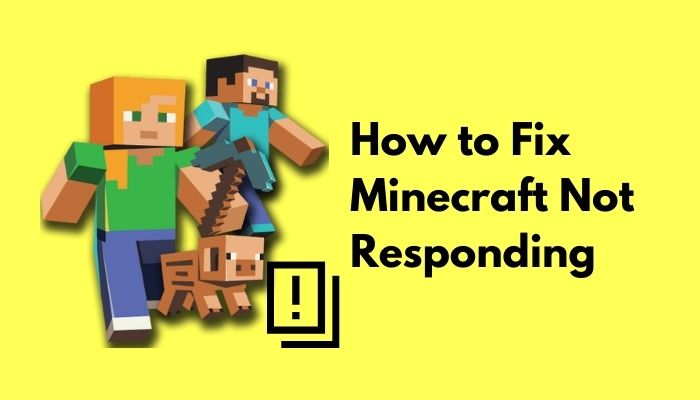 So, Why is Minecraft not responding?
Minecraft is not responding because you have outdated Java software on your computer, outdated or corrupted device drivers, an outdated Windows version, an incomplete game installation, corrupted files, outdated video drivers, or game mods installed.
Keep reading the whole post and precisely follow the instructions to fix the issues.
Go through our separate post on how to allocate more RAM to Minecraft for a smooth gameplay.
Why is Minecraft not launching?
Minecraft is not responding on launch because of game servers down, or corrupted game cache or missing essential updates or privileges are insufficient.
Minecraft not launching perfectly is a pretty common issue that gamers have been experiencing since around 2015. Questions about repairing Minecraft responding to problems on startup or Minecraft not fully loading flooded Reddit, Minecraft, Microsoft, and other forums.
Minecraft was created by Mojang utilizing the Java programming language, as I described earlier in the post. To ensure that the game runs smoothly and without hitches, ensure you have the most up-to-date software installed on your computer.
The Java software program is the same way. When you try to run Minecraft with out-of-date Java software, you may run into issues.
Also, check out our separate post on how to fix Minecraft not using GPU.
Minecraft does not launch on startup for a variety of reasons. The following are the most common reasons for a Minecraft launch failure:
Servers Down: It is possible that the problem is not with your computer or the internet, but instead with Minecraft Servers. Check to see if Minecraft is down and wait for it to come back up.
Cache corruption: Caches can become corrupted, resulting in Minecraft not loading when launched. The simplest solution is to clear the cache.
A missing update: If you are using an older version of Windows or Mac, or an earlier version of Minecraft, Minecraft did not start. Check for the most recent changes.
Minecraft privileges are insufficient: It is essential to have administrator rights to play. Solution 7 shows you how to do it quickly and easily.
PRO TIP: Use a Minecraft Command Block to get a Spell Book.
How to fix Minecraft not loading error
It is advisable to start by resetting your computer before doing any of the troubleshooting procedures indicated below. It will update your computer operating system, which should resolve most of the troubles caused by a software failure.
Here are the few steps to fix Minecraft not responding error:
1. Update Java Software
Using the Java programming language creates the Minecraft game, and outdated Java may cause Minecraft's inability to respond. Find out what version of your OS you have (32 or 64-bit) and update Java accordingly if the game keeps crashing, freezing, or failing to respond on load.
Here are the steps below to update your Java software:
Select Properties from the right-click menu on the This PC icon on your Desktop.
Check the type of operating system installed on your machine in front of the System
Go to the official Java website and get a compatible update after you have determined the type.
Start the installation and complete the Java update installation.
Install the most recent Java updates.
Open the folder and copy the file version folder that appears.
Open Windows Explorer, press Windows key + E, and then navigate to the path below:

C:\Program Files\Java (for 32 bit)
C:\Program Files (x86)\Java (for 64 bit)

Copy the Java file version folder and paste it here.
Bottom of the screen, select Edit profile in the Minecraft mod manager.
Open the file you just downloaded and extract it. Copy the file version folder type from the folder.
Check to see if this solution works for you. If that does not work, try one of the alternative solutions listed below.
Also, Check out our separate post on how to find spawn chunks in Minecraft.
2. Disable Discord Overlays
Minecraft players frequently utilize the Discord software because it allows them to speak with one another while playing.
However, the Discord overlay can sometimes cause Minecraft to become unresponsive.
Minecraft gamers have reported that by disabling the Discord overlay, they could resolve their Minecraft issues.
Here are the steps to disable Discord Overlay:
Press Ctrl + Alt + Delete to open Task Manager.
Click startup and find the Discord app on the list.
Click on Disable.
Restart your computer after that. If disabling Discord did not work, uninstalling it might.
Here's a complete guide on how to get Bees in Minecraft.
Here are the steps to uninstall Discord Overlay:
Enter appwiz.cpl in the dialogue window by pressing Windows key + R.
Select Discord in the list, right-click it and select Uninstall.
Also check, how to fix io.netty.channel.abstractchannel$annotatedconnectexception in Minecraft under 2 minutes.
3. Update the Graphics Driver
Minecraft crashes on your device if you have a missing or outdated graphics driver on your system. So updating your graphics card driver is a simple solution!
You can update the graphic driver in one of two ways:
Update driver automatically
You can visit the manufacturers' website for the latest drivers and install them on your PC to update your graphics card drivers. These drivers require basic computer abilities to download and install.
Also check our exclusive tutorial on keep inventory when you die in Minecraft.
Update driver manually
Another option for resolving this problem is to update the graphics drivers manually. To upgrade the graphics drivers manually, follow these steps:
Right-click the Start symbol with your mouse. Alternatively, hold down the Windows key + X on your keyboard.
Select Device Manager and open it.
See your graphics card, click the arrow next to Display adapters.
Select Update driver from the right-click menu on the graphics card.
Select Automatically search for drivers.
Wait for the system to locate and install appropriate drivers on your machine.
Restart the computer after the system updates the driver and attempt to relaunch the game.
Check out the easiest way to make paper in Minecraft.
If that does not work for you, try another solution listed below.
loading
Also check how to add music bots in Minecraft and make your game more amusing.
5. Run Minecraft as Administrator
Due to limited access, Minecraft may not be able to use all of the resources. To see if this solves your problem, run Minecraft as an administrator.
Here are the steps to run Minecraft as an administrator:
Go to the Desktop on your PC and look for the Minecraft launcher shortcut.
Run as Administrator by right-clicking on the Minecraft icon.
Run the program as an administrator, select Yes when prompted.
Follow these steps to run Minecraft as Administration permanently:
Select Properties from the right-click menu on the Minecraft launcher icon.
Select Compatibility and check the box. Apply after running this program as an administrator.
Click on Ok and close the tabs.
Also check out how to find all Minecraft Biomes using Biome Finder.
6. Disable Mods on Minecraft
Mods allow you to have a more enjoyable Minecraft experience. Mods, on the other hand, maybe the source of your Minecraft stuck-on loading problem. You can fix the problem by disabling any mods you have installed in Minecraft.
As a result, you turn off all of your Minecraft mods. You can disable them or relocate the mods folder from the Minecraft directory to another location. Before you restart the game, make sure you restart your computer correctly.
Check to see this solution works for you or not. Try the next solution if that does not work.
Check out our separate post on how to make rails in Minecraft for faster transport.
7. Reinstall your Minecraft
If none of these solutions work, figuring out what caused the crash can be challenging. Reinstalling Minecraft is the best approach to get rid of this issue.
If you remove Minecraft, all of your in-game data and modifications are lost. Make a manual backup of your data at all times. To avoid issues with your existing installation, remove any directories and file restorations after uninstalling Minecraft. Install the game again after deleting it.
Follow the steps below to reinstall Minecraft:
Hit Windows Key + S on your keyboard, then type Control Panel into the dialogue box and press enter.
Click Open to open the Control Panel.
Select Uninstall a Program from the list of options.
Locate Minecraft in the list of installed programs on your computer, right-click it, and select Uninstall.
Also check our exclusive tutorial on curse of vanishing to vanish any of the valuable items.
8. Meet System Requirements
Minecraft's failure to respond is most likely due to a hardware issue. The system requirements are one of the main reasons why Minecraft may not be operating.
Other software-related issues can cause Minecraft to not respond in addition to the hardware issue. It is not necessary to be concerned about the problems of reliable sources.
When Minecraft is open via the default launcher, the Technical Launcher, through Twitch or a Minecraft game/file, the Mojang window appears, freezes, and crashes with the message Not Responding. The screen never loads Minecraft once it has frozen; thus, the player must force-quit the app and try again.
Change the Minecraft Difficulty level to deal with other players.
Final Thoughts
Your game should resume regular operation after trying the solutions mentioned above to resolve the Minecraft is not responding issue. Remember to restart your computer after attempting each method.
Remember what the problems were after the game are working well and attempt to prevent them. Keep all of the software up to date to ensure smooth operation.