Microsoft Teams is a great communication platform, allowing users to import their contact information to build up a better community. That means you can invite others on Teams and add them to your private group conversation just using their contact info. Isn't it highly convenient?
However, the situation gets weird when you need to invite someone to your group, and Teams doesn't show any contacts on the list. Suppose that person has some ideas to share but cannot just because you can't invite them. It is very frustrating and also slows down your workflow.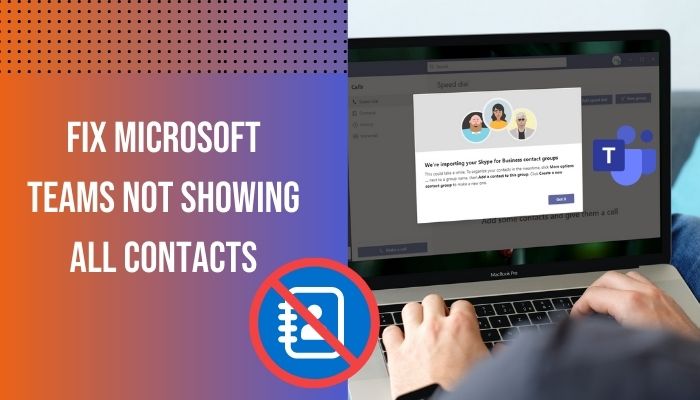 In this article, I'll provide the absolute best working solutions for this issue. So without wasting any time, let's get started.
Read more on how to Fix Microsoft Teams Chat Messages Not Showing Up
How to Fix Microsoft Teams not Showing All Contacts
Before diving into the main fixing method, try some basic ones first. First of all, try using the web version of Teams. Open the web app and check if the contacts are showing up there.
Alternatively, you can go to Calls, and your contacts should be there. Another method that you can test is by re-login in your Microsoft Teams account. Just make sure to wait a few seconds before logging in again.
If these basic troubleshooting methods don't resolve the issue for you, check out the following main fixing techniques.
Here are the methods to fix MS Teams not Showing Contacts:
1. Import Your Contacts Again from Outlook
One of the main reasons MS Teams can't find your contact information is when it fails to sync the contacts with Outlook. So make sure your Outlook Address Book is appropriately synced with Teams. If the syncing process gets interrupted, import your contacts again from Outlook.
Here is the procedure to re-import your contacts from Outlook:
Launch Outlook and select the Address Book.
Select the first contact and click on all contacts.
Click on File and select Add to contacts.
Click on the Outlook contacts to confirm your list and make sure all contacts have been successfully synced.
Open Teams and navigate to the Calls/ Contacts list.
Note: Keep in mind that the contacts may take a few hours to sync. In extremely rare cases, the whole syncing process may take up to 24 hours.
Here is another method to import contacts from Outlook to Teams:
You may access the Global Address Book from Outlook by clicking the People button, which you will find next to the Meeting icon. Open the Global Address Book by going to Find. After that, select all of the users and click Add to contacts.
You may select certain users if you don't need to import all of the contacts.
Also read how to Fix Microsoft Teams Can't See Shared Screen on PC
2. Disable Scoped Search
Organizations may create and apply particular limits on how users can locate and contact other users inside the organization using Microsoft Teams. This is known as scoped search. In case it's enabled, disable it and see if Teams can now discover your contacts.
Here is how you can disable Scoped Search on Teams:
Launch the Microsoft Teams admin center.
Select Org-wide settings and click Teams settings.
Go to Search, and navigate to Scope directory search in Teams using an Exchange address book policy.
Toggle it on to check the results.
Note: Keep in mind that it may take a few hours to apply the changes.
Contact your IT admin If you don't have access to the admin center.
Check our new post on why Microsoft Teams not working on WiFi.
3. Add a Phone Number to Your Contacts
Adding a phone number is another way to ensure that Teams syncs all of your contacts. Remember that this strategy works whether or not your contact is associated with a corporation. Teams will not sync contacts who do not have a phone number.
Frequently Asked Questions
How do I manage contacts in Microsoft Teams?
Go to the Contacts section of Chat in Microsoft Teams and click Create a new contact group. Type the name of your contact group and click Create. Your new contact group will appear in Numeric-Alpha order, and you can place a number in front of the group name.
Where are Microsoft Teams' contacts stored?
It's under Calls > Contacts in Microsoft Teams. This list starts out empty. All contacts added to your groups (Speed dial, Other Contacts, etc.) will appear in this list automatically. However, you can manually add more contacts.
Why is my Microsoft Teams not syncing?
A banner with a Refresh link shows at the top of the app if you're experiencing sync problems with Teams. Click the link to restart your app. Once everything is up and running once again, you should be completely synchronized.
Related contents you should read how to change your background on Microsoft Teams.
The Bottom Line
There you go!
You can resolve MS Teams not showing all contacts by syncing the contacts again with Outlook's Address Book, disabling the scoped search, and adding a phone number to your Teams contact.
Let me know in the comment box which method works for you. And also share your opinion as well as questions regarding this issue there.
Thanks for reading this article.
Signing out!