Well. You have the Discord application installed on your computer. So, you are working from home, attending online classes, or connecting with mates, and your audio is cutting out!
Don't worry. I came out with a bundle of easy fixes for you. Any of those must work for you out, I guarantee.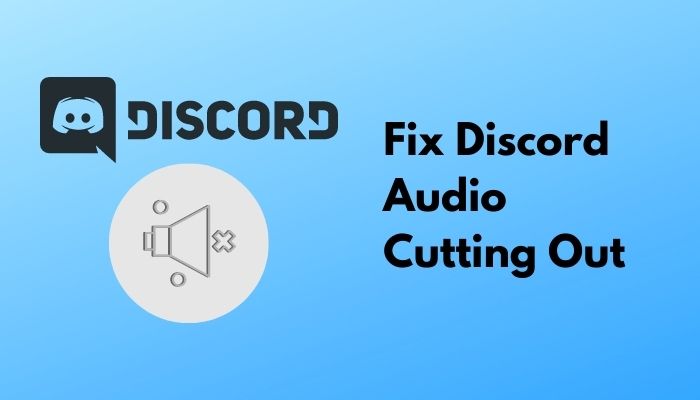 So, why does Discord audio cutting out occur?
Discord audio cutting out mainly occurs due to outdated drivers, and the echo cancellation feature of Discord. In most cases, the Discord audio drivers get outdated. And, sometimes the echo cancellation feature truncates the speech, considering it as an echo, by mistake.
Some other causes may affect you too. I will explain those later.
Keep reading, as I will round up some easy steps to help you get rid of the audio cutting problem safely.
Check out our separate post: Discord Screen Share No Audio
How to fix Discord audio cutting out
Believe me, finding those Discord users who have not faced audio cutting yet is really tough. Most of them who complained already tried some regular fixes to solve it. But from my experience, you may need to try something out of the box here. I would like to talk about those unique methods to fix your Discord issue regarding the audio cutting out.
Here are some methods to fix Discord audio cutting out during voice calls:
1. Update Audio Drivers
Drivers are the softwares to connect your hardware to the operating system. If they are outdated (especially audio drivers), you should update those.
Here are the steps to update audio drivers on Windows:
Find out the Run dialog box from the search box. Alternatively, press the (Windows+R) shortcut key from your keyboard.
Type devmgt.msc in the dialog box, and press enter. The Device Manager window will appear.
Click on the Audio input and outputs toggle.
Right-click on your specific audio device from the drop-down. Here, if you cannot figure out the specific audio inputs and outputs of your device, select all drivers to update.
Select Update Driver.
Click on Search automatically for updated audio driver software. The process of looking automatically for driver updates will start. It will end once it will get completed.
Check out the easiest way to Fix: Discord Not Working with Audio Interface
2. Switch Off Echo Cancellation
You should switch off the echo cancellation feature of Discord settings if your friends cannot hear you properly. It may also cut your speech. So,
Here are the steps to switch off echo cancellation on Discord:
Go to your Discord Voice & Video settings.
Scroll a bit down and you will find Echo Cancellation under the Voice Processing section.
Turn it off, if it is on.
Now, talk to your friends and see if it works out. Follow our guide to fixing Discord overlay not working.
3. Update & Restart Discord
Here are the steps to check updates and restart your Discord application:
Close your Discord application window.
Press (Ctrl+Shift+Esc) keys altogether. The window of Task Manager will launch.
Go to Applications and click on Discord.
Click on End Task at the bottom-right corner of the window.
Relaunch the Discord application. Discord will automatically check for updates, if available, each time it is launched.
Check whether your problem remains or not. If yes, go for the next method to fix. Check out our post if you want to know if your friends blocked you on discord.
4. Fine Tune Voice Sensitivity
Here are the steps on how to fine-tune voice sensitivity settings on Discord:
Click on the Settings at the bottom left corner of your window.
Switch to the Voice & Video tab on the left-hand side of the window.
Scroll down and find out Input sensitivity.
Turn off the Automatically determine input sensitivity toggle if it is on.
Speak into your mic to determine the precise sensitivity. If the slider you find is in the orange area, Discord is unable to send your voice. If it's green, then the sensitivity is supposed to be perfect.
This way you can tune the voice sensitivity from your Discord settings. If this does not work as well, wait for the next fix.
Also, check out our separate post on how to fix Discord high CPU usage on Windows.
5. Change Discord Server Region Settings
If your issue is related to your internet, you may change your voice channel region. To do this, you should have the server owner's permission.
Here are the steps to change Discord server region settings:
Switch to your server, then click on the Edit Channel icon next to the voice channel you want to modify.
Stay on the Overview tab, and scroll down to the bottom of the page. Expand the Region Override drop-down menu, and pick a region suitable for your server.
Click on the Save Changes button to finalize the modification and test if the new region works better for your server.
Check out the easiest way to fix Discord entry point error.
6. Check Computer's Audio Settings
Automatically or unintentionally, your computer's audio settings may change. So, it is also a matter of concern if you face an audio cut-out problem. In that case, you do not need to do anything with the Discord application; instead, check the audio configuration further.
Here are the steps to check your system's audio settings:
Open the search bar. You can also use the shortcut key (Windows+S) from the keyboard.
Type Microphone privacy settings and click on that.
Make sure you allow the options Allow apps to access your microphone and Allow desktop apps to access your microphone by turning on the toggle button.
Now, check whether or not your problem is gone.
Here's a complete guide on how to get Discord server owner crown.
7. Reset Discord Voice Settings
Could you not solve your problem yet? Try this.
Here are the steps to reset your Discord voice settings:
Click the Settings (gear icon) at the bottom-left corner of the Discord window.
Press the Voice & Video tab from the left pane. Several options will appear on the right.
Scroll down a bit. You will find out Reset Voice Settings. Click on that.
All of your voice settings and configurations will be reset and restored as new and fresh.
8. Check Your Peripherals
I know it is rare, but not impossible. So, check your computer and sound peripherals first before checking the software. It will take you less but save you much.
9. Re-install Discord
If nothing worked, think about uninstalling and reinstalling Discord to get a fresh copy.
Here are the necessary steps to uninstall and reinstall the Discord application:
Click on the Start menu and type Control Panel on the search bar. It will redirect you to the control panel window.
Select Programs and Features from the options.
Find out Discord from the list of installed software. Click on it.
Press Uninstall/Change next to Organize.
Wait till you get the notification of finishing uninstalling. Then, download the application again and reinstall it carefully. I hope it will work this time. I wish you luck.
Check out the easiest way to use stereo mix in Discord.
10. Restart Your System
Well. It is your final turn. Perhaps you tried this method before for any other application on your device.
Restarting your system is an old but effective recipe. It will clean the RAM and Cache memory. So, restart your computer and relaunch the Discord application. Worked, right?
Typical causes for Discord audio cutting out
In this article, we discussed almost all the possible ways to shrink the problem of Discord audio cutting out. However, it is no less essential to know the reasons actively rolling behind the issue. Of course, finding out how to solve a problem remains tougher unless you reach the exact cause and scenario. So, without wasting time, let's go for it.
Here are the common reasons for Discord audio cutting out.
Drivers
Proper installation of necessary drivers is an inevitable job for your system. If your drivers are found missing, corrupted, or outdated, they may cause various issues. Discord audio cut-out can be one of them.
Discord Settings
The default settings of any software are often required to be fine-tuned. Like other applications, tune the features of Discord to your own preferences. This can help you to halt the problem.
Computer Settings
It is about your system settings. Sometimes, certain options get reconfigured automatically or for other reasons that pave the way to impact your Discord experience negatively. So, check the entire audio settings of your computer.
Internet Connection
Undoubtedly, a vulnerable or poor internet connection will make you face diverse issues with online activities. Therefore, check, test, and maintain your internet connection properly.
Peripherals
Audio cut problems rarely emerge from the damage of peripherals. Despite that, when you face issues and cannot detect the source of concern, check your headset, microphone, or speakers if any impairment is found.
Read more on how to Add a Friend in Discord
Final Thoughts
Among the ten fixes that I stated above, I am sure you successfully utilized one of those. Moreover, many Discord users got help from these measures and informed me. Still, you could not solve your problem; the issue might be lying on the audio card on your motherboard. In that case, you should go for the repair services.
So, was this article helpful? If yes, comment down below in the comment box.