Have you ever thought about why there are so many communicating apps around? It's mainly because of the usage and user preferences. Tons of platforms are being created daily and then get wiped out because of less user acquisition.
Skype was launched in 2004, or Discord is relatively new to it. Discord came to the market in 2011. Now as the platforms are getting bigger, it made a rivalry between these platforms. So which one to pick? Which one should you use as your daily driver?
As I use both platforms for my daily usage of business and entertainment purposes, today, I will tell you why Discord is better than Skype in terms of usability and features.
Stick around to find out the differences and possibilities that can be opened with these apps individually.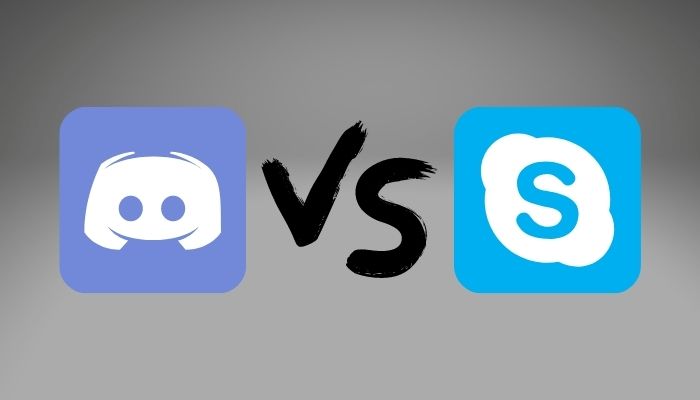 Check out the easiest way to make Discord emojis bigger.
Similarities between Discord and Skype
Well, Discord and Skype both offer to call and chatting features. They both do it in their own style. Although they both want to serve public demands, their targeted consumers are different. They are different in age, profession, and many others.
So there are many similarities in their way of functioning the system. Sometimes Discord might seem like another inspired app from it's elder brother Skype. But as they both are just simply communicating apps, they share many features in common.
Have some time to spare? Quickly check out our epic guide on how to add custom game in Discord.
Discord VS Skype: Which One to Choose?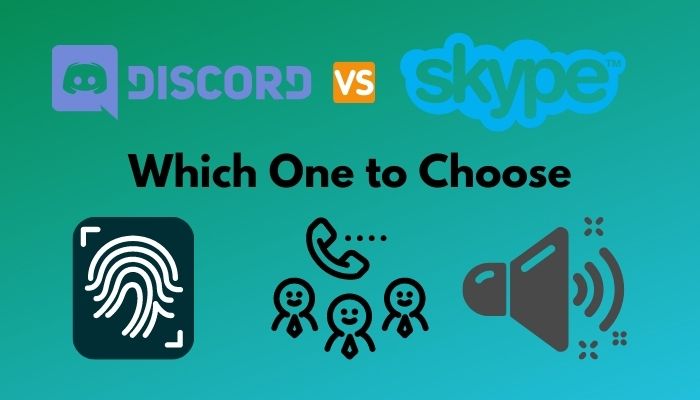 Choosing one between Discord and Skype depends on your needs and preferences. Once you have started using any one of these, you can not easily switch to others. It's easy to get in, not to switch the platform.
Let's discuss some key points to better understand these platforms to choose the best one for yourself.
Follow our guide to fix Discord not ringing for incoming calls.
Privacy
Discord and Skype both ensure user privacy in their agreement. However, both are VoIP apps as their nature. And these classified apps seemed to be lacking privacy concerns. Discord and Skype both apps were both reported for data breaches and personal data compromises.
So here it's a tie. On privacy concerns, you can not select any one of them as they both lack it. Now it's up to you with whom you want to share your data.
Do you know anything about the Better Discord? Quickly check out their premium features.
Security
Skype is a kind of old-school type communicating platform which still believes in simplicity. But this simplicity can be dangerous. While Discord has complete client-to-server security with DDoS and IP tracking protection, you'll get none of them in Skype.
Go for Discord instead of Skype if security is an issue. Often it happens that some third party gets into a confidential meeting without any hassle. This is seriously something that needs to be fixed on Skype. They are trying their level best to secure the platform more and more.
Follow our guide to fix Discord not letting me unmute.
Sound Quality
As Discord and Skype have different methods to transmit audio, I need to give you some context first.
Discord transmits voice data only when the speaker says something. But Skype, on the other hand, continuously sends voice data just like another phone call. This is why Discord needs less bandwidth as low as 64kbps rather than Skype requires 100kbps+.
If you are in a place where your internet connection is not that much strong, try Discord. But audio transmission on Skype is much better and reliable as it acts as a phone call.
Follow our guide to fix Discord Nitro gift not working.
Group Calls
When it comes to group calls, Skype is a clear winner here, with a supporting connection of 25 people at a time. Whereas Discord limits group calls to 10 participants only.
If you arrange a conference over the internet, you might benefit from Skype as it has become the standard way after isolation situations.
Skype also supports outgoing calls to landlines and mobiles even outside of the country. But in contrast, Discord allows calling to other Discord users only.
Also check out how to fix discord share screen no sound.
Screen Sharing
In the age of working from home or attending meetings online, it has become customary to share your screen with others. Discord and Skype both offer a decent screen sharing feature which is enough for an average user.
But in terms of more customizations and features during sharing screen, Discord has more features than Skype. These extra features like Fragmented Screen Share in Discord allow you to share only a selected portion of your screen if you don't want to share everything.
On the other hand, Skype offers a decent and straightforward screen-sharing feature, even on an audio call. This might be helpful for your teammates.
Here's a complete guide on how to fix discord screen share flickering.
Call Recording
Choosing between Discord and Skype based on the call recording feature, you will love Skype here. Skype recently released an update regarding call recording as many of it's users complained about this missing and long-awaited feature on Skype.
But Discord still does not offer any kind of call recording feature. However, you can always use a third-party solution to record calls. But be cautious about data breaches and be sure if you trust that third-party app or not.
Also, check out our separate post on how to change Discord background.
File Sharing
Discord and Skype both offer file-sharing features. But there is a twist. Both the platforms have their limitations. Discord has only the capability to share up to 8MB of files only. This is a minimal amount compared to Skype. If you use Discord, then you can get a Nitro subscription to exceed the limit. With a Nitro subscription, you can send up to 50MB of files at once. That is also significantly lower than Skype.
Skype offers 300MB of file sharing at once. If you exceed the limit, then Skype will direct you to their cloud storage called OneDrive. You can simply share files through OneDrive with up to 5GB of free space provided by Microsoft.
So here, Skype is a clear winner in terms of file sharing.
Also, check out our separate post on how to compress a video for discord.
CPU Usage
Users have reported that Discord uses less CPU power than Skype during a voice call. While talking on a call, Discord uses only 15% of CPU power while Skype uses more than 30% of CPU. Here Discord wins the game based on CPU usage.
Private Calls
Both the platforms Discord and Skype offer private calls. Both use different methods on private calls. But here, you need to pick one that suits your needs.
Skype has one-to-one or small group calls (it can be audio or video). It also has the feature to call on landlines and mobiles, which is private.
Discord does not have this kind of feature to call outside the app. But as it was built for private calls from scratch, it completely crashes Skype when you compare both based on any kind of security and privacy concerns deeply.
And therefore, Discord wins the private calling game here.
Follow our guide to fixing Discord channels not showing.
User Interface
The user interface is a department where both of the apps have different thoughts and approaches. While Skype focuses on a business tool, acts as a business solution with the features like calling domestic and international numbers outside the app, Discord, on the other hand, focuses on a complex user interface.
Discord is not made only for calls and chats. Rather than it is intended as a place for gamers to hang out, in Discord, gamers and streamers can roam around and explore more and more. Building and joining servers can make a strong bonding between the gamers. Gamers like such a kind of complex user interface to use.
So it is up to you basically that you need a business solution or you want to hang out with your gaming buddies. But in terms of features, Discord wins the game here.
Have some time to spare? Quickly check out our epic guide on how to change profile picture on discord.
Supported Platforms
Discord and Skype have their perspectives on supported platforms. Discord mainly focuses on friends and families. It connects with Facebook, Twitter, Instagram, Steam, Twitch, and many more to find your acquaintances.
Whereas Skype is more focused on business solutions as it provides a link to the office apps from Microsoft. Popular apps like Microsoft Word, Excel, Powerpoint, etc., are supported by Skype. You need to know that Skype comes in a bundle of Microsoft 365 Office Solutions. So Skype is well-connected with the business solution apps.
So here, Discord wins the game because it does more without any bundles or subscriptions.
FAQ
Is Discord better than Skype?
Yes, in terms of features, Discord is better than Skype.
Is Discord Bad?
There are some data breaching and pornographic allegations accused against Discord, but they are trying to resolve it as quickly as possible.
Is Discord Safe?
In terms of privacy and security, yes, Discord is much safer than other instant messaging apps out there. Discord provides a secure communicating experience.
Should I install the Discord App?
It's better to have an official client at your fingertips if you regularly use Discord. This is a platform where you and your friends can hang out and roam around virtually.
What is not allowed on Discord?
As per Discord ToS, hate speech, violence, attack on somebody for their beliefs are strictly prohibited on Discord. Do not make threats of violence or harm.
Conclusion
As per the discussion above, you might have decided which one you need to go for. Although Skype has many features, in comparison, Discord surpasses Skype with a heavy margin.
Skype was primarily built for the VoIP calls with buying credits from Microsoft to initiate calls to landlines and mobiles domestic and international. Skype now serves the business personas who want a simple and easy meeting solution.
But Discord was not made for any kind of business. The creators of this app were not intended to build something to support business. It was made for gamers and streamers who just wanted to hang out with their acquaintances easily.
In terms of voice and video calls, group calls and chats, simple chats and communications, and if you consider popularity because Skype is well known to all, it is a better option for those who host a meeting with people up to 250.
Discord was released after so many years of Skype. Discord got some initial ideas and solved the problems Skype users were facing previously. But as features are considered, Discord is way ahead of Skype. Therefore, Discord is better.